The Future of Recorded Music - Part 2 Page 2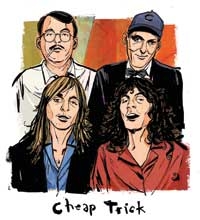 Sometimes the transition hits artists close to home. "I ripped all my CDs and threw them in a box in my garage," admits Ryan Miller, singer/guitarist for the band Guster, whose new album for Reprise, Ganging Up on the Sun, debuted June 20. "Until then, they were my most prized possessions." But when the CDs were stolen two years later and he didn't even know it, "I got clued in to the fact that the CD was dead to me. I understand the romance with vinyl - I still buy it - but there are no romantic associations with CDs. They're not big, and they're not warm."
Chris Corner, of the bands IAMX and Sneaker Pimps, also has little affection for CDs. "I don't have a problem with their demise," he says. "The design of the CD is quite cold and lifeless - there are more elegant ways to spread the word. Getting rid of all physical product will be liberating." Putting Corner's money where his mouth is, IAMX's album The Alternative will be released in September only via iTunes. No CD is planned.
Still, some artists, such as soul legend Isaac Hayes, are comfortable in a world where both formats exist. "I have always been an album person, so I hope the CD medium doesn't disappear altogether. I like being able to have something in my hands, to see as well as hear," Hayes tells S&V. "But I also love my iPod! I think there's a market for both. I hope they're able to coexist."
But some bands - including Linkin Park, Radiohead, and Tool - are holding out against paid downloads, refusing to sell their music via iTunes. One reason is that online music services are primarily delivering singles rather than albums, letting fans cherry-pick songs instead of listening to the whole album. Other artists express distaste for the digital rights management (DRM) technology used by services like iTunes, which restricts what fans can do with music they've legally purchased.
Track 2: More Music, Less Fidelity
And then there's Flea's concern about sound quality. In the studio, most artists try to record the best-sounding album they can. But out on the streets - with the move to digital formats such as MP3, AAC, or WMA - many fans willingly trade sound quality for the ability to store more songs.
"I record at very high sample rates like 192k, since it's the best we can get right now," says Matthew Sweet, who recently teamed up with Susanna Hoffs of the Bangles to release Under the Covers, Vol. 1, an album of '60s pop covers. "I care, but sometimes I think the public cares less and less!"
LATEST VIDEO