Focal Profile 918 Speaker System
Focal, the French speaker and speaker component manufacturer formerly doing business as Focal-JMLabs, has always made a point of getting great sound at shows. While I didn't run into Focal at Primedia's Home Entertainment 2006 show in Los Angeles this June, I did hear some music in the MBL room that morphed into another sale for Amazon. As I work on the final edit of this review I'm listening to the just-delivered Jeff Buckley rendition of "Hallelujah" from his 1994 album
Grace
(CD, Columbia, CK 57528). The memory of what this song sounded like on the
$47,000/pair MBL 101E speakers
is still fresh. At just 1/10th the MBL's price, Focal's Profile 918 speakers get me very, very close to the fire-branded goose bumps I felt in LA last month.

How They're Built
The Profile 918 ($3,995/pr.) floor-standing speaker used for the left and right channels in this system are a "2-1/2 way" design. The drivers are mounted relatively high on the baffle, with the lowest (physically and acoustically) being a 6.5" woofer with a 1.5" voice coil that sits nearly 2' off the floor. A second and otherwise identical driver employs a smaller 1.25" voice coil, but more rigidly adheres to the definition of a midrange, being high-passed at 180Hz. Below the drivers is a cavernous port opening that extends the 918's bass to a claimed 40Hz (-3db). The widow's peak of the speaker is a 1"aluminum/magnesium hybrid tweeter that rests free of the grill cloth that covers the rest of the baffle.
The 918 speakers themselves are a curvaceous affair best described by the accompanying photographs. I will add that these long, tall cylinders are not agreeable to handling on a standard hand truck of the type a reviewer might keep in his garage. Fortunately, they're not terribly heavy and submit better to a panicked hug than one might expect. The veneer covering the MDF cabinets, while attractive, is quite fragile, so exercise care with your new possession.
A single set of speaker connections around back will accept spade or banana connectors, but precludes bi-wiring or bi-amping (a blessing in disguise in my view). Unfortunately, the posts are not hexagonal affairs that can be tightened down with a tool, so you may have to make a few passes until your cables are secure.
Four speaker spikes are used to couple the speaker to the floor, but the speaker is so narrow that if you're the slightest bit off you'll have an unstable situation. Probably because I have a ceramic tile floor, I'm not a big fan of spikes, finding them quite tedious to adjust in most cases. NHT's 2.5 speaker, which I once had in house, used a steel stand extending well past the speaker's footprint on both sides, making for both easier adjustments and a more stable speaker. While those with carpeted floors carpet over hardwood or CDX should have no problems, I found the whole arrangement somewhat disconcerting.
The stand-mounted Profile 908 ($2,295/pr., $495/pr. for optional stands) I used for surrounds in this system features the same 6.5" midrange and 1" tweeter found in the 918. Like its big brother the 908 is a ported bass-reflex design, albeit not as extended in the low bass (50Hz versus 40Hz). Focal offers dedicated stands that place the 908s at the proper listening height for front channel duty. Since I placed them near the back of the room, I used a pair of taller stands I had on hand to make sure the 908's tweeters cleared the back of my massive leather chairs.
The CC908 center channel ($1,695/ea.) is a true three-way design. While the tweeter is the same one used in the 918 and 908, the design necessitates a smaller, 3" driver for the midrange. The vertically oriented tweeter/midrange array is flanked by two 6.5" woofers with even smaller, 1" voice coils. Each of the woofers has its own, smaller, front-firing port, and bass extension is rated down to 65Hz, which is still quite good for a center channel.
While the 908's maximum power handling is rated at only 90-watts, I'm sure I exceeded that on many occasions, to no ill effect. As the manual states, it's not usually high power that damages speakers but too little power that results in driver frying distortion. With a modestly average specified sensitivity (89 db @ 2.83V/1M), the speaker's 3.7 ohm minimal impedance rating should present little challenge to your amplifier.
How They'd Boom
The final piece to this Focal system is the powered Profile SW908 subwoofer whose front panel LCD display hints at the features within. A single 13" driver with a 2.5" voice coil and 500-watts (700 peak) of BASH amplification gives this $3,000 sub a rated lower limit of 27Hz. The sub only weighs 60 lbs., which made it very easy to move around.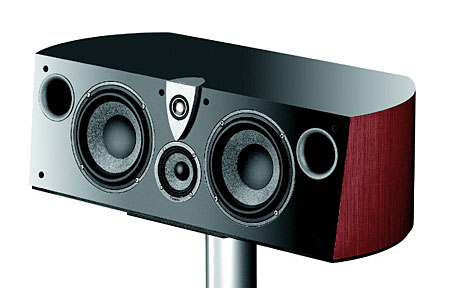 Unlike most active subwoofers, the back panel of the SW908 is nearly devoid of switches and knobs. You'll find only stereo RCA inputs for a two-channel setup and a single LFE input (also RCA) for a home theater. While there are two other RCA connectors, marked as "digital in" and "digital out," these do not accept a digitized signal from your AVR or pre/pro. These digital connections are designed for daisy chaining multiple SW908 subwoofers in the same system. The analog signal is converted to digital as part of Focal's powerful digital signal processing, and that digitized output – along with the control signals to configure the second and subsequent subwoofers – is passed to the digital input of the 2nd subwoofer. Its digital output is passed to the 3rd subwoofers digital input, and so on.
Those of you thinking ahead might wonder how the phase position that works best for the first subwoofer could possibly be optimal for the second. So did I. A call to Focal revealed that both the phase and volume can be modified for each subwoofer in the chain.
All sub operations except configuring user setups are controlled by the SW908's remote, an iPod Nano sized affair I was forever losing. With factory fresh batteries, however, the remote refused to work more than 10-feet away, which naturally, isn't far enough. Granted, you won't be diving for the remote for your subwoofer very often. But the remote's limited range will be less than convenient when do the set up or make an adjustment.
The preset modes identified as Cinema, Hi-Fi and User can be programmed from the LCD front panel and then activated from the remote. Programming the SW908 is very easy, and the settings are interesting too. There is a "flat" setting for music (Hi-Fi) and a slightly elevated level with movies (Cinema) for a bit more pizzazz. Alternately, you can feed a stereo analog input from your receiver's stereo preamp outputs and set the crossover frequency in the sub from 50Hz to 150Hz (in 5 Hz increments) while at the same time taking the LFE output from your receiver to the LFE input on the sub. The sub is quite flexible in this regard.
There's also a programmable subsonic filter, which, frankly, I don't understand. After all, this is a sub isn't it? So why would you want to filter as high as 45Hz? The case is for its inclusion is not merit-less, however, as another editor pointed out; it might be useful in condo late at night, or, the only reason I could think of, you're playing a badly warped LP.
More useful is a variable phase control, from 0 to 180 degrees in 10 degree steps. There is also an option that gives you a +3db boost at 40Hz, which home theater scientists have accurately determined as the boost frequency that most reliably impresses your friends. The only feature missing I wish had been included in a subwoofer at this price was a single or double band parametric equalizer to curb room nodes.
How They'd Sound
The Focal Profiles' 6.5" bass drivers took time to break in and loosen up. After six weeks, any leanness in the bass was gone. Placed with their front baffles some 30" from the wall behind them (basically the same setup I use for most speakers in my room including my reference MartinLogans), the 918s coupled extremely well with my room, generating just the right level of bass for stereo listening without the help of the sub. While they were spread about 9' apart, I did find that toeing them in so the tweeters were aimed almost directly at my listening chair produced an extremely solid center image.
Movies like Unleashed (DVD, Universal 28793) offer plenty of atmospheric music and muscle-punching bass. That partially makes up for the inane premise of the story, but once in a while a martial arts movie is needed to help restore one's faith in comic book theology. In Unleashed the thematic reliance on the piano helped highlight the Profile system's abilities as it revealed myriad differences between the assembled collection of keyboards. From antique store junkers and battery operated Casio toys to electronically sampled pianos used for background noodling, and, finally, on to a beautiful antique Pleyel from France, the Profile system imparted timbres of believability in each and every case.
When it comes to conveying true depth and space to a soundstage, as heard in a large movie theater, few dynamic speaker systems get it right. The Profiles are among the few that rank as exceptions. Reassembling a large Cineplex environment in your living room (sans gum on the floor and ringing cells phones!) seems to be no big deal for dipole systems like the Magnepan 3.6/1.6/CC3 or my reference MartinLogan Prodigy/ReQuest theater. The Profile system was very much in their company with the added bonus of a little upper frequency air and excitement, especially in comparison to the MartinLogans.
I initially heard unimpressive results from the SW908 subwoofer when placed in the spot in the room where a Velodyne sub had been, some 5' away from a corner. Focal recommends corner placement. Once there, in a corner reserved twenty years ago for the woodstove I never purchased, the bluestone base and brick walls turned the SW908 into a formidable tool.