Flat TVs Get Bigger, and Cable Crashes the Party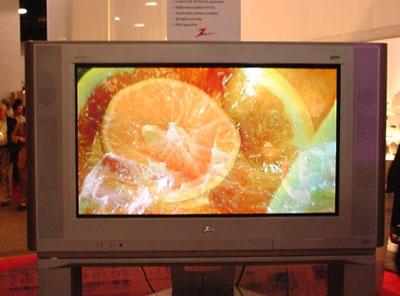 Roaming the packed halls of CES 2003, I'm not surprised to see a continuation of many of last year's video trends. Flat-panel plasma and LCD TVs are everywhere. Tube-type HDTVs, though upstaged by their slim, wall-hanging cousins, are still around and selling at increasingly attractive prices. And DVD players - including high-performance progressive-scan models - have gotten so dirt-cheap that companies appear to be giving them away. But there's also some new stuff bubbling under the surface.
Zenith's prototype 34-inch widescreen TV sports a cable-ready HDTV tuner.
Both the cable TV industry and the FCC (Federal Communications Commission) were major factors at CES 2003. A panel of top cable executives held a press conference here to voice support for HDTV and talk about recent developments, which include the arrival of high-def service in 62 of the nation's top 100 markets and a proposed technical agreement with TV manufacturers to incorporate "cable-ready" HDTV tuners in digital sets. And FCC head Michael Powell - who recently gave set makers a kick in the pants by mandating that they build digital tuners into all sets 36 inches and larger by July 2005 - dropped in to publicly discuss the HDTV transition. The active participation of the cable guys and the FCC is in stark contrast to last year's CES, where their no-show status lent an aura of uncertainty to the high-def products being pitched. The cable/FCC factor has been evident in many of my discussions with video companies at the show and can even be seen in some products. Zenith's booth featured a prototype 34-inch widescreen set with a built-in cable-ready HDTV tuner. The company also showed a prototype LCD rear-projection TV with both a cable-ready digital tuner and a built-in high-def hard-disk recorder with 80-gigabyte (GB) storage capacity.Talk about a TV that does it all!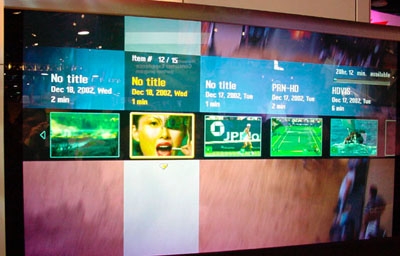 It has everything: screen shot of Zenith's prototype LCD rear-projection set with built-in high-def hard-disk recorder.
Looking to get an early jump on the FCC's tuner mandate, companies including Zenith, Panasonic, Toshiba, Philips, and Samsung have indicated that many of their high-end sets will feature built-in HDTV tuners by the end of 2003. And they're not just talking about boxy rear-projection and direct-view models. Panasonic introduced two enhanced-definition (EDTV) widescreen plasma sets with integrated HDTV tuners: the 37-inch PT-TH37PA20U and 42-inch PT-TH42PA20U. Prices haven't been announced yet, but both models will ship this summer. Panasonic also said it would offer sets with cable-ready digital tuners sometime in 2003.
Flat Facts
Flat panel LCD TVs are becoming a growth industry - literally. In the Samsung booth, my jaw nearly dropped at the sight of the LTN545W, a prototype 54-inch (diagonal) flat-panel LCD TV with 1,920 x 1,080-pixel resolution (available in 2004 at a price to be determined). This gargantuan LCD managed to even upstage the very big 42- and 52-inch flat-panel LCD TVs displayed by Philips. No prices yet on either of those models, but expect them to cost quite a few bucks when they arrive sometime late this year. Also on the LCD front, Samsung showed its LTN406W, a striking 40-inch LCD set that's earmarked to ship later this year with a built-in HDTV tuner. Expect it to cost somewhere in the neighborhood of ten grand.
HDTV Ins and Outs
Given the rise of HDTV copy-protection mania, it's hardly surprising to find that most TV makers are putting copy-protected DVI (Digital Visual Interface) inputs on new high-def sets and plan to switch over to the HDMI (High Definition Multimedia Interface), a smaller version of DVI that also includes digital audio, in late 2003-2004. But what has suprised me is how few manufacturers are including digital FireWire (IEEE 1394) ports on new models. This seems odd when you consider that the recent cable/consumer-electronics-industry agreement allows forthcoming HDTV receivers to provide FireWire connections in addition to DVI/HDMI.
Take it with you: Toshiba demonstrated a Wi-Fi LCD TV at CES.
Then again, maybe wireless transmission of digital audio and video signals is the way to go. Toshiba provided a cool demonstration of a video system based on the wireless Wi-Fi (802.11B) standard. It uses a transmitter hooked up to an A/V source to send signals to an LCD TV. The lightweight set can be toted around like a notebook computer, letting you watch programs anywhere in your home, from the backyard to the bathtub. I was also intrigued by Samsung's demo of its Home Media Center, a system that receives, decodes, and wirelessly distributes both standard and high-def programs to sets anywhere in the home. Unfortunately, the product was so fresh outta Samsung's Korean headquarters that nobody in the booth was able to provide solid details about the technology, or if and when it would be available.
Satellite Sightings
One product that HDTV-heads like myself were looking forward to seeing at CES was a finished version of Dish Network's PVR921 high-def receiver/hard-disk recorder - a product that generated plenty of oohs and ahs when it was announced at last year's show. Unfortunately, the PVR921 remains a work in progress according to Dish, which offered no pricing or ship date. DirecTV has been pretty quiet over the past year, but it appears that the satellite provider is getting busy with its own projects again now that its planned merger with Dish Network has been scuttled by the FCC. The company showed a prototype of its own high-def receiver/hard-disk recorder, which will ship later this year with a 120-GB or larger hard drive at a price to be determined. DirecTV also announced that it would soon be adding another high-def pay-per-view channel to its HDTV lineup. A high-def high point in 2002 was the arrival of the Discovery HD Theater channel on Dish Network. Not only was Discovery Communications displaying in a booth at CES, they brought good news for HDTV fans: HD Theater will be rolled out in 40 to 50 cable TV markets over the next few months, and the network plans to produce 20% of its programming in high-def going forward. Upcoming Discovery HDTV highlights include
Crocodile Hunter
with Jeff Corwin and even a few episodes of the ever-popular
Trading Spaces
. Who cares if the neighbors paint your kitchen a tangerine hue while you're out? It'll look great in high-def! (Photos by Al Griffin)