Fighting—Unrated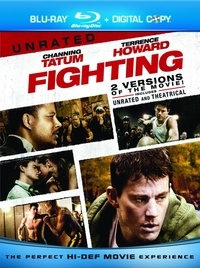 This is a gritty story of a small town boy, Shawn MacArthur (Channing Tatum), who becomes a street-fighting star in New York City's underground circuit thanks to the help of scam artist Harvey Boarden (Terrence Howard). The first act showed some promise, but ultimately, continuity issues and poor plot choices knock out what could have been an interesting story. What kept me intrigued was the excellent VC-1 encode, with deep blacks, amazing dimensionality, and revealing shadow detail.
Making money

Chapter 4, 0:17:16
Detail, shadow detail
As Harvey and crew arrive for Shawn's first fight, the exterior shot has exquisite shadow detail with great depth. Notice how the car lights shine off the pavement and the streetlights dance through the trees.
New York skyline

Chapter 6, 0:28:33
Detail, black level
In this exterior shot of New York, the pitch-black backdrop of the night sky provides the perfect canvas for the lit-up city. You can clearly read the Verizon logo on a building and see the plethora of cars traveling through the streets.
Looking through the window

Chapter 19, 1:39:05
Detail, dimensionality
This exterior shot of a New York brownstone gives you that "looking through the window" effect. look at the various shades of green in the tree leaves, the texture in the bark, and the reflections in the buildings windows.
Release Date: August 25, 2009
Studio: Universal
Movie: 4/10
Picture: 9/10
Sound: 8/10

LATEST VIDEO