Face Off: The Best Turntable on a Budget
Many people sounded the death knell for LPs over 20 years ago, but the vinyl record has proved amazingly buoyant. The reasons for this are simple: LPs are plentiful and generally dirt cheap on the used market; cool kids regularly discover stacks of their parent's wax gathering dust in attics and basements; and the LP's cover art stands by itself in a way that no puny CD booklet or digital download can.
And then, of course, there's the LP's sound. Sure, records can't quite deliver the same inky black backgrounds that CDs can, but I find the actual sound quality of the music to be more important than surface noise — or the lack of it. (You can think of listening to vinyl as being a bit like eating a gourmet meal served on a plate with a chip in the edge. Just as a chipped dish doesn't affect the flavor of food, most people who like listening to records won't let a little surface noise stand in the way of their enjoyment.) At its best, analog LP playback delivers incredibly vibrant sound with a wide palette of tonal flavors — qualities that often get stripped away with digital formats.
Some naysayers will tell you that the allure of vinyl playback is a trick; what you're hearing is euphonic coloration that doesn't exist in the recording. It could be that they have a point, but I'll stick with whatever format gives me the most enjoyment, warts and all. When was the last time that you sat down and listened closely to a CD all the way through? Vinyl fans do that all the time.
Of course, to play a record you need a record player, and while anyone shopping for high-end turntable exotica will be spoiled for choice, options at the affordable end of the spectrum are far more limited. So, my thought was, why not gather up three of the most popular, long-running budget turntables — the Rega Research P1, Music Hall mmf 2.2, and Technics SL-1200MK2 — and do a comparison?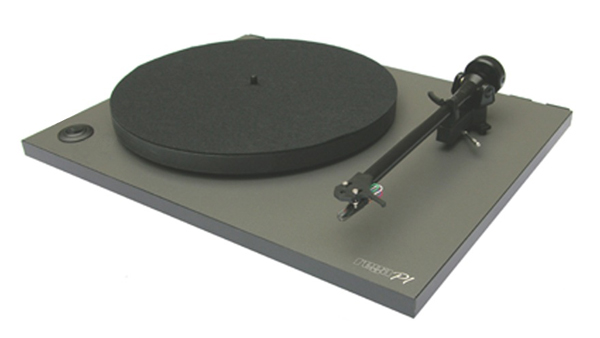 Key Features
$395 www.rega.co.uk
Two-speed belt drive
RB100 tonearm
MDF platter
Comes with Ortofon OM5E moving magnet phono cartridge
Rega Research, a stalwart of British audio's old guard, has been making turntables since the mid 1970s. At a time when manufacturers competed mostly on specifications and features, Rega took a refreshingly simple approach by focusing instead on basic engineering and performance. The P1 is Rega's most affordable design to date. Other than the power switch, its only "feature" is a manual 45-rpm speed adjustment that involves removing the platter and looping the belt by hand to a larger pulley step. The P1's included RB100 tonearm, a simplified version of Rega's famous RB300, comes complete with a pre-installed Ortofon OM 5E moving magnet cartridge. The OM 5E is near the low end of Ortofon's long-running OM cartridge line, but it offers an easy upgrade path with the simple substitution of a stylus.
Setting up a P1 couldn't be much easier. It requires little more than putting the P1 on a level supporting surface, installing the belt and platter, positioning the anti-skating slider, and screwing on the tonearm's counterweight as far as it will go. Rega says that this provides the proper tracking force for the pre-mounted Ortofon, although a quick check with a calibrated scale showed the resulting pressure to be 2.2 grams, which is somewhat higher than the cartridge's 2-gram recommended maximum tracking force. (Backing off the counterweight by about a [1/4]-turn gets things where they should be.) Cartridge alignment, meanwhile, was absolutely spot-on for both overhang (front to back position) and zenith (rotational position), and while the RB100 tonearm doesn't have a height adjustment, the fixed position appeared to be about right for the Ortofon.