Expand Your Memory
A bigger hard drive, a little time, and you're halfway there.
I'm a lucky guy. My wife and I have had only one major squabble since the beginning of the year, and it was about sharing the space on our personal video recorder's rapidly filling hard drive. My problem: I've fallen behind in archiving and deleting my keeper episodes. Hers: She waits too long to watch her recorded Ally McBeal, Buffy, and Friends, and the PVR automatically purges them. Although many possible solutions exist (Ally was cancelled, thankfully), the simplest would be to add a larger hard drive. Compared with the purchase of a newer, higher-capacity PVR, this approach is quite economical, and it's a project that a home theater buff with some electronics/computer expertise can tackle.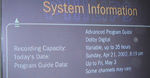 The powers that be at TiVo are aware that consumers are making such modifications but essentially have a hands-off policy, although such work clearly voids the warranty. If you do it right, however, it should in no way interrupt your ongoing paid TiVo service. Maxtor is one of the principal manufacturers of hard drives for PVR use. The TiVo is, after all, a basic PC running a Linux operating system, and both the TiVo and the PC employ standard IDE drives. The 120-gigabyte-capacity DiamondMax D540X seemed to be a good match for our needs, offering over 100 hours of recording time in a 5,400-revolutions-per-minute package that balances the necessary performance with heat- and noise-reduction considerations. I should point out that, despite their drives' popularity for such applications, Maxtor doesn't condone, endorse, or encourage PVR hacking.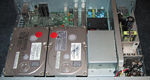 My bud and personal computer guru Dave leapt headfirst with me into this upgrade one recent Sunday night, using his Philips DSR6000 DirecTV/TiVo PVR as a guinea pig. Note that there are significant differences between PVR models. Our experiences are specific to DirecTV receiver/TiVo PVRs, such as the Philips, Sony, and Hughes standalone boxes, which are all essentially the same inside. In preparation, we hit New Releases Video's how-to-upgrade-your-TiVo page at www.newreleasesvideo.com/hinsdale-how-to and printed their 21 pages of instructions, which include full details in addition to an incisive FAQ section. We recommend that you do the same before you begin.
We quickly learned that the procedure wouldn't be as simple as yanking out the old drive and tossing in the new one. We'd have to back up the TiVo software and all of Dave's settings and format the new drive so that the TiVo would accept them, which requires a PC. So we followed the link from New Releases Video to 9th Tee (www.9thtee.com/tivobootcd.htm) to download Kazymyr's TiVo Boot CD (a minimal Linux system with all of the necessary upgrading tools installed), which we then burned to a CD. You can also buy a CD from the site or use the floppy-diskette option. After we confirmed that the PC's primary drive had 1.5 GB of free memory (likely more than we would actually need), we checked the TiVo setup screen to determine the firmware version (2.5) and mock the puny, soon-to-be-dwarfed 35-hour capacity. Keep in mind that this upgrade will delete all of your stored programs, so you should watch them all or transfer them to tape before you begin.
LATEST VIDEO