Eton Rugged Rukus Portable Bluetooth Speaker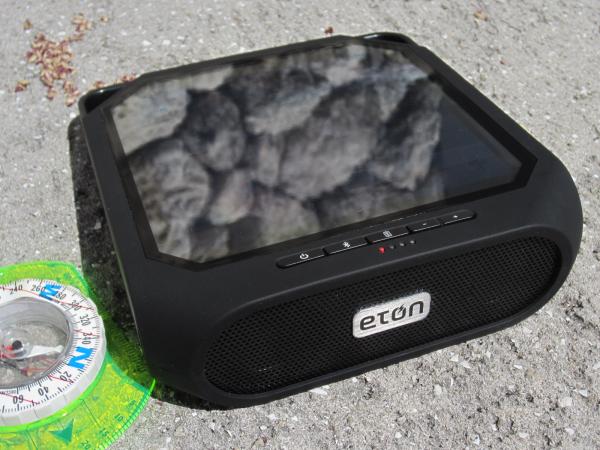 Sometimes, even during the most secret of covert ops, you need to unwind a little. You know - put your weapons aside (but still placed within easy reach) and relax with The Duffel Blog. But what kind of music playback system is best? You sure can't pack a big boombox into your knapsack, and when the batteries run out, where are you going to find a Radio Shack in Tora Bora? What you need is a small, rugged music player that can recharge on solar power. With carabiner attach points, of course. What you need is an Eton Rugged Rukus.
The Rugged Rukus is a followup for the Rukus we reviewed a year ago. We liked the Rukus, but when you're being inserted by helicopter into the Afghan mountains, we find it a little bulky, and it is not ruggedized. The Rugged Rukus is tougher and smaller, measuring a wee 6.5 x 5.9 x 1.8 inches (and weighing 1 pound, 3 ounces). Available in black or green. MSRP is $100.
The wedge-shaped player has stereo speakers firing outward from the big end of the wedge; they are safely tucked behind a grille cover. Top buttons provide power, Bluetooth, level indicator for the internal lithium-ion battery, and volume. You may find the buttons to be too small for your large, manly fingers. On the other hand, they require a good deal of force, and engage with a reassuring lock-and-load feel. Tabs on two corners can be used to strap or secure the player. Aside from the indicator lights, there are no other displays to give away your secret location.
On the small end of the wedge, behind two protective flaps, are an auxiliary input and on/off button with LED indicator, and microUSB port and USB port with on/off button and LED indicator. The microUSB is used to charge the Rukus using the supplied USB cable; sadly, a charger is not included. The USB port can be used to charge your smartphone or other device. That's pretty nice; even if you never use it for music playback, you've got a solar charger for your gear.
The top of the wedge is covered by 20 square inches of solar cells. Eton advises that the Rukus can be charged in about 5 hours in bright sunlight. Playback time from a full charge is about 8 hours; if played in sunlight, playback time would be longer. Charging time via USB/AC is about 2.5 hours. All of these figures seemed about right during our tests.
The Rugged Rukus is ruggedized. I like ruggedized; my phone is ruggedized. It lets me sleep better at night. The RR proves its ruggedized status through its IPX4 rating, meaning it is water resistant/splashproof. If you actually drop it into the lake, all bets are off. On the other hand, Eton claims that the player can be dropped onto the ground from a height of 1 meter.
As noted, the Rukus has an auxiliary audio input but chances are, you'll usually connect to the Rukus via Bluetooth. This easily accomplished by pressing and holding the Bluetooth button. Pairing is swift and painless.
Either way, wired or wireless, sound quality is surprisingly good. Yes, there isn't any low bass at all, and treble has its share of notches. But the all-important midrange is actually quite nice. Vocals sound clear and crisp, with low audible distortion; acoustic instruments have a decent sense of natural timbre about them. Moreover, the sound is free of cabinet resonances and any other fuzz-inducing vibration. There is also a certain amount of lower midrange warmth that puts the Rukus a half notch above the platoon of tinny-sounding speakers out there. I wish there had been room in the chassis for a downward firing woofer, to kick in a little bass.
There's not much stereo separation; the speakers are just too close together (3.25 inches, center-to-center), and there isn't any spatial perceptual software onboard. On-axis sound quality is radically better than off-axis. I do wish the designers had taken advantage of the wedge shape and angled the speakers upward a bit.
Whether running on batteries or USB/AC power, even at maximum level, volume is relatively low. But, it is satisfactory for most indoor and even modest patio applications but you won't rock out your next pool party. Probably just as well; a more powerful amplifier would probably overdrive the speakers, increasing distortion. The good news: no matter how hard you are rocking out, the music volume won't give away your position to the insurgents in the adjacent cave.
Eton is carving out a nice market niche for itself; its portable radios, emergency radios, solar speakers, and even crank-powered radios, show where its head is at. With solar power, Li-ion battery, Bluetooth, compact size, and all-terrain design, the Rugged Rukus is a welcome addition to the lineup. Now drop and give me twenty.