ESPN High-Def Touchdown
Photos by Michelle Hood
On third-and-one with 1:22 left in the third quarter of a game between the Miami Dolphins and the Buffalo Bills, Miami quarterback Jay Fiedler overshot tight end Randy McMichael with a short pass down the middle. The play, which unfolded in roughly 8 seconds, had no bearing on the outcome of the game. It was unexceptional in just about every way.
Photo courtesy of ESPN
But for those fortunate enough to be watching ESPN's broadcast of the Sunday night clash in high-definition, the play was a drama unto itself. From the instant the ball was hiked, the 16:9 widescreen framing allowed them to simultaneously see the developing pass routes and the pursuit of the defensive linemen. While Fiedler surveyed the field, the high-resolution image let viewers see his eyes darting back and forth as he checked off his receiving options. When he took a few tentative steps out of the pocket, the dirt and grass unearthed by his cleats speckled the screen. And when he finally cocked his arm and released the ball, its rocky spiral and listless arc told high-def viewers what Fielder himself had probably realized a nanosecond earlier: the pass didn't have a chance.
Such is the difference between watching an NFL game on a conventional TV and in high-definition. In player parlance, HDTV doesn't take a snap off. Whether it's the tight whirr of a delivery from the long-snapper or the wide-eyed recognition when a receiver senses the nearby presence of a defensive back, high-def takes the art - that's right, it's an art - of watching football to a higher level. Even crowd-reaction shots are more vital, though the flecks of spittle flying from the mouths of well-lubricated fans lend a you-are-there veracity that might not be appreciated by everyone.
Tell those impressions to ESPN senior coordinating producer and Sunday Night Football producer Jay Rothman, and he laughs. "We get a lot of that," he says appreciatively. And while Rothman eagerly shares opinions about the high-def broadcast of the game ("What impresses me most is the relativity - you see everything as it develops"), he downplays his role in shaping it. In fact, he stresses that what high-def viewers are currently seeing isn't the finished product: "You hate to learn while you're on the air, but we'll adapt. There's no going back now, right?"
Veteran anouncers Mike Patrick, Paul Maguire, and Joe Theismann helm ESPN's Sunday Night Football broadcasts.
Billed by ESPN as the first 24-hour high-def sports channel in the U.S., ESPN HD debuted with the March broadcast of a preseason Major League baseball game. The high-def simulcast channel has helped the network further cement its reputation as an oasis for all things sport. Within the past year, ESPN has inked distribution deals for the new channel with several of the country's biggest carriers, including Comcast Cable, Cox Communications, DirecTV, and EchoStar's Dish Network.
Of course, ESPN isn't the only broadcaster that has committed to high-def coverage of sporting events. For instance, sister network ABC is airing its stalwart Monday Night Football games in high-def, and CBS is doing the same for its featured NFL game every Sunday as well as its coverage of U.S. Open tennis, Masters golf, and NCAA Final Four basketball.
But even CBS, which airs an average of 25 hours of high-def programming every week, hasn't committed to HDTV to the extent that ESPN has. In fact, ESPN is building a 120,000-square-foot digital facility on its Bristol, Connecticut, campus and hopes to have it ready for the 2004 baseball season. "It's the culmination of taking our entire plant digital," says strategic business planning and development VP Bryan Burns, the network's HDTV guru. He notes with pride that it will be the largest high-def facility in the world: "It will change the way we ingest video."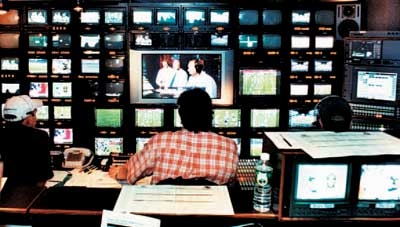 The control truck is filled with widescreen high-def monitors, "masked" to indicate a traditional 4:3 image.
As HDTV begins to catch on with the mass audience, ESPN HD will be fully operational with A-list programming from the four preeminent professional sports leagues, original dramatic fare like Playmakers, and 70 or so weekly SportsCenter broadcasts. Sure, HDTV penetration is minimal among those fans Sunday Night Football director Chip Dean affectionately dubs "the Joe Six-Packs." In fact, only 2% or so of the fans watching the Miami/Buffalo game saw the HDTV broadcast. But ESPN is banking that once this audience gets a glimpse of sports in high-definition - and it's not like they're going to be lured to HDTV by the likes of Yes, Dear - they won't want to watch it any other way. As Dean says, "It's like looking through a glass and being at the stadium." In fact, ESPN opted for the 720p (progressive-scan) format over 1080i (interlaced) exactly because it does a better job with the fast-moving images common in sports.
LATEST VIDEO