Elite's Airbright 5D Screen Material Now Available in Many Sizes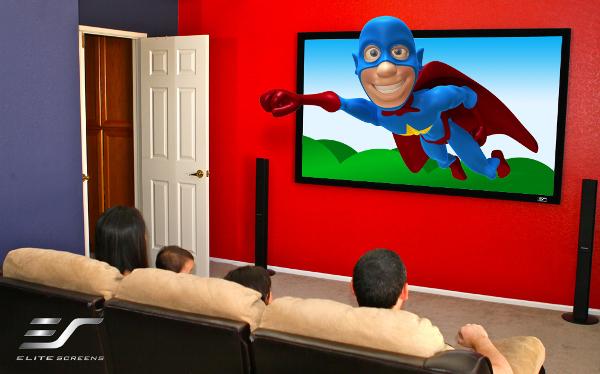 As a service to our readers, HomeTheater.com publishes selected manufacturer-supplied announcements and press releases for products that we think might interest you. Content is posted here as issued by the manufacturer and does not imply endorsement of any kind by Home Theater or any hands-on experience by its reviewers or editors. Visit our Reviews area to browse test reports for products that have been formally evaluated by our expert staff.
Airbright 5D, the New 3D / 2D Screen Material from Elite Screens, Now Available In a Variety of Sizes
CERRITOS, Calif., April 16, 2013 — Elite Screens, Inc. today announced the availability of its award-winning Airbright 5D projection screen material in an even wider variety of sizes. It gives phenomenal contrast and color quality in either a 2D or 3D presentation. Now, it is available in 100", 110", 120", 135", & 150" sizes.
"People really want the best of both worlds when it comes to standard 2D or 3D presentations," said David Rodgers, marketing manager, Elite Screens, Inc. "Current trends show that home theater enthusiasts like 3D but don't want to be stuck with it 24/7. That is why we developed an angular reflective material that is polarized for 3D but is equally serviceable as a 2D ambient light-rejecting material so that our customers get what they want, when they need."
Elite's Airbright 5D material provides superb brightness and contrast for either a regular 2-dimensional or full-immersion 3D presentation. The screen material has a brightness of 1.8 gain and a 120º wide viewing angle making it ideal for home cinema and commercial applications. Its primary functions include home theater, conference rooms, classrooms, commercial movie houses, museums, stadiums, and other large venue environments.
The material is an unsupported PVC (tension) multi-layer screen fabric with enhanced flatness and durability. The Silver-white protective surface coating is a reflective compound that is polarized to allow its use in 3D presentations. It is designed to enhance a higher contrast ratio while playing in high definition video modes such as 4K, 1080P, 720P , WXGA and XGA formats.
Pricing, Availability, Warranty
Elite Screens' Airbright 5D Projection Screen has a starting price at $1,912 (USD)in a fixed frame format and will be available in a range of sizes from 100-150" (HDTV) 16:9 aspect ratio through the Elite Prime Vision CI/ProAV channel. It comes with Elite's limited-lifetime warranty.