Eight is Enough
I had not heard of Swedish speaker maker
Perfect8 Technologies
until reader Joe G. posted a comment in my blog about
Hario's glass speakers
. Like Hario, Perfect8 uses glass as a primary building material, but not in the driver diaphragms as Hario does. Instead, the cabinets and some support structures are made of glass, creating elegant sculptures that are said to sound as good as they look.

Perfect8's flagship is called the Force. Standing over six feet tall, this imposing tower includes eight 7-inch magnesium-cone midrange/woofers and one 5-foot ribbon tweeter in an open-baffle, line-array configuration. Perfect8 believes that this design provides the best possible sound by eliminating any cabinet colorations and producing a high-quality backwave that reflects from the walls and combines with the direct frontwave. At the same time, the company's implementation of this idea is said to minimize vertical and horizontal dispersion, which reduces reflections from the floor and ceiling and results in a "figure-8" horizontal-radiation pattern from which the company derives its name.
But why make the baffle out of glass? Even Perfect8 admits that this is not typically a suitable material for speaker cabinets and baffles because of its low damping and other factors. But the company has developed a type of glass that exhibits very high damping while maintaining its hardness and other advantageous properties, calling it Super Silent Glass (SSG). Studies conducted by Perfect8 indicate that SSG is inherently less susceptible to vibrations than wood and other materials, leading to less distortion of the driver's raw output. To further enhance this effect, the drivers are decoupled from the baffle using a soft gasket between the baffle and driver basket.
Finally, the Force uses a passive crossover between the tweeter and midrange/woofers and an active crossover to the subwoofers that come with the system. A similar arrangement is used with the other Pefect8 models that include their own subs.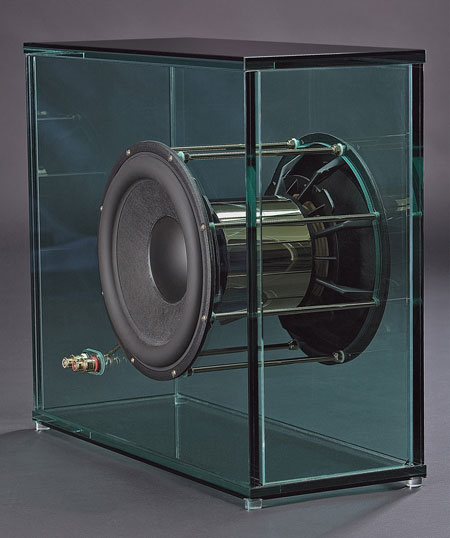 A pair of Force speakers comes with two subwoofers and two outboard 1000W power amps to drive them. Each sealed-box sub includes two 12-inch cone drivers mounted in an opposing configuration, and they operate in phase, which cancels out any vibrations that might remain in the SSG cabinet.
Wait a minute—what happened to all that talk about open-baffle designs? According to the company, it's extremely difficult to attain good low-frequency performance with such a design, which is why it opted for a sealed-box sub to achieve an overall frequency response from 8Hz (!) to 50kHz for the complete Force system. As you would expect, such performance will cost you—250,000 Euros (nearly $372,000 as of this writing) per pair to be exact.
If your budget can't withstand that kind of commitment, Perfect8 has an alternative—the Point, an open-baffle design with two of the same 7-inch magnesium-cone midrange/woofers found in the Force and a small ribbon tweeter, which acts more like a point source than a line array, hence the name. With the included sub, the Point's frequency response reaches from 16Hz to 26kHz (±1dB), and it can be yours for 100,000 Euros (almost $149,000 as of this writing) per pair.
If space is tight, consider the Cube. This sealed-box design incorporates two 5-inch magnesium-cone midrange driers in an opposing configuration and a 1-inch silk-dome tweeter firing at right angles to the mids. The included sub sports opposing 10-inch drivers driven by a 400W outboard amp, yielding an overall frequency response from 20Hz to 30kHz (±1dB), all for only 65,000 Euros (nearly $97,000 as of this writing) per pair.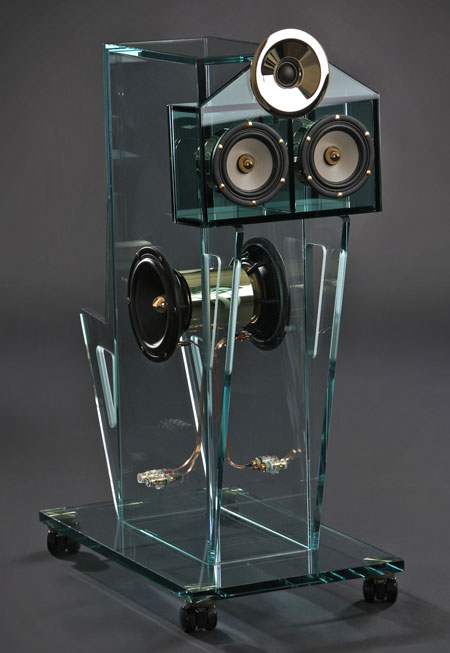 A center-channel speaker is essential in any home theater, and Perfect8 has this base covered as well. The Force Center uses the same tweeter and twin midrange drivers as the Cube—all facing forward in this case—and adds a passive subwoofer in the height-adjustable stand with opposing 7-inch magnesium cones to achieve a frequency response from 35Hz to 34khz (±2dB). The price? 30,000 Euros (almost $45,000 as of this writing).
So what would the ultimate Perfect8 5.1 system consist of? Jonas Räntilä and Göran Rydqvist, cofounders of the company, both use two Forces for the front left and right, a Force Center, and two Points in the surround positions, representing about $566,000 at retail. For those who prefer more diffuse surrounds, the Cube would work very well, and it would shave about $52,000 off the system price.
I haven't heard the Perfect8 speakers, but they garnered several "best sound" awards from major audiophile publications at the 2008 and '09 CES. I plan to visit the company's demo room at the show in January, and I'll be sure to report on what I hear. Meanwhile, I can't help but admire the beauty of their innovative design, which would make a bold statement in any ultimate home theater.