In-Ear Headphones Face Off Page 9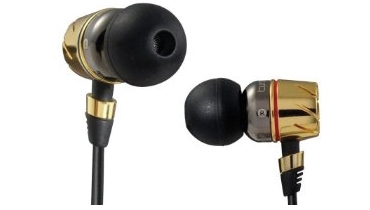 Monster Turbine Pro
Key Features
$300 Monstercable.com
• Accessories: 6 pair ear tips, suede clip-case carry pouch • Impedance/Sensitivity: Manufacturer does not supply specifications
Monster founder Noel Lee is a true audiophile, which explains why, after introducing the original Turbine earphone and the mass-market Beats by Dr. Dre and Heartbeats by Lady Ga Ga 'phones, he's brought out the Turbine Pro. He clearly felt there was a no-compromise product still to be released: The Pro is $120 more than the original Turbine, though its $300 price tag actually makes it one of the more affordable earphones in our mix.
Despite that price, the Turbine Pro features the most stylish design and solid construction in the group, with gold-colored metal earcups whose contoured grooves evoke the Turbine name, and great attention has been paid to strain relief for the cords and other areas prone to breakage. All this makes the Turbine Pro heavier than the others, but that wasn't a problem (for me, at least) once they were properly fitted. The price actually includes a lifetime warranty with a one-time free replacement, even if you break them yourself.
PERFORMANCE
Great bass was the Turbine Pro's big plus - among the best in our mix. Test tones showed solid energy down to 30 Hz before output started to drop off a bit, and the 'phones were still hittin' it pretty well down at 20 Hz. The Turbines carried "Cosmic Rhythm" convincingly and lent more than enough oomph to Amanda Marshall, Jason Weaver, and even the Firebird finale. It was also among the best at reproducing the full inherent dynamic range on that orchestral track, preserving clarity on loud passages and delivering the final timpani strikes with authority. It really delivered on the midrange and highs, too, with wonderful, round notes coming from the triangle and clean, crisp cymbal strikes on "Wishing Well." The Turbines also revealed tons of nuance in the texture of notes and the breathing of the musician on the Sound Check flute track; you can easily hear from the in-breath that it's a woman playing.
Some vocals, such as the lean a cappella track from Sound Check, actually sounded smoother and more laid-back than on my reference 'phones, but I detected just a bit of added midrange emphasis on other tracks. Jason Weaver's vocal on "I Can't Stand the Pain" was a touch more forward and prominent than on my reference and a couple of the other 'phones, for example, and the opening violin solo on the Amanda Marshall track got edgy on the one very highest note (a not uncommon result with this recording). But the Turbines never sounded strident or fatiguing, and massed strings on the Stravinsky and Sound Check violin tracks were reproduced with good texture and body.
BOTTOM LINE
Monster's Turbine Pro is an overall excellent and well-balanced earphone that represents a great value.
LATEST VIDEO