Dynaudio Excite Speaker System
Dynaudio is, first and foremost, an audiophile speaker company, but one that also makes superb home-theater speakers. Wait, that implies it makes separate audiophile and home-theater lines, which is not really true. Dynaudio speakers excel with music
and
home theater.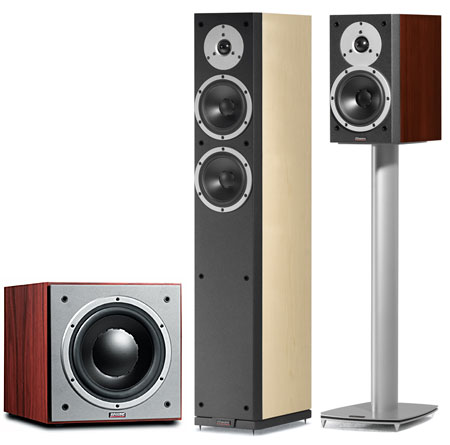 The company has six distinct speaker lines, starting with the entry-level DM; next comes the Excite, which features Dynaudio's most affordable tower. The rest of the lines take off from there with Focus, Contour, Confidence, and finally the reference-level Evidence speakers. The Excite Series is brand new, and yet it shows a strong kinship with the DM and Focus lines.
Features
The Excite system I reviewed included a pair of X32 towers, an X22 center-channel speaker, a pair of X12 bookshelf speakers for use as surrounds, and a Sub 250 subwoofer. None of these speakers are very large or imposing; my non-audiophile friends barely noticed their presence in my living room. That's probably a plus for folks looking for a 5.1 system that blends in with its surroundings.
All the Excite models feature magnesium silicate polymer cone woofers with die-cast aluminum-frame baskets and aluminum voice coils. Dynaudio's specially coated soft-dome tweeters, with newly designed magnet structures, grace all the speakers. The drivers were optimized for use with first-order (6dB/octave) crossover networks that are another hallmark of Dynaudio speakers.
The Excite X32 tower features two 5.7-inch woofers and a 1-inch tweeter, while the Excite X12 monitor uses the same-sized drivers, but just one woofer. The Excite X22 center-channel speaker boasts a pair of 4.3-inch woofers flanking a 1-inch tweeter. A folded metal stand cants the center speaker back a few degrees to project the speaker's sound up a wee bit, ideal if you place the X22 on a low shelf under the TV.
From the outside, all the Excite speakers' woofers and tweeters look pretty much the same, but they're not. Each driver is designed for a specific model—for example, while the X32 and X12 share identically sized tweeters and woofers, the drivers are unique to each model. Every part of each speaker is designed and built in Denmark.
The Excite speakers are available in real-wood maple, cherry, rosewood and black-ash veneers; my review samples came in the deep 'n' dark rosewood, which was stunning. The MDF cabinets don't have the heft and solidity of many similarly priced speakers, but construction quality was absolutely first rate, probably ahead of comparably priced Asian-built speakers from other manufacturers. The speakers and subwoofer all have removable black-cloth grilles.
The Sub 250 is a 10-inch acoustic-suspension (sealed-box) subwoofer offered in the same real-wood veneer finishes as the Excite speakers. Its 230-watt amplifier and crossover electronics were designed by Dynaudio engineers (most subwoofer manufacturers outsource their electronics).
The sub's rear panel features a volume control, adjustable 50-150Hz lowpass filter, and a phase switch. That's pretty standard stuff, but the Sub 250 also has a selectable highpass filter (Flat, 60Hz, or 80Hz) that feeds the line-level RCA outputs. Those highpass outputs are intended for use in a high-quality sub/sat 2-channel system.
Connectivity is therefore a little different than most subs. In addition to the highpass outputs, there are stereo and LFE RCA inputs and a "slave" output that can feed another sub with the LFE signal.