IMAX Enhanced Program Gains Momentum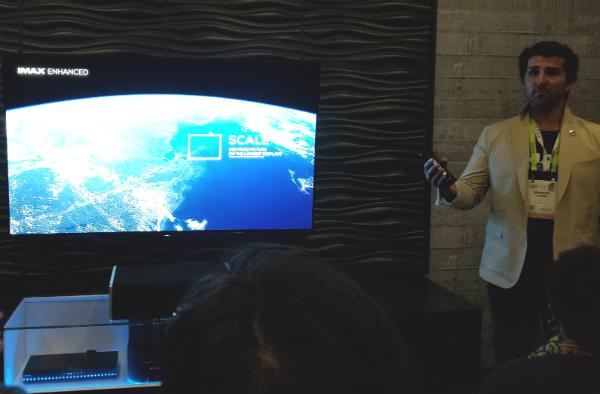 Xperi, the parent company behind DTS, and IMAX announced at CES 2019 that the IMAX Enhanced program announced in September is gaining momentum. The program combines hardware and digitally re-mastered 4K HDR content for a new standard in high-end home theater.
IMAX Enhanced is a four-fold experience using proprietary post-production techniques to digitally remaster video and audio. Images are enhanced to be brighter and clearer. Sound is created using a special variant of the DTS:X codec for a "signature" IMAX sound. Scale is increased to the IMAX aspect ratio; only the largest 4K displays will be labeled IMAX Enhanced. The last part of IMAX Enhanced is content; premium content will be remastered and certified by IMAX.
IMAX is using content from its own library, but new titles can also be submitted for the intensive enhancement program.
Currently, three companies in the world are signed on to stream IMAX Enhanced content: Tencent Video (China), FandangoNOW (U.S.), and Rakuten TV (Europe). Privilege 4K will begin streaming IMAX Enhanced content to select Sony BRAVIA TVs later in 2019.
At the show IMAX and DTS announced and demonstrated (WOW!) first IMAX Enhanced titles from Sony Home Pictures to be streamed and released on Ultra HD Blu-ray Disc: Venom and Alpha. The movies are two of 15 IMAX Enhanced titles confirmed for launch in 2019. They follow the December 2018 4K/Ultra HD Blu-ray release of the IMAX documentaries "Journey to the South Pacific" and "A Beautiful Planet."
IMAX Enhanced hardware partners include Arcam, Elite, Integra, Lexicon, Onkyo, Pioneer, TCL and Trinnov along with Sony Electronics and Sound United brands, Denon and Marantz. Arcam, Elite, Integra, Lexicon, Onkyo, Pioneer and Trinnov will offer IMAX Enhanced-certified AV receivers and TCL will debut IMAX Enhanced-certified televisions in select regions beginning in 2019.
"We're encouraged by the significant momentum and high-caliber partners that are embracing the IMAX Enhanced program in just the first few months of its launch," said IMAX CFO and Head of Corporate Strategy & Development Patrick McClymont. "These premium partners and the blockbuster titles announced today extend our product and content offering and advance our efforts to deliver the best at-home entertainment experiences to more consumers around the world."
Xperi EVP and Chief Products and Services Officer Geir Skaaden added: "We are pleased to announce the growth of the IMAX Enhanced ecosystem with leading studios, streaming services, and device partners who share our vision of raising the bar for home entertainment by delivering the highest quality content to premium devices."
As engaging as IMAX films are in the theater, it is incredibly exciting to be able to have a similar experience in the home. We'll keep you posted as more content and hardware are certified and created to be IMAX Enhanced.