Drag Me to Hell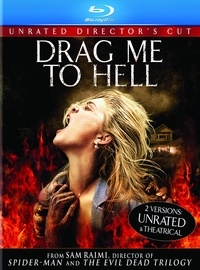 After a hiatus from horror to make the three
Spiderman
movies, writer/director Sam Raimi returns to the genre. I'm not a fan of horror films, but given the dearth of review material on my desk right now, I thought I would give
Drag Me to Hell
a spin. The story is average, but the video and audio were so good, they kept me watching until the end—a rarity with horror films!
Pasadena

Chapter 1, 00:00:40
Detail
From the very beginning, you'll know you're in for a visual treat when you first see the intricate detail in the exterior shot of a palatial mansion. Notice the distinct roof tiles, the decorative trim, and the shine of the marble-encased entryway.
Hearing voices

Chapter 1, 00:01:44
Surround imaging
This is the first of many reference-quality examples of surround imaging. Listen to the boy's labored breathing from the center speaker as the demons roar and screeches encompass the entire room. If you concentrate, you'll pick up a very distinct evil laugh among the multilayered surround mix.
Back to the creepy mansion

Chapter 33, 01:07:00
Detail, surround imaging, dynamic range
Look at the plethora of spider webs, the elaborate architecture, and the sparkle of the marble flooring.
Listen to the crisp-sounding footsteps, the creak of the doors as they swing open, and the openness of the voices.
Release Date: October 13, 2009
Studio: Universal
Movie: 6/10
Picture: 10/10
Sound: 10/10
LATEST VIDEO