Do the Right Thing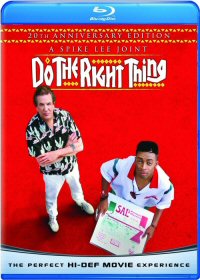 Spike Lee's 20-year-old masterpiece depicts the racial tensions in the Bedford-Stuyvesant neighborhood of Brooklyn, New York, but the film has aged well. While not as polished as a day-and-date release, this catalog title features outstanding color saturation, excellent detail, clear dialog, and a great surround-sound demo scene in the third act right before all hell breaks loose. Sure, the subject matter is heavy and thought provoking, but it looks and sounds fantastic too!
Beat the heat.

Chapter 4, 0:25:32
Detail
Look at the distinct facial pores, the texture in the hair, and the highly detailed stream of water coming out of the showerhead. Also notice the individual beads of water as they move down the skin like they would on a freshly waxed car.
Hangin' on the corner.

Chapter 6, 0:39:05
Color saturation, gradation
Notice the sizzling red background with smooth gradients of color throughout the shadows.
Turn off that music!

Chapter 13, 1:30:44
Detail, frequency response, surround imaging
Look at the pattern in the textured ceiling tiles, the beads of sweat on the actors, and the writing on the Pepsi sign.
Listen to the thumping bass and crisp vocals from "Fight the Power" and how it encompasses the entire sound field. Even with all the surround activity, the screaming voices of the agitators comes through crystal clear.
LATEST VIDEO