Digital Projection CEDIA Announcements
Digital Projection will be making quite a splash at the CEDIA Expo this year, with at least four new DLP projectors and a new media server. The company also promises a couple of surprises and a kick-ass party at the Hard Rock Cafe.
The company's M-Vision lineup will gain two new single-chip models. The Cine 400 3D (approx. $19,000, depending on lens) is DP's second 3D projector, and the Cine 230 is budget-priced at $7000 to $7500—well, budget-priced for DP, anyway.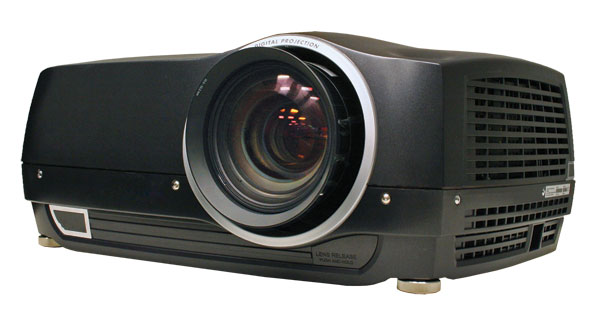 Somewhat higher up the food chain is the dVision series, which will also add two new models. The 30-1080p LED is—you guessed it—an LED-illuminated, single-chip projector (about $25,000), while the 35-WQXGA offers a native pixel resolution of 2560x1600 from a single chip for about $40,000. The expanded resolution lets the 35-WQXGA display any aspect ratio from 1.78:1 to 2.35:1 without needing an anamorphic lens.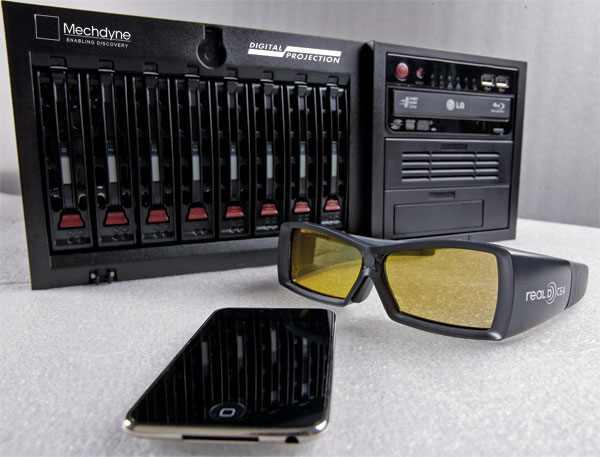 To feed DP's 3D projectors, the company is also introducing the second generation of the Dimension 3D server, which will start at $18,000—or perhaps even less—for 6GB of RAM, 1TB of hard-disk capacity, Blu-ray drive, Nvidia Quadro 4000 3D graphics card, and 3D IR emitter (active glasses sold separately). Stepping up to the Ultra server, you get 12 pairs of active glasses, 12GB of RAM, six 2TB hard drives configured as an 8TB RAID level-6 system, 3D digital camera, and 100-disc Blu-ray carousel, all for around $50,000.
When I asked about ripping Blu-rays to the server, the company replied, "Digital Projection and Mechdyne [the developer of the server] neither condone nor enable the ripping of proprietary Blu-ray discs to the Dimension 3D server. The Dimension 3D server is at its best when used in conjunction with one of Digital Projection's 3D projectors as a dynamic 3D gaming platform, but it contains numerous other features, including the ability to upconvert 2D content to 3D, showcase photos and videos taken with 3D-capable recording devices, and more." Damn DRM...