Diamond John
John Bowers founded British speaker giant
Bowers & Wilkins
in 1965, hand assembling speakers in the back of an electronics shop he ran with Roy Wilkins in Worthing, England. Nearly 45 years later, B&W has become one of the world's pre-eminent speaker companies, thanks in part to the spirit of innovation embodied in its flagship 800 series.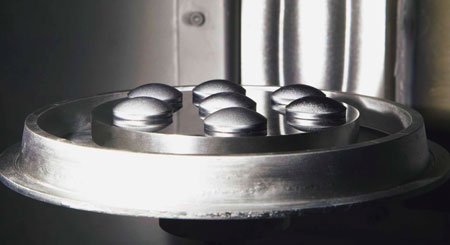 Like the Kharma Exquisite line previously profiled in this blog, the top members of the 800 series include a dome tweeter made of pure, laboratory-grown diamond, which exhibits a very high stiffness and break-up frequency, making it an ideal tweeter-diaphragm material. This remarkable achievement is made possible by the invention of a process called chemical vapor deposition, in which a specific chemical environment encourages carbon atoms to form a diamond lattice directly on a substrate material such as tungsten, molybdenum, or silicon—in this case, the substrate form is spherical as shown in the photo above.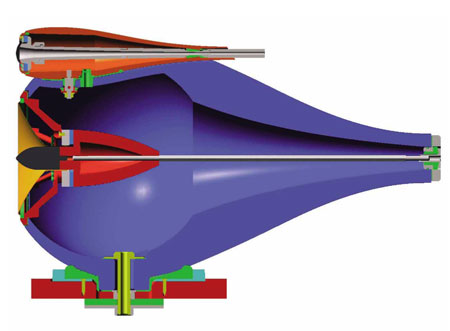 Also common to the upper echelon of the 800 series is B&W's so-called Marlan head unit, which combines the tweeter and midrange driver in their own, separate enclosures. Derived from the Nautilus design, each enclosure uses a tapered transmission line or "lossy waveguide" behind the driver, which minimizes coloration from the backwave.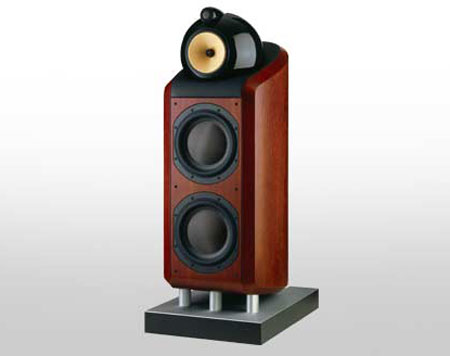 At the pinnacle of this series is the 800D, a ported, 3-way floorstander with one 1-inch diamond-dome tweeter, one 6-inch Kevlar midrange, and two 10-inch Rohacell-sandwich cone woofers mounted in a curved, Matrix-braced main cabinet said to effectively resist resonances. The impressive frequency response ranges from 32Hz to 28kHz (±3dB), and the –6dB points are 25Hz and 33kHz. Of course, this level of performance doesn't come cheap—the 800D lists for $11,500 each.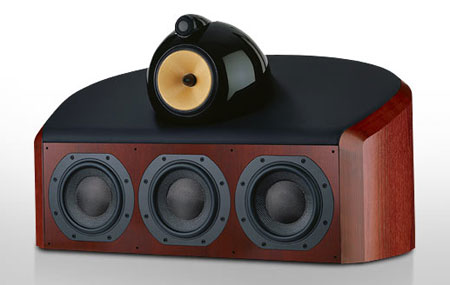 Among the center-channel models in the series is the top-dog HTM1D, which sports a 1-inch diamond-dome tweeter above a 6-inch Kevlar midrange in the Marlan configuration, below which are three 8-inch Rohacell-sandwich woofers. Interestingly, this center-channel speaker is designed to sit on the floor rather than a stand, and the included spiked feet allow it to be tilted upward toward the listener. The HTM1D matches the 800D perfectly with a frequency response from 38Hz to 28kHz (±3dB), with –6dB points at 32Hz and 33kHz, all for $9000.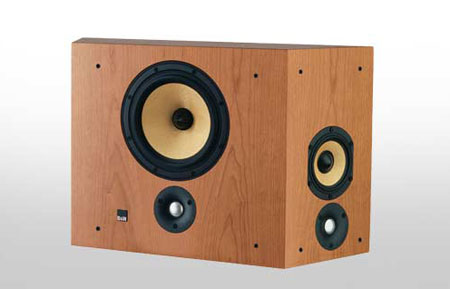 None of the 800-series surrounds include a diamond-dome tweeter, but the DS8S should suffice quite nicely anyway. This trapezoidal surround speaker can be switched to operate as a monopole from the front-firing 1-inch aluminum-dome tweeter and 7-inch Kevlar mid/bass driver or a dipole from the 1-inch aluminum-dome tweeters and 4-inch Kevlar midrange drivers on the side panels. (In dipole mode, the front tweeter is disabled, but the front woofer remains active.) The monopole frequency response extends from 60Hz to 22kHz (±3dB), with –6dB points at 45Hz and 50kHz; in dipole mode, the –6dB points are 45Hz and 18kHz. The price for this puppy? $1650 each.
For the ultimate home-theater package, the ASW855 is the subwoofer to get. This sealed-box design includes a single 15-inch, long-throw, Rohacell-sandwich cone driver and 1000-watt Class D amp to achieve a frequency response from 18Hz to 110Hz (±3dB) with –6dB points at 14Hz and 140Hz. As you would expect, that much bass costs—$3500 to be exact.
At minimum, a 5.1 system with two 800Ds, one HTM1D center, two DS8S surrounds, and one ASW855 sub will set you back almost $39,000—a real bargain compared with some of the systems I've profiled in this blog. Of course, you could opt for 7.2 channels or put additional 800Ds in the surround positions if you simply must spend more money. I've not heard these particular models, but I have listened to plenty of B&Ws, and they are among the finest-sounding speakers in my experience. Thus, I have no doubt that the system described here would satisfy just about anyone's desire for the ultimate home-theater sound.