Dell Dimension 4600C Media Center PC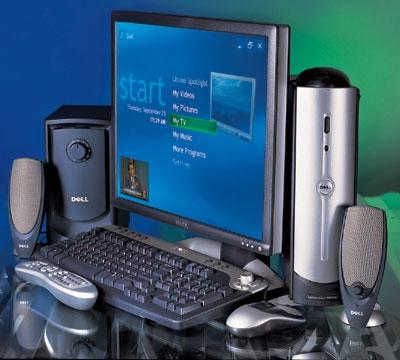 Photo by Tony Cordoza
Dell's stylish new Dimension 4600C Media Center PC is compact enough to be integrated into a stack of home theater components. But it's a stack by itself, comprising a DVD player/recorder, a TiVo-like video hard-disk recorder with a free 12-day program guide, a CD ripper/music jukebox, a slide-show presenter, a video jukebox for your camcorder creations, and a movie server for downloading the latest releases from online services. There's a remote for controlling all the entertainment-related functions and a wireless keyboard and mouse to operate everything else. After all, the 4600C is a full-fledged 3-GHz Windows XP computer, too.
FAST FACTS
INPUTS RF (antenna); composite/S-video with stereo audio; microphone; 2 USB 2.0 ports in front (6 on back); 2 nonpowered FireWire connectors (front and back); 2 PC Card slots in front for flash-memory card adapters OUTPUTS VGA, composite/S-video with stereo analog audio; optical digital audio; surround, center, and LFE line-level outputs; headphone jack (front); parallel port; Ethernet port; modem port DIMENSIONS 12 3/4 inches wide, 4 inches high, 14 inches deep WEIGHT 16 1/2 pounds PRICE $1,669 (without monitor) MANUFACTURER Dell Computer, Dept. S&V, One Dell Way, Round Rock, TX 78682; www.dell.com; 800-388-8542
KEY FEATURES
• DVD recorder and video hard-disk recorder with free program guide • Music, photo, and home video jukebox • Pay-per-view movie server
At $1,669 (without a monitor), the 4600C incorporates the latest, 2004 version of Microsoft's Windows XP Media Center Edition (MCE). This entertainment-oriented PC has some nifty features that the original Media Center PC offered by Hewlett-Packard didn't have (read the original January 2003 review in "The Cutting Edge"). Dell has added DVD burning (using the remote) of TV shows you've recorded to the hard drive; CD ripping to Windows Media Audio files (without first exiting to Windows Media Player); a smart slide show that automatically pans, zooms, and transitions your digital photographs as well as lets you correct red eye via the remote; and a group of services called Online Spotlight that bundles scores of free Internet radio stations, hundreds of pay-per-download movies from Movielink or CinemaNow, and top news stories - with an onscreen button to tune to MSNBC, the cable channel co-owned by Microsoft. Ah, synergy! Dell even threw in a game, Otto, that the kids can play using the remote.
Basic Media Center features that Dell carried forward are a TV tuner card with infrared outputs for controlling an external cable or satellite box, an A/V-style remote control, large screen fonts for viewing menus from across the room, the ability to attach a conventional TV via a composite- or S-video connection, and front-panel slots (this time using PC Card adapters) for plugging in five different types of memory cards. To save space in back, the A/V ports use specialized video adapters that attach to multi-end cables.
The 4600C's gray plastic front panel flips open to reveal the PC Card slots and a 4x DVD+RW drive. Though the PC can be placed horizontally, a stand is provided if you'd rather orient it vertically as in our photo. Inside are a 120-gigabyte (GB) hard drive, 512 megabytes (MB) of SDRAM, and a 64-MB ATI All-in-Wonder 9000 (MCE) graphics card. Also included are a pair of Dell ADA-425 speakers and a powered subwoofer. (You could attach a more elaborate sound system of your own or one from Dell.) The 19-inch 1901FP flat-panel LCD monitor shown is $639.