Definitive Technology Mythos ST Loudspeakers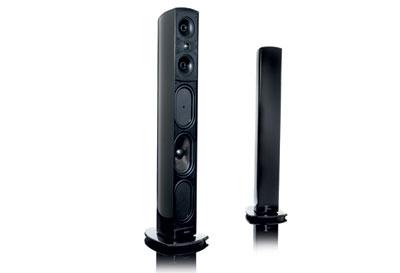 The flat-screen revolution has spawned a lot of dramatic and innovative loudspeakers, many of them different takes on the Definitive Technology Mythos - a family of sleek aluminum speakers that almost single-handedly reinvented the category. Not to be outdone by its emulators, DefTech has now pushed that edge again with its newest Mythos, the ST.
A slim, tall, elegant tower, unusual in both engineering and design, the ST was specifically conceived to complement large flat-panel TVs and rear projectors. Among its enhancements is a powered low-frequency section in each cabinet, driven by an onboard, 300-watt Class D amplifier - a feature that can eliminate the requirement of a separate subwoofer for even high-end home-theater duty.
The Mythos ST speaker also deploys a so-called D'Appolito array of two midranges vertically sandwiching a metal-dome tweeter - plus three "racetrack" drivers, obviously chosen to allow a very narrow, low-diffraction cabinet. Only the middle racetrack is active. Its flankers are passive radiators: motor-less, massive, stiffly suspended diaphragms that do the job of a port in a vented system, thus allowing more bass from smaller cabinet volume.
WHERE TECHNOLOGY BECOMES ENTERTAINMENT