David Crosby, The Tenor of Our Times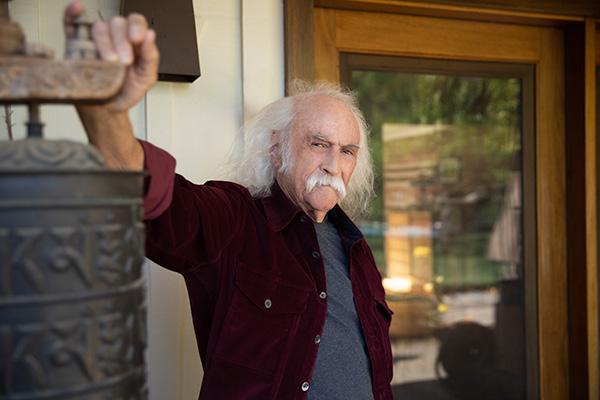 "Hi Mike, it's David Crosby. I know I'm calling you an hour early, but do you mind if we talk now? I have to go to a doctor's appointment this afternoon, so I hope that's ok." That's how my conversation with Croz began this past October—and who was I to say no? Croz was calling to discuss the making of David Crosby & The Lighthouse Band's Live at the Capitol Theatre 1CD/1DVD set that was released by BMG this past December—and, of course, we wound up delving into many other salient sonic-oriented points about his six-plus-decades-long career as one of the premier voices of the rock era.
As we all know by now, Crosby sadly passed away last week on January 18, at age 81. He leaves behind a wealth of albums and songs that define a generation coming of age in turbulent times. His sweet tenor added a layer of magical, mystical harmony to so many blended-vocal songs we know by heart, in addition to taking the lead on just as many indelible tunes that literally define the soundtrack of so many of our own lives.
Croz's recorded output is best heard on vinyl, especially if you want to hear subtleties like the overtones on one of his own personal favorite songs he wrote—the truly haunting "Guinnevere," from one of the most impactful debut albums, well, ever, May 1969's Crosby, Stills & Nash. It would take days to discuss and dissect them all, but a few of my own favorite Croz moments include (deep breath) the rich vocal mesh on The Byrds' door-opening cover of Bob Dylan's "Mr. Tambourine Man" (a No. 1 single, and the title track to their June 1965 album); the skybound trippiness of "Eight Miles High" (from July 1966's Fifth Dimension); the subtle come-hither playfulness of "Triad" (unreleased for years, but finally surfaced officially on December 1987's Never Before); pretty much everything on the aforementioned Crosby, Stills & Nash (currently being enjoyed via the Mobile Fidelity 180-gram SuperVinyl 45rpm 2LP analog master-to-DSD 256 edition released in December 2022); the timeless complexity of the title track to Crosby, Stills, Nash & Young's March 1970 LP Déjà vu ("don't you," and particularly the harmonic vocal blend on the extended-note vowel in the word "feel"); the a cappella vocalized cathedrals on "Tamalpais High (At About 3)" and "I'll Swear There Was Somebody Here" (both from his solo debut album, February 1971's If I Could Only Remember My Name); and the response vocals on the uplifting choruses to "Southern Cross" (from CSN's June 1982 LP Daylight Again) among them.
I must also make mention of one of my favorite overlooked Croz songs—"Drive My Car," the lead track on January 1989's Oh Yes I Can. Here, Croz nails the feeling of unbridled freedom on four wheels. There's palpable energy and excitement on the half-spoken, half-sung verses, and the choices he makes for how to deliver and emphasize lines like "I wanted to ride," "roam, alone," and "I still feel the wind / On my elbow" are simply pure uncut Croz, through and through.
Croz knew he was, in essence, living on borrowed time, but he wasn't sitting still. "That I can still sing is like my last bastion of musical input," he told me. "I really love it. I always have, so I'm really glad it's still working. It will fail too, in the future somewhere—but it hasn't yet." Unfortunately, the sands of time made that inevitably come sooner than any one of us would have preferred, but we will always have a litany of Croz music to listen to and enjoy—and there's more of it that's forthcoming, as we talk about below.
While a good portion of my October interview with Croz appeared in a story over on our sister site AnalogPlanet (you can read that piece here), more than half of that conversation has remained unpublished—until now, that is. Exclusively on S&V, Crosby and I discuss his knack for recognizing the chemistry he had with certain musicians, how the song "Compass" helped recalibrate his songwriting acumen, and what album of his he'd like most to be listened to a half-century into the future. Such a long, long time / Before the dawn. . .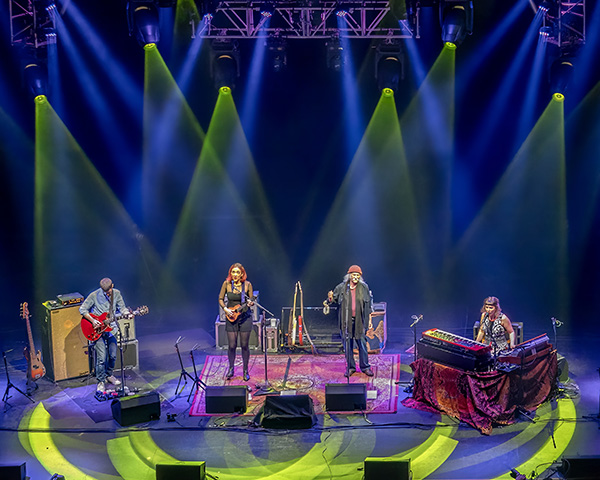 Mike Mettler: While I do love listening to songs like "Things We Do for Love," "Laughing," and "What Are Their Names" on the Live at The Capitol Theatre CD, I really do feel like I've gotta put the needle down on those tracks eventually, you know what I mean? I just have to.
David Crosby: I agree. If you like it as much as I do, then you do—and I definitely do. I've already had that discussion with them [i.e., with BMG, his record label] about getting it out on vinyl, and they say, "Well, you know, when we can do it, we will." I have another record also coming with The Lighthouse Band that you haven't heard yet, but I just don't have a title for it yet. It's already mastered, and ready to come out. And I've already started another one, with my son James [Raymond].
Mettler: Oh yeah? Good to know. Will these new albums come out under your name, or will you call them something else?
Crosby: Well, I have two bands, right? I have The Lighthouse Band—that's me and Michael League, Becca Stevens, and Michelle Willis. That's one. And then there's the other band I call The Sky Trails Band, but it's really me and my son James—and half the people in Hollywood. (both laugh heartily) That's because we use whoever we f---in' want. So, I have those two avenues—and I'm pursuing both of them.
Mettler: Well, I'm looking forward to both of those new records, for sure. But before we move on to other topics, we definitely have to talk about how good The Lighthouse Band is on the Live at the Capitol Theatre CD, and on the DVD too. What's the secret behind how well you guys work together?
Crosby: What happened was, when I first I played with them—with Michael, with Becca, and with Michelle—there was such a chemistry there that I just couldn't ignore it. I said, "Listen, you guys, I didn't start out to do this. I was just wanting you guys to sing a little bit of harmony, and have Michael produce. But there's something going on here—and I'm sensitive about this. I know about this. These are chemistries, and I've made a couple of 'em. And I'm telling you, this is one." And they said, "Okay. Fantastic."
And then we've pursued it. And man, when you hear that next record, it's gonna f---ing blow your mind! (laughs)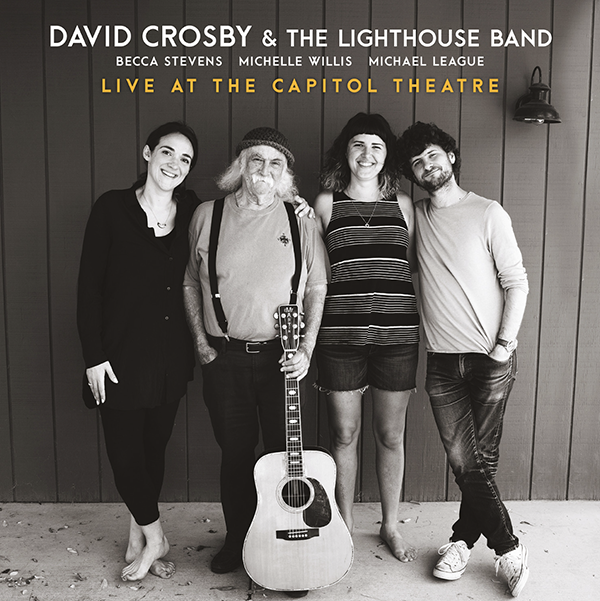 Mettler: I can't wait! Can you tell me about the beautiful acoustic guitar that you're holding on the cover and playing on the Live album? What's the scoop on that?
Crosby: That's by a guy named Roy McAlister. He's in Seattle, I've bought probably ten guitars from him.
Mettler: Why do his guitars sound great to you?
Crosby: It's the same thing with any [guitar] maker, man. The great care they took in making it, the fact that they used the best materials, and the fact that they knew what they were f---ing doing.
Roy's a really good maker. I've given guitars to, well, [Michael] League, to Becca, to Michelle, and to both my sons [James Raymond, and Django Crosby]. I've probably given away about ten of 'em.
Mettler: Well, that's a clear stamp of approval. Besides, you have the ear for it. You know when you hear something that's right for you, and for others, to be able to make some new music with.
Crosby: Yes, and it's because I have loved acoustic guitars all my life. I've been playing acoustic guitar for more than 50 years, so I've got an ear for it. I love 'em!
Mettler: You also know how good certain records sound too, I'd say. There's one that we audiophiles just love. . . (pauses), ahh, if I could only remember its name. . .
Crosby: (laughs heartily) I'll tell you—a record I listen to a lot still is Weather Report's Heavy Weather [released in March 1977]. I really love that band, man. That's just maybe my most favorite jazz band.
Mettler: Weather Report cover so many amazingly different bases, so I think it's fair to say you can never get tired of listening to what they're doing.
Crosby: No, you can't. Hey, have you listened to Snarky Puppy?
Mettler: Yeah, but just a little bit. I mean, I can't say I've really listened to them all that much.
Crosby: Oh, it's good sh--, man. Listen to their We Like It Here record [released in February 2014]. I like 'em a lot. I I like 'em so much that I started The Lighthouse Band with Michael League, the composer from that band. [League and Croz's first album work together was when he backed up Crosby on his October 2018 solo release, Here If You Listen.]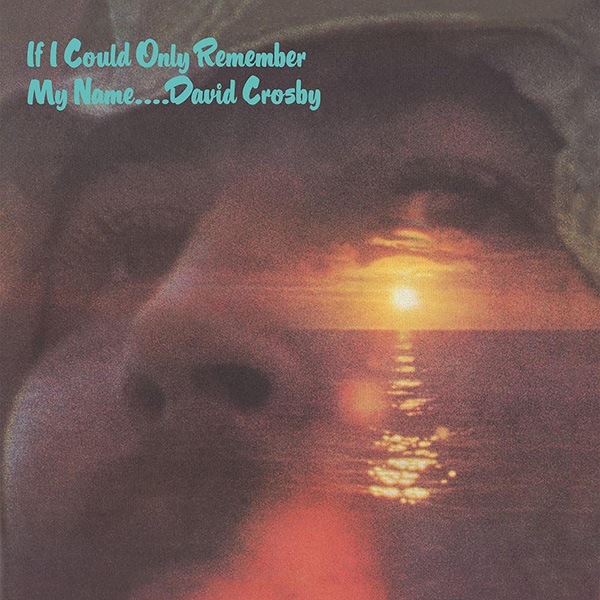 Mettler: Right, that's where the whole intersection comes from. Well, I half-jokingly referred to your first solo album [February 1971's] If I Could Only Remember My Name earlier, but when you guys did the surround mix of it for DVD-Audio [in 24-bit/96kHz Dolby Digital and DTS options, in the year 2000], I think it really opened up those song arrangements even more. And since I'm a surround sound guy, I'm glad we also get a Dolby Atmos mix on the Live record, by the way. I'm really glad you did that.
Crosby: Yeah, good! I think the best quality we can possibly deliver is the right thing to do. I think that streaming, and streaming services, have integrated Atmos tremendously.
Mettler: Yeah, and as long as it's 24-bit, then. . .
Crosby: (interjects) Well, I don't think Spotify or any of those guys are transmitting at 24-bit. I'm not happy with any of it.
Mettler: I hear you. When I think of a track like "Cathedral" [originally on June 1977's CSN], and how good it could sound in Atmos—it's another important piece in your overall canon. I really enjoyed seeing you perform "Cathedral" live with CSN back in the day too.
Crosby: Mm-hmm, yeah. I think it's a good piece of orchestration. I think we did a good job on it. That one came across really well with those guys—and another one was "Wind on the Water." We delivered that one pretty spectacularly well.
[MM notes: "Wind on the Water" was the second part of "To the Last Whale," which was originally the final track on the September1975 Crosby & Nash album, Wind on the Water. (Incidentally, the third harmony vocal on that song belongs to James Taylor, who will be mentioned later on in this interview.) Crosby, Stills & Nash began performing "Water" together in the 1980s.]
Crosby: Did you ever see us do "Wind on the Water" with the whale footage? We used to have some really good footage that [Jacques] Cousteau put together for us that we ran while we were singing the song. I mean, it was—it was powerful, man.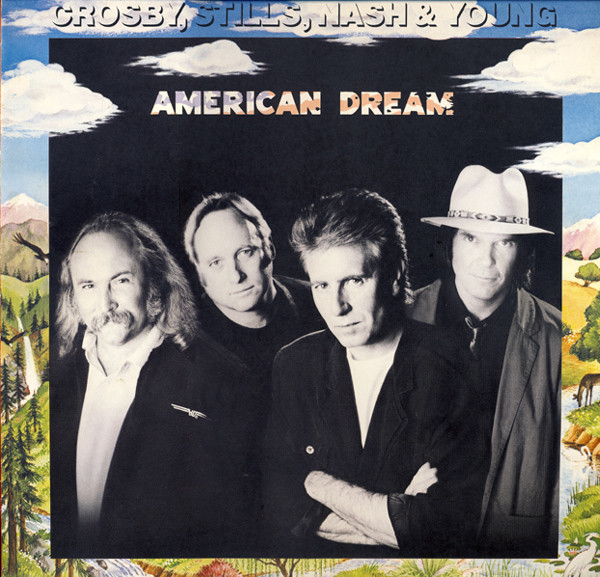 Mettler: I'm going to have to find a video of that version to watch after we hang up. Another track I also have to give you credit for—and it's one I still go back and play often—is "Compass." I feel like that song resonates to this day, in a lot of ways. ["Compass" appears on Crosby, Stills, Nash & Young's October 1988 album, American Dream.]
Crosby: Yeah, it does—particularly if you know what it is. I wrote it in prison. I wrote it in a prison cell, and I think it was the beginning of my songwriting ability coming back after a long period of, you know—heavy, hard drugs, and not being able to write anything.
Mettler: Did you know when you started writing "Compass" that it was the key that unlocked getting you "back," if we're able to put it that way?
Crosby: Nope. No, nope. I don't know what's gonna happen when I write. I just try to keep open, and see where it going.
Mettler: Well, I'm glad you reconnected with the writing muse. And I also like what Mark Knopfler did on "What's Broken" [the opening track on January 2014's Croz].
Crosby: (exclaims) It's tasty, man! He's so good. It's so tasty.
Mettler: Agreed. And you're a fan of Mark's song "Sailing to Philadelphia," right? That's one of your favorite tracks of his. [It's also the title track to Knopfler's September 2000 solo album.]
Crosby: It is! And that's he and James Taylor, right? He and Mark alternated the lead vocals on it. That's a wonderful song. It's like a modern-day folk song.
Mettler: It sure is. I feel like I could hear you singing that song too, you know?
Crosby: Oh, easily. I could sing that song in a minute. I love that song.
Mettler: Maybe you can do it on the next record you make after the other two or three you already have coming.
[MM notes: At the tail end of our interview, which occurred just moments after the above sequence, I asked Croz the following broadstroke question. Though this final exchange also appears in my AnalogPlanet story, I feel it warrants inclusion here as well, to truly wrap things up in a particularly poignant way.]
Mettler: Well, I don't wanna over-eatup your time, so let me throw this ridiculously hard projection-question at you. Let's just say it's 50 years from now, in 2072. [MM further notes: This interview took place in late 2022 and not in early 2023; hence the reference to 2072 here.] Unless science has done something magical, you and I are probably not physically on the planet anymore, but in 2072, and however people listen to music, if somebody types in "David Crosby" and something of yours comes up, what do you want a listener to hear at that time in the future?
Crosby: Ohhh, it'd be hard for me to pick, but I guess If I Could Only Remember My Name, probably.
Mettler: Great choice. What would you want them to get out of that experience? What kind of thing do you want listeners to hear in regard to any of your music?
Crosby: I want them to get the idea of musical freedom — that you listen to a lot of different stuff from a lot of different places, in a lot of different ways.