Dared DV-6C Multichannel Hybrid Integrated Amp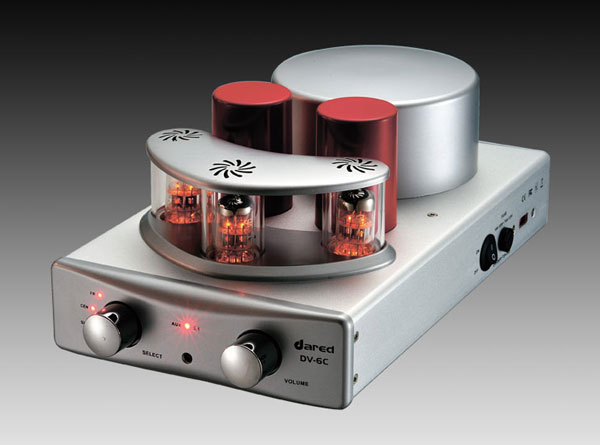 As I was researching my blog about the Flagship tube-based monoblock amps from a Chinese company using the brand name Dared, I came across this unusual item. The DV-6C is a 6-channel integrated amp with a tube-based, class-A input stage and a solid-state, class-D output stage.
The input stage consists of three 12AX7 tubes operating in single-ended class-A mode, while the output stage uses Philips' latest class-D power-amp chips. The DV-6C's power output is spec'd at 65 watts/channel (all channels driven) into 4Ω, though the chips are said to achieve a maximum output of 110Wpc into that load. As a result, the amp has lots of headroom, leading to better overall sound quality. Speaking of which, the frequency range is specified from 20Hz to 22kHz with less than 1% distortion (40W, 1kHz) and a signal-to-noise ratio greater than 80dB.
A 6-channel input is joined by a 2-channel aux input, which can be selected from the front panel or the included remote. The output can be switched between 5.1, 5.0, 3.0, 2.1, and 2.0, and four separate level controls (fronts, center, surrounds, subwoofer) are available.
Dared claims that the DV-6C provides the best of both worlds, combining the warmth of tubes with the accuracy and resolution of solid state. Even better is the price—only $650! Granted, I wouldn't want to drive a subwoofer with only 65W, but that would be plenty of power for relatively sensitive main speakers. I'm intrigued by the idea of a hybrid amp such as this, and I look forward to hearing it some day.