Dan D'Agostino Momentum Monoblock Power Amp
Audiophiles know well the name Dan D'Agostino, who co-founded Krell in 1980 and served as its chief engineer for 30 years. After selling the company in 2009, this audio legend started a new one—Dan D'Agostino Master Audio Systems—whose first fruit is the Momentum monoblock power amp, which will debut at CES next month.
The Momentum is one beefy little monoblock, delivering up to 300 watts into 8Ω, 600W into 4Ω, or 1200W into 2Ω with ruler-flat frequency response from 20Hz to 20kHz and a deviation of only -1dB from 1Hz to 200kHz. Its 28 output transistors are among the fastest available, and a capacitor/resistor network at the base of each one ensure stability even at high frequencies and low speaker impedances.
Inputs include one balanced XLR and one unbalanced RCA, and high-quality binding posts feed the speaker. The Momentum's heatsink is the first to use copper, which exhibits 91 percent more thermal conductivity than aluminum, allowing it to be much smaller than conventional designs. In addition, venturi holes replace the traditional fins, drawing more air through the chassis to increase cooling.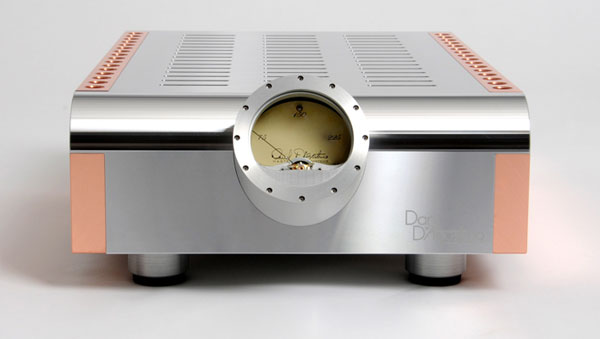 As you might expect, D'Agostino's expertise doesn't come cheap—each Momentum carries a price tag of $21,000. But given his exceptional reputation, I have no doubt it's worth every penny, and I look forward to hearing it for myself in Las Vegas next month.