The Custom Installer: Seen at CEDIA '08 Page 2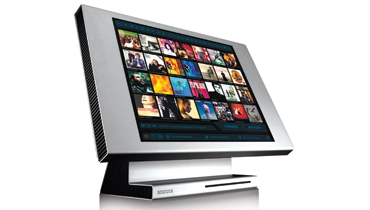 Movies: Ripping and Serving
This year, more companies decided to take the plunge into the once mine-filled legal waters that are DVD ripping - or "archiving," as one company prefers to call it. In addition to Kaleidescape, Fusion Research, AMX, and all the companies that use third-party decrypting software (Media Center PCs, Axonix, and Fuze Media), systems will soon be available from ReQuest, Escient, Colorado vNet, Sunfire, and Sooloos. Of these, the one from Sooloos has me the most excited. Its system (pictured above) was originally designed for large music collections (think 10,000-plus albums), so handling a few hundred movies or so with its slick interface should be a breeze. LG demonstrated a movie streamer in the form of its BD300. Beyond playing DVDs and Blu-ray Discs, this player ($399) can immediately stream any movie from your "Watch Instantly" Netflix queue.
Music: Just Add Powerline
If you could tap into the existing Romex power wiring in a house, you could easily shuttle signals around without adding new wires. This would greatly simplify retrofitting into existing homes, and open up a world of possibilities for both homeowners and installers. Powerline systems already exist for some automation and networking, but audio, which is prone to picking up a 60-Hz hum from electricity, has been a trickier proposition.
At CEDIA, both NuVo and Russound unveiled multiroom audio systems that use powerline wiring to transmit metadata and audio signals to a keypad where the signal is amplified and sent to speakers. One of the coolest components in NuVo's Renovia system is the wireless handheld controller that displays now-playing metadata. (Renovia should start shipping in early 2009 at a price to be determined.)
Meanwhile, Russound gave a sneak peek of its Collage system, which consists of just three small white components (Media Manager, Source Bridge, and iPod Dock) and keypads. Beyond music, Collage keypads will also offer full intercom functions and will be able to display video images from any connected cameras. Collage is expected to arrive in the spring of '09 at a price that will "piss the hell out of the competition," according to Russound's research director, Michael Stern.
CableCARD Version 2.0
CableCARD was an attempt to free us from our hated cable-TV boxes, but it was often a bigger problem than the box it replaced. It was also incompatible with many of the features that people loved about their cable system, like program guides and pay-per-view and on-demand viewing.
Panasonic's TH-50PZ80Q plasma TV includes the next generation of CableCARD, called tru2way. With an embedded cable modem, it offers two-way communication with the cable company, delivering a penalty-free, box-less viewing experience. The Panasonic sets will be available by the end of the year in both 42- and 50-inch sizes. (Lest you think Panasonic is the only one doing tru2way, Samsung, LG, and Sony also plan to build compatible sets.) Unfortunately, tru2way systems will only be available in Comcast markets at first, and as of this writing only Denver and Chicago are offering support. But more markets and providers should come onboard fairly rapidly.
LATEST VIDEO