Crystal Acoustics THX-3D12 Home Theater Speaker System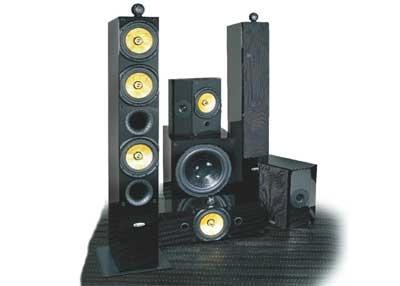 Crystal Acoustics is a new brand to me, and to most American home theater fans. The British outfit exploits the far from revolutionary concept of combining European design with made-in-China cost efficiency to reach for a new level of affordability. This they appear to have achieved with the Crystal Acoustics THX-3D12 home theater speaker system, a THX Select2-certified 5.1-channel suite offering full-size tower speakers and a matching center-channel up front; dipole surrounds (at least in name - more on that to follow), and a "real" subwoofer - meaning a full 12-inch model - all for the impressively low price of $1,999.
Crystal's speakers embody several classically "British" design elements probably most closely associated today with B&W. One is the T3 tower's "2.5-way" driver array, an arrangement in which one of multiple 6.5-inch woofers reproduces some midrange as well (for smoother response at no penalty to deep bass potential). Two others are cone materials incorporating superstrong Kevlar man-made fibers and front-speaker tweeters mounted in separate, "free-air" spheres atop the main cabinets (to reduce treble-roughening diffraction effects).
SETUP Setup required attaching the supplied square base plates to the towers but was otherwise simple. I placed the T3s on either side of my 50-inch Samsung DLP screen and the center speaker on my low stand, bringing its tweeter just to the display's bottom edge. The surrounds went on high shelves straddling the listening position (though the speakers also offer keyhole slots for wall-mounting), and the sub went in my well-established spot behind and to the left of the left-front tower.
The tweeters on the flanking T3s permit lateral swiveling over about ±20° of arc, but I'm afraid this feature is useful mostly for appearance. Why? A dome tweeter is already the widest-dispersion driver at high frequencies in any multiway design; it's the cone-midrange - in this case, the topmost 6.5-inch mid/woofer - that tends to "beam" its treble contributions (which extend up to 3 kHz or so) over a narrow angle. Since this is well into the "low-treble" region, listeners may find (as I did) that modestly toeing in the left-right pair will maximize mid/treble openness and focus the stereo imaging.
Crystal offers the THX-3D12 system in two finishes and at two very different prices: silver vinyl (which I reviewed) for the aforementioned $1,999, and a high-gloss piano black (pictured) at $2,799 for those to whom cosmetics matter as much as sound. I loved the gray-flannel-look grilles on the budget system - just different enough to grab a little attention, but not too much. I was less impressed by the generic cabinet finish. But no problem: With those investment-banker grilles in place, the Crystals looked quietly elegant just the same.
MUSIC PERFORMANCE For my initial auditions, I followed my usual custom of listening to the T3 towers alone, in full-range stereo. My first impression was Goldilocks-esque, a good sign: not too bright, not too warm, not too bassy or too lean, but clear, neutral, and balanced. On further close listening I discerned just a slight bit of warm-ification - almost entirely pleasing, rather than coloring - from the Crystal T3s, at least as compared to my long-term speakers. For instance, on direct comparisons, Rickie Lee Jones' breathy twang was about a half-shade less nasal than it ought to be on tracks like "Easy Money," while the celesta at the end of the same song was slightly but noticeably less shimmery. The string bass sounded tight and quick, but with a smidge of upper-bass romancing. The towers performed very well at high powers: clean, dynamic material retained good clarity and punch even quite near the full potential of my system's 150 watt-per-channel output.
The Crystal system worked very well on natural-surround music. An Austin City Limits high-def program I DVR'd from PBS featuring Alison Krauss & Union Station sounded simply great. (Yeah, I don't like lip-gloss on my bluegrass either, but the musicianship is beyond question, and Jerry Douglas is the undisputed Paganini of the Dobro.) Clarity and natural transient "snap" of the banjo and Dobro were impressive, Krauss's voice was beautifully open and stable from the center speaker, and the flattop guitar, mixed precisely half-right (between the center and front-right speakers), was rock-steady in its position in the mix, a sign of good timbral matching across the front trio. The THX-D surrounds served up lifelike spaciousness and "air" without calling undue attention to themselves.