Clearing Up the Confusion Around DirecTV Stream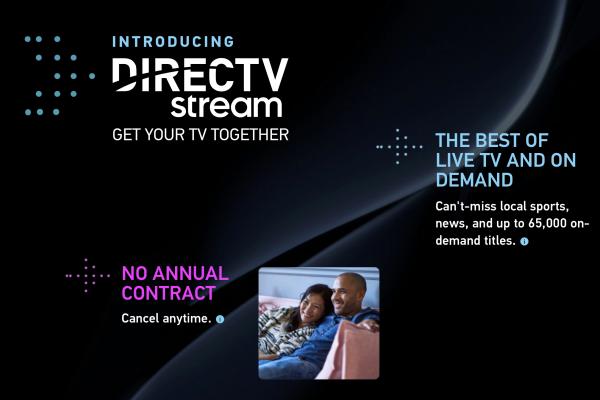 DirecTV Stream launched recently as the newest DIRECTV incarnation. There are a few changes, but for those who subscribe to AT&T TV, the only difference will be the onscreen logo and mobile app name. There has been much confusion about DirecTV Stream, from the name change to how to stream it and the differences between it and the DIRECTV satellite service.
AT&T purchased DIRECTV in 2016 and launched a streaming version of the satellite service, naming it DIRECTV NOW. The purchase incurred massive debt for AT&T. In the past five years, the service has continued to lose money as more cord-cutters turn to other online Live TV offerings like YouTube TV, Hulu TV, and more. In January 2019, AT&T rebranded the service as AT&T TV NOW followed by the launch of a no-contract option where it was renamed AT&T TV. The service has again been renamed DirecTV Stream but is no longer part of AT&T.
The name change follows a reorganization that separates DirecTV from AT&T and WarnerMedia/HBO Max. TPG Capital invested 30% in the newly formed company that has helped offset some of the debt and lost revenue. The DirecTV Stream website states that DIRECTV is "returning to its roots." Still, there are other benefits to AT&T, including protecting its other assets and clearing the way for a merger of Warner Media and Discovery channels that is currently in the works.
Bill Morrow, CEO, DIRECTV, commented, "This is a watershed moment for DIRECTV as we return to a singular focus on providing a stellar video experience. Building on our recent momentum, we are well-positioned to bring unparalleled choice and value to all of our customers under one iconic brand, whether they beam it or stream it."
While it's not part of AT&T, customers can still combine their phone bill with their DirecTV subscription. DirecTV Stream is only available as a month-to-month subscription. The previous versions of the service required a two-year contract similar to DirecTV's satellite service.
There are four subscription tiers. All plans include local channels and most cable channels like AMC Networks, A&E Networks, Hallmark, ESPN, Nickelodeon, HGTV, and at least 40,000 On-Demand titles. The basic Entertainment package is $70 per month for a total of 65 channels.
The Basic subscription price is similar to other live TV streaming services. For the $65, Hulu TV doesn't have AMC or Hallmark Channel. YouTube TV, also $65, doesn't have A&E, Hallmark Channel, History, Lifetime, or Bally Sports. Philo may only be $25, but you don't get local channels or live sports. Sling Orange and Blue is $50, only carries NBC and Fox, and requires add ons for other channels included in DirecTV Stream. Fubo TV has local regional sports for $65, so it is $20 cheaper than the DirecTV Stream's Choice subscription tier that includes sports.
For $85 per month, the Choice package has over 90 channels, including Travel Channel and Sundance TV, and access to the sports packages. Many live sports events are broadcast live in 4K HDR, including most NBA games. DirecTV has always been known for their sports channels including Bally Sports, NESN, Altitude, SportsNet LA, Marquee Sports, and MASN, the TV home of the Baltimore Orioles and Washington Nationals.
At $95 per month, the Ultimate package has all the previous channels and adds some premium channels like STARZ ENCORE, the DIY network, and Univision. The Premiere package runs $140 per month and includes the channels from lower tiers plus SHOWTIME, STARZ, Cinemax, and HBO Max.
The subscription includes 20 hours of Cloud DVR recordings with a limit of ten episodes per TV series. For another $10 per month, customers can upgrade to unlimited storage. Recordings expire after ninety days. A maximum of 30 episodes of a TV series can be stored in the Unlimited Cloud.
Users can stream directly to the DirecTV Stream apps (basically the AT&T TV apps that have been renamed) on mobile devices as well as Fire TV, Android TV, Apple TV, Chromecast, Roku, and Samsung TVs after 2018. It can also be AirPlayed or Cast to compatible TVs and streaming devices.
DirecTV Stream offers a streaming box to lease for $5 per month. While it's not required, unless a customer doesn't have a smart TV or compatible streaming device, it might be better to rent one. The box includes a few other apps like Netflix, Hulu, and Pandora. If you call to order the DirecTV Stream, you might be told that you need a streaming box. And herein lies the confusion. After several calls to DirecTV, a customer service supervisor explained that they recommend everyone get a Stream box. There have been many issues with the stand-alone apps only playing DVD quality video. To ensure HD or 4K quality, DirecTV recommends renting the Stream box.
Currently, there are no free trial offers. However, if you cancel within 14 days from when you order the service, you can get a full refund. The timeline is cut short if you order the Stream box, as it can take a week to arrive.
DirecTV Stream, like DIRECTV, is the go-to service for sports enthusiasts. Customers no longer need to mount a satellite dish to get the programming. If you are an AT&T customer, you may be able to get the HBO channels (not HBO Max) for free. Call AT&T customer service to find out more.