CES04 Live: TV on the Atkins Plan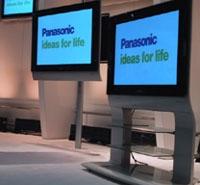 As in past years, the day preceding the official opening of the 2004 International Consumer Electronics Show was devoted to dawn-to-dusk press conferences. While most offered the press plenty of sweets, the video displays were on the Atkins Diet. TVs grow increasingly thin even as the higher-definition screens expand in size. You'll be greeted by svelte TVs in stores this year, with more high-def choices than ever before. Nearly all new models include the required connectors for the new digital copy-protection systems so they'll mate with the latest standard and high-def DVD players and cable boxes. Most sets contain a slot for the new CableCARD interface. Virtually all now contain digital tuners for over-the-air HDTV broadcasts.
Solid, Liquid, or GasThe major difference between the companies involved is the technology used to deliver the big picture. They divide the field equally between solid Digital Micro-mirror Devices using Texas Instruments' Digital Light Processing (DLP) technology (commonly referred to as "micro-displays"), liquid-crystal displays (LCD), and gas plasma displays - and several use LCD for smaller screen sizes and plasma or DLP for larger ones. Most, if not all, of the new DLP models use TI's new HD-2 Mustang chip.
LG Electronics opened the day with the launch of a 76-inch plasma display, which it claims is the world's largest plasma screen. The high-definition display contains 2.07 million pixels and can reproduce 1,920 x 1,080-pixel images in 1080p (progressive) format. Yet this monster display is only 3 1/4 inches deep. LG announced no price nor when you could take out a second mortgage to buy it, but it did introduce 60-, 50-, and 42-inch models you can buy in the next few months, with a contrast ratio rated as 1,000:1.
While boasting that it has the highest-production plasma plant on the planet, LG goes with LCD in smaller screen sizes, including a 55-inch model promised by Halloween, as well as 42-, 37-, and 30-inch models to be available shortly. It did not say how much any of its new sets would cost.
Pioneer doesn't straddle the fence. It displayed only plasma sets with a billion colors and 1,280 x 768-pixel high-definition resolution. Its commitment to plasma is so strong that it's building a plant in Yamanishi, Japan, that will be able to produce up to 300,000 displays monthly when it opens a year from now. However, Pioneer also continues to work on its Organic LED technology, currently featured in its car stereo faceplates.
Part of Panasonic's Viera line of flat-panel plasma and LCD displays - note the matching stand with the set at the far right.
Panasonic introduced the Viera line of flat-panel displays, its name combining "vision" and "era": five plasma, the largest being 50 inches, and five LCD, the largest being 32 inches, with a matching line of thin, stylish stands. The sets include SD memory-card slots for showing photos and videos without a camera, camcorder, or PC. All Viera models will be available this spring, with the 50-inch plasma selling for $8,500. Prices for the LCD models have not been announced. Panasonic claims a 3,000:1 contrast ratio for its high-def plasma displays. It expects to produce one million plasma panels this year at its Osaka and Shanghai factories.
Sharp and LCD are synonymous. Its new Kameyama plant in Japan is now up and running, producing 100,000 mother-glass panels a month in the new large 1,800 x 1,500-millimeter size (about 71 x 59 inches), which can make eight 32-inch panels, six 37-inch panels, or three 45-inch panels. (The previous mother-glass size was 680 x 880 mm, which could produce two 30-inch panels.) Sharp executives have a strong belief in vertical integration, building a TV factory next door to the LCD factory. So the company introduced 40 LCD models, 14 of them high-def. A few included basic hard-disk recorder functions using a PC Card slot in the side and a supplied 50-gigabyte hard-drive PC Card.
Sharp debuted its largest model, the Aquos LC-45GUI, a 45-inch set capable of full 1080p high-definition resolution that will be available this summer. While no price was announced, Sharp did say that it would sell for more than a 42-inch plasma display.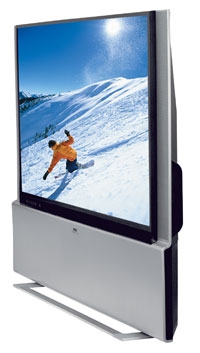 RCA's new Scenium DLP rear-projection sets are only 6 1/2 inches deep. This 50-inch model costs $8,999.
After hyping various LCD and plasma collaborations over the past few years, RCA, the brand of Thomson Consumer Products, has committed to ultra-thin rear-projection DLP models only 6 1/2 inches deep. Available in the fall, the first offerings are 50- and 61-inch models. The 61-inch model weighs a scant 130 pounds, about the same as a comparable plasma set. The 50-inch costs $8,999 and the 61-inch $9,999. RCA promises a 70-inch model next year.
Philips announced 27 new models, 14 LCD and 13 plasma, ranging in size from 40 to 61 inches. The LCDs range from 30 to 42 inches, topping out in price at $9,999. The 61-inch plasma is a bit pricier at $15,999. Some of the flat-panel TVs use NXT speakers. Perhaps the strangest feature on these is the Ambilight, which on several models projects different colors and intensities of light from the back of the frame, adjustable with the remote control. It proves the 1960s aren't dead.
Toshiba chose LCD for TVs with screens smaller than 42 inches and DLP for larger sizes. It also markets one 52-inch plasma display for $6,000. Its LCD models max out at 32 inches for $4,000. One of the first companies to combine a VCR and TV, Toshiba now offers Tri-play models that build a VCR and DVD player into 20-, 24-, and 27-inch TVs ranging in price from $350 to $550 - they should be available shortly. One particularly neat model is the combo SD-P5000, a 15-inch LCD TV and DVD player in a double-hinge design that works as a stand or wall-mount bracket. Not high-def, but high resolution, it'll be available in April for $800. Toshiba took the bold step of proclaiming that the CRT (cathode-ray tube) TV is far from dead beause of its low cost. Most other companies pretended that picture tubes would soon be historical curiosities.
Sony introduced its presentation with a quartet of these Qrio robots - dancing.
Sony welcomed the press to its presentation with a quartet of Qrio dancing robots whose amazingly articulated joints made them seem real. They introduced the presentation in their own synthesized voices. Sony tied them into the theme by saying that all of their motors were the same as or similar to the ones used in its Handycams. We'll have a lot more on Sony tomorrow. < < Back to the International CES 2004 index
LATEST VIDEO