CES04 Live: Driving to Convergence
Hard-disk drives, the most mundane of devices, have the uncanny ability to launch whole categories of consumer-electronics products. Witness three introductions at CES 2004: a console that lets you play thousands of PC games on your TV without a computer, a dual-drive video recorder in which one snaps out so it can be attached to the A/V inputs of another TV, and a "diskless" video recorder.
Apex Digital, the company known for breaking the floor of DVD-player pricing, will have the ApeXtreme Personal Gaming Console on dealer's shelves this spring. It combines a DVD player, a hard drive, and an embedded Windows operating system that lets you install any of thousands of games that, until now, you'd have to boot up on a computer. At $399, the ApeXtreme is about twice as expensive as an Xbox, but the benefit is that you'll be able to play PC games you already own as opposed to paying upwards of $49 for each new Xbox title. A less robust model will be priced at $299. Apex Digital's set-top ApeXtreme Console - a DVD player with built-in hard drive and Windows software - lets you play thousands of PC games on a TV without a computer. Available this spring for $399.
GoVideo, which created the dual-deck VCR category, is introducing the first dual-drive hard-disk recorder. The HH8040 contains a fixed 40-gigabyte (GB) drive and a removable 20-GB drive - GoVideo calls this its ShowPort feature. You can record TV shows to either drive and transfer shows between them. When you pop out the smaller, ShowPort drive, it's encased with a power port and an A/V connector. Though you wouldn't be able to use it by itself while traveling, since there's no battery or display, you can plug it into a electrical outlet and a TV once you get to your hotel room or a second home to catch up with the shows you hadn't been able to watch.
The GoVideo HH8040 lets you record TV shows to either of two hard drives, one of which is removable so you can watch them on a TV in your hotel room, a vacation home, or just another room of your house. Expected to be available mid-year, price not set.
The HH8040 is also ideal for people who still don't have a home network - and that's the majority of Americans - but could easily slipper-net their portfolio of recordings from living room to bedroom. Unfortunately, unattended recording is set the old-fashioned way: by day, time, and channel. The HH8040 cries out for a ReplayTV or TiVo-type interface. Also, there's no infrared blaster to control a cable or satellite box. A price hasn't yet been set, but the dual-drive recorder is expected to reach dealers about mid-year.
"Diskless video recording" seems like a contradiction, unless you mean a return to tape, and who wants that? But by "diskless," Prismiq - which makes a well-regarded digital media receiver - only means without using those small laser-read discs we've all come to love so dearly. Instead, it's added A/V inputs and MPEG-1/2/4 and DiVX encoding on a new model of its receiver that includes a subscription-free program guide. The Prismiq MediaPlayer/Recorder enables you to set up recordings on the TV in your living room but store them on the hard drive of your computer in another room through your home network. Live TV, too, is shunted over the network to your PC's hard drive so you can pause or replay the program while it's on. A 30-second skip button to avoid commercials is included on the remote control. The Prismiq MediaPlayer/Recorder will be available this spring for $299.
If you absolutely must watch your recordings of Law & Order at 30,000 feet and own a Media Center Edition PC, you'll want to buy a handheld version called Portable Media Center that transfers content from the computer via a USB 2.0 port. Expected to be available later this year in models from Creative, Samsung, Sanyo, iRiver, and ViewSonic, each Portable Media Center (formerly known as Media2Go) uses the same interface as the Media Center Edition desktop machines. At his CES keynote address, Microsoft Chairman Bill Gates showed Creative's Zen Portable Media Center, which features a 3 3/4-inch color LCD and 20-GB drive, stores 80 hours of video, 50,000 still images, and up to 8,000 songs, and measures 5 inches wide, 3 3/8 inches high, and 3/4 inches deep and weighs 11 3/4 ounces. It should be on sale in the fall for $499.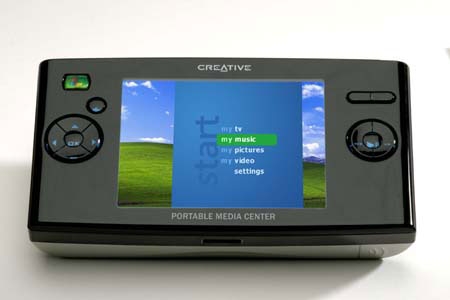 Creative's Portable Media Center syncs with your Media Center Edition PC so you can enjoy your recorded TV shows, music, home videos, and photos on the go. Expected in the fall for $499.
The funny thing about handheld hard drives is that they can elicit an emotional response. How else do you explain the success of the Apple iPod? Another kind of response, though, is rage, which reportedly erupted from Gates when he learned that long-time partner Hewlett-Packard had decided to adopt the Windows version of Apple's iPod as its portable music player and AAC as its compressed music format instead of Microsoft's seemingly unstoppable Windows Media Audio (WMA). So while Gates was ebullient over the forthcoming Portable Media Center devices, the companies developing them do not include Hewlett-Packard, which is ironic considering that it had been the first to introduce full-size Media Center Edition PCs more than a year ago. < < Back to the International CES 2004 index