Celestron's Pocket Planetarium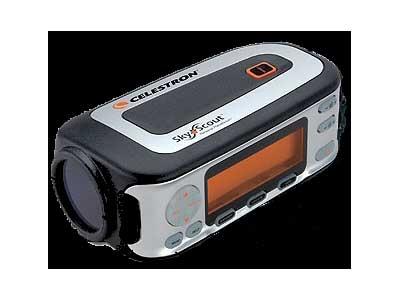 The Celestron SkyScout is a handheld device for locating stars, planets, and other heavenly bodies.
My absolute favorite product at this CES is, strictly speaking, neither an audio nor a video device. But it does require your eyes and ears to appreciate fully (and its headphone output has a rated frequency response of 20 Hz to 20 kHz). Celestron's $399 SkyScout personal planetarium ("pocket" is an exaggeration, but not much of one) also incorporates some amazing technology to fulfill its primary function - teaching you to find objects in the night sky.
Although not a telescope, the handheld SkyScout uses tiny red LEDs encircling its viewfinder to guide your gaze to any item in its celestial database of more than 6,000 stars, planets, galaxies, and constellations. It showed me where Mars was overhead, even though it was broad daylight outside and I was actually indoors in the Convention Center! It even works in reverse: center a celestial body in the viewfinder, and SkyScout will identify it on a small LCD panel (red-illuminated so as not to hamper night vision). The headphone output comes into play when you install SkyTour memory cards, which give interactive tours of the night sky.
For a device like this to work, it has to know where on the earth you are, what time it is, and what direction it is pointed. This is where high technology steps in. SkyScout contains a GPS (global positioning system) receiver that supplies it precise location and time data. Information on the direction it is pointed is derived "from sensors measuring both the magnetic and gravitational fields of the Earth." If you or your kids have ever wanted to learn the heavens and have despaired of ever being able to read a star chart, SkyScout is the perfect nighttime companion.
Check out more CES news. Back to Homepage What's New on S&V
LATEST VIDEO