CEDIA Expo 2006: Highlights — Part 2

Toshiba HD-XA2 HD DVD player
In high-def disc news,
Toshiba
unveiled two new HD DVD players - the $499 HD-A2, an entry-level model available in October, and the top-of-the-line HD-XA2, which will arrive in December at $999. Of the two, the higher-end player is the more interesting, as it will include both HDMI 1.3 - one of the first products to do so - and 1080p output capability. Other features include 297-MHz/12-bit video DACs with 4x oversampling for analog outputs and a picture-setting function that enables users to optimize picture quality via adjustments for color, contrast, brightness, edge enhancement, and block noise, among others. Toshiba noted that HDMI includes support for future high-definition video technologies such as Deep Color, which allows up to 36-bit (RGB or YCbCr) color depths, up from the 24-bit depths supported by previous versions of the HDMI specification. (The near-term significance of this is not clear, however, since HD DVD, like Blu-ray and broadcast HDTV, currently uses only 24-bit color coding.) The cheaper player, he HD-A2, doesn't offer 1080p output or HDMI 1.3.
Toshiba also added two Cinema Series Pro models to its premium Regza LCD TV line. Both the 42-inch 42LZ196 ($3,400) and the 47-inch 47LZ196 ($4,600) will be available in September. They feature the company's latest PixelPure Hi-Bit 12-Bit digital video processing, 8-millisecond or faster response time, and 1080p resolution. These TVs also boast discrete IR codes and IR input and pass-through ports for easy integration with control systems. They come in a gloss black finish.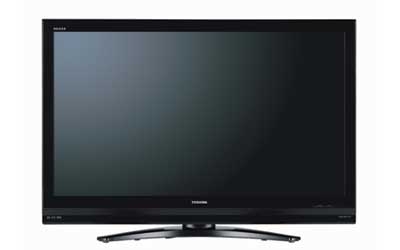 Toshiba LZ42196 1080p LCD HDTV
The Blu-ray camp was active as well, though it will be some months before most of the new products exhibited will be available. Pioneer was showing off a very attractive Elite-brand Blu-ray player, which reportedly won't arrive until spring. As you might guess, it will upconvert standard DVDs to 1080p output and includes Pioneer's Home Media Gallery home networking program, providing display access to any media content - movies, music, and photos - stored on a networked PC or DLNA-compliant device. No price was given, although in the past Pioneer has said $1,800 sounds nice. Panasonic didn't say when its DMP-BD10 Blu-ray player would arrive, but it will be priced at $1,300. The demos showed an amazing sharp picture on a 60-inch 1080p plasma display. The player provides native 1080p output via HDMI, and analog output is by way of 296-MHz/14-bit, 4x oversampling video D/A converters. Noise-shaping is said to minimize visible video noise. The player can upconvert standard DVDs to 1080p and downconvert Blu-ray Discs to lower resolutions. One of our faves, though, comes from Sharp: the BD-MPC10, a $3,000 Blu-ray-based home-theater-in-a-box (Blu-ray HTiB!). The system, which ships with two speakers, but no sub, won't arrive until April.
NuVo showed its Grand Concerto six-zone, six-source multiroom audio system, which include six touchpanel-like in-wall controllers, which will sell for $3,500. One way the company was able to get the price down was by developing in-wall controllers that offer touchscreen-like capabilities at near-keypad prices. The touchscreen has an eight-line OLED readout - for good legibility in any light - and an "Innovative Capacitive Touch Interface," which the company cls is an industry first. NuVo is also offering a matching 160-gigabyte hard-drive music server (the NV-M3) that acts as a bridge for music stored on a PC and now has a wireless docking station that can send music stored on an iPod throughout a home.
LATEST VIDEO