CEDIA 2016: Voice Integration a Sizzling Topic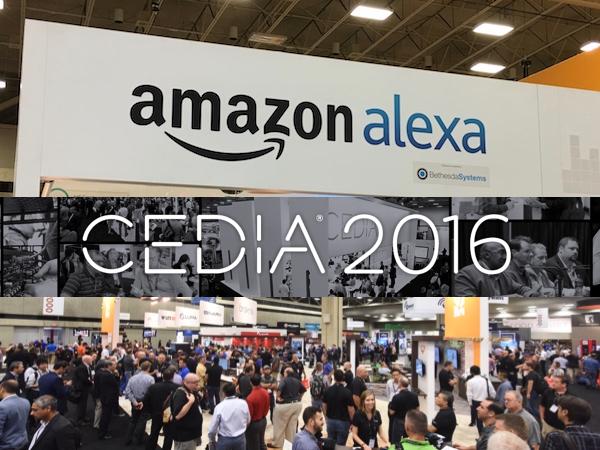 "What the heck is CEDIA?"
I was asked that question more than once by taxi and Uber drivers while I was attending the CEDIA 2016 show earlier this month at the Kay Bailey Hutchison Convention Center in Dallas, Texas. In CEDIA's words:
CEDIA is the leading global authority in the $14 billion home technology industry.

CEDIA represents 3,700 member companies worldwide and serves more than 30,000 industry professionals that manufacture, design, and integrate goods and services for the connected home.

CEDIA's mission is to be a core component of its members' prosperity. Built upon a strong volunteer foundation, CEDIA provides access to industry-leading education, certification, research, and consumer awareness. CEDIA serves as the go-to home technology source for consumers and professionals alike.
According to CEDIA, "attendance topped just over 18,750 attendees…included over 500 exhibitors, 115 CEDIA training sessions, 13 CEDIA Talks, 6 free CEDIA Panel Sessions" and lots of free beer, courtesy of a couple of exhibitors who—rightly so—thought the offer of free beer would draw in extra attendees to their booths.
Now that we've gotten the boring facts out of the way, here are the interesting bits from this year's CEDIA show…
The biggest news from CEDIA 2016 may well be the fact that Sonos' recently announced "endorsed partner integrations" with "connected home leaders", such as Crestron, Lutron, Savant, Control4, iPort and Deutsche Telekom's QIVICON, wasn't the biggest news at this year's show. Even Sonos' Amazon Alexa integration slated for rollout next year got lost in the deluge of other Amazon Alexa integration announcements and demonstrations.
Adding to the Sonos attention deficit, Amazon's CEDIA-unrelated announcement of an all-new Echo Dot for $50/each (or in handy six- and twelve-packs for the price of five and ten, respectively) the day before the show floor officially opened created lots of excitement. To be able to add voice control of, say, a Control4 or Lutron home automation system for only $50 (or even less in the multi-packs) per room is HUGE—and will likely be a no-brainer for many owners of those systems.
A surprising number of home automation companies touted their current or upcoming Amazon Alexa-integration capabilities. These included Control4, Crestron, Lutron, and Savant. Lutron was not a newcomer to Alexa integration, though, having introduced the company's integration of Alexa with the Lutron Caseta lighting control system. At CEDIA, Lutron added RadioRa 2 and HomeWorks QS to the list of Alexa-integrated systems.
Voice control and how it relates to the future of home automation (or the smart home, if you prefer) is such an important topic that CEDIA even had Charlie Kindel, "Director of Alexa Smart Home" at Amazon, deliver one of CEDIA 2016's keynote addresses, called "Creating Voice-First Experiences for the Smart Home". Integrators, customers, and automation companies who might be leery of voice control catching on anytime soon should take heed of one of the statistics Kindel presented: "Customers who use Alexa for the smart home use it an average of sixteen times a day."
Despite the amount of time I've spent on it so far, however, CEDIA 2106 wasn't solely an Amazon Alexa commercial. (You can check out our on-site coverage of CEDIA 2016 here. There were plenty of other announcements and introductions to keep all of us busy running around the show floor and sitting through usually boring as hell press conferences.)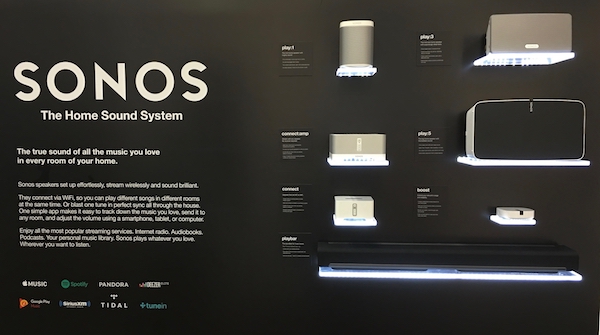 Sonos did get some love at CEDIA 2016. Both Lutron and iPort introduced dedicated handheld and wall-mountable keypads for use with Sonos systems. Other multiroom music-related announcements included:
Denon displayed its first feature-rich and performance-packed X-Series AVRs with HEOS network technology built-in, as well as a new $899 HEOS AVR that's designed to provide soundbar-like convenience—but with much better performance than the typical soundbar. It'll also have the capability of using a pair of HEOS wireless multiroom speakers as wireless surrounds.
Bluesound introduced the "the PULSE SOUNDBAR, the company's first soundbar and the world's first to feature hi-res network audio streaming", including support for Master Quality Authenticated (MQA) high-resolution audio streams, a feature that Bluesound says is also a first for a soundbar. Bluesound specs the bass performance of the $899 PULSE Soundbar as flat down to 70 Hz (3 dB down at 55 Hz). The company also announced a matching PULSE Sub for $599.
Pioneer displayed its first two DTS Play-Fi-compatible products—the Elite FS-EB70 Speaker Bar and the MRX-3 Wi-Fi Speaker.
Paradigm unveiled a new speaker in its Paradigm Premium Wireless Series, the PW Soundbar ($1,299), that includes Anthem Room Correction (ARC) technology, the ability to link to a pair of dedicated rear surround speakers, and DTS Play-Fi multiroom audio streaming compatibility.
Polk Audio did some amazing demos of its "first ultra-compact home theater sound bar, the MagniFi Mini" for the miniature price of $299 (including wireless subwoofer.) The MagniFi Mini is only 13.4 inches long and 3.1 inches tall. It includes Polk's patented SDA surround technology; and, if the demo I heard is anything to go on, the little system kicks some serious 5.1-channel butt. Why am I including it in the list of multiroom audio systems? Because the MagniFi Mini includes Google Cast integration, so "users have the ability to control music from an array of Cast-compatible audio apps on their mobile devices and have them play through the MagniFi Mini. Additionally…the MagniFi Mini can be paired with any Google Cast-enabled speaker around the home for an ad hoc whole-home audio system at a fraction of the cost of competing mesh audio systems."
While we're on the topic of Google Cast compatibility, Atlantic Technology gave a sneak, non-working prototype preview of the first model, code-named GateCrasher, in the company's coming wireless speaker ecosystem.
And, of course, no recap of wireless audio at CEDIA 2016 would be complete without mention of the new Riva WAND series of compact wireless (with optional rechargeable battery for truly wireless operation) speakers that are capable of networking via Wi-Fi to distribute music to up to 32 rooms at a time.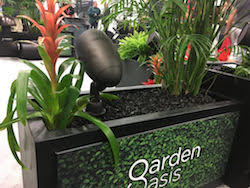 Outdoor audio offerings got a refresh from some manufacturers and totally new introductions from others. Paradigm, for example, showed its first outdoor speaker systems, called the Garden Oasis speakers, that includes 4- and 6-inch satellite speakers along with 10- and 12-inch direct-burial subs. Paradigm claims the Garden Oasis series is "the ultimate outdoor system for serious audiophiles."
Origin Acoustics held up the company's "Professional Director Housing (PHD) line of modular pendant enclosures that can be used to encase any one of 16 different Director Collection speaker models." In typical understated fashion, Origin Acoustics calls the new enclosure system "Modern Modularity for Atmosphere Enhancing Audio."
There were 4K video introductions from Sony, including a 100-inch Z-Series flat-panel display for $60K and the exceptionally exciting UBP-X1000ES UltraHD Blu-ray disc player (approximately $900). Some intensely high-end 4K projectors were also at CEDIA 2016, such as Barco's Thor 6P laser 4K projector, Digital Projection's (DP) e-Vision 4K Laser projector, and SIM2's Nero 4 projector. For more on video, see Tom Norton's report.
SunBriteTV provided some 4K action, unveiling a new, lower-price Veranda series of outdoor TVs in three screen sizes (43, 55, and 65 inches) starting at $1,499. Not surprisingly, they gave pride-of-place to the company's behemoth 84-inch Pro Series 4K Ultra HD Outdoor TV, the SB-8418UHD that's available now for $25K.
That's just a smattering of the things attendees were chattering about at CEDIA 2016. Although the show floor closes after three days, CEDIA never really ends, you know. The products talked about in Dallas will trickle out over the coming year. You can count on us to keep you posted as these new products become available.
Oh, yeah, can we go back to Denver now, please?