Riva Audio's Wireless Multiroom Speakers Get Their Close-Up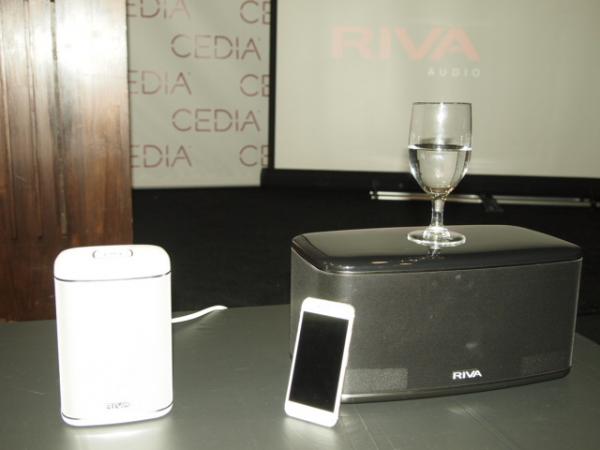 Riva Audio came to CEDIA 2016 to demonstrate its first two wireless multiroom-audio speakers and outline plans for additional high-performance multiroom products in 2017, all networking via Wi-Fi to distribute music to up to 32 rooms at a time.
The first two speakers, in stores in November, are the $499 Festival and $249 Arena, a splash-resistant model that mates with an optional $99 battery pack. Both incorporate a variety of Wi-Fi audio technologies, including Apple AirPlay, DLNA, GoogleCast, and a proprietary technology delivering music in sync to up to 32 Riva devices at a time. They'll be followed next year by a sound bar, subwoofer, and streamer/amplifier that powers any pair of stereo speakers.
The company, which is transitioning out of portable Bluetooth speakers, is bringing its proprietary Trillium technology to the multiroom products to widen the sound stage well beyond the sides of the speakers. Trillium delivers three-channel audio through active drivers on the front and each side of the speakers.
The speakers also support a variety of high-resolution audio codecs up to 192kHz/24 bits. A Riva system streams up to 10 different high-resolution audio songs at a time to 10 different speakers.
Both models also feature Bluetooth, Spotify Connect, Pandora, and voice control of basic functions through the company's smartphone app.
Other key features include the ability to distribute music from a Bluetooth source over Wi-Fi to other Riva speakers. Sources connected to the speakers' analog inputs can also be distributed over Wi-Fi along with music stored on a USB stick plugged in back. The higher priced Festival adds an optical input to connect to TVs and other sources.
When the speakers are outside a Wi-Fi network, they can be set to "away" mode to create an ad hoc Wi-Fi network, even outdoors, with a range of up to 200 feet.
Two speakers can be paired for use as separate left-right speakers, and they'll double as surround speakers for the company's planned sound bar. Proprietary DSP is said to deliver balanced sound at all listening levels.
Both are said to deliver high output for their size, with the step-up Festival delivering 106dB peak. Its frequency response ranges from 38Hz to 25kHz. Riva Audio is the consumer brand of Audio Design Experts (ADX), launched in October 2012 as an ODM designer of home- and pro-audio speakers. The first Riva Bluetooth speaker appeared in late 2014.
ADX's principals include president and chief engineer Don North and Rikki Farr, who is chairman and chief creative officer. Farr was a concert promoter going back to the 1960s for such musicians as Led Zeppelin, Jimi Hendrix, Rod Stewart, Tom Petty, Bob Marley, Miles Davis, and others. Farr also developed aftermarket car speakers, aftermarket computer speakers, and other audio products.