Canton GLE Speaker System
German products are usually associated with precision performance and high quality. When you think of brands such as Porsche and Mercedes-Benz cars or Rolleiflex cameras, meticulous attention to detail and quality construction are probably the first impressions that come to mind. A budget price not so much.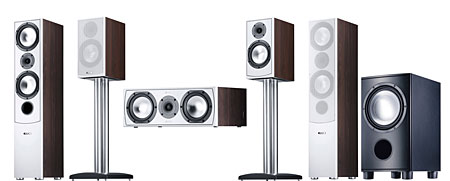 Canton speakers are also made in Germany, and like German automobiles and cameras, they are far from the least-expensive brand in the high-end speaker category. So when I was offered the chance to review the new Canton GLE home-theater speaker system, I expected precision performance and build quality but not a $3000 price tag for a full 5.1-channel package. Can the Canton GLE system possibly compete with the big guns at such a low price?
Features
The system I tested included two GLE 470 floorstanders, each with a 7-inch aluminum-cone woofer, a 7-inch aluminum bass/midrange driver, a 1-inch fabric-dome tweeter, and a front-mounted port. The bass/mid is crossed over at 300Hz and the tweeter at 3kHz. They stand 37 inches tall, so they could be called mini-towers.
The center-channel speaker was the GLE 455, which can also be used as a bookshelf speaker in a 2-channel system. Like the GLE 470, the GLE 455 is a 2.5-way design with two 6-inch woofers and the same 1-inch tweeter used in the main speakers. The drivers are crossed over at 400Hz and 3kHz.
The GLE 430 surround speakers use a 2-way configuration with a 7-inch woofer and 1-inch tweeter with a 3kHz crossover frequency. This speaker has a rear-firing port.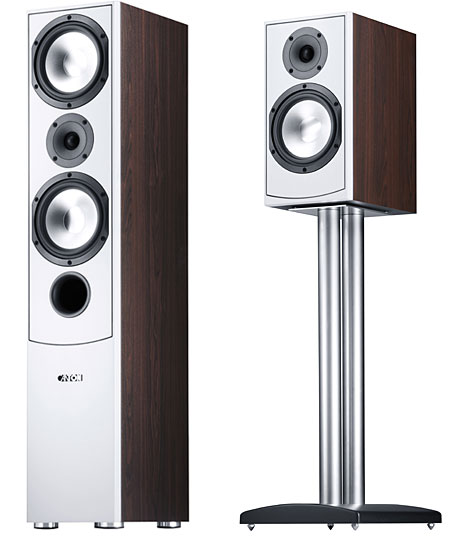 The subwoofer was the Canton AS 85 SC, a 100-watt powered speaker with a 9-inch aluminum-cone woofer. It has low- and high-level inputs and outputs as well as volume, crossover frequency, and phase controls. It's also outfitted with a two-position room-correction switch with Normal and Narrow settings intended to adjust the bass response for large and small rooms. The Normal position lowers the crossover frequency, while the Narrow position decreases the subwoofer's bandwidth (raises the bottom end and lowers the top end) to reduce room-resonance problems.
My review samples were semi-gloss black, vinyl-wrapped enclosures. They are available in six finishes: Beech, Ash Black, Cherry, Mocca White, Silver Matt, and Walnut.
The fit and finish are very good, although the cabinets are not nearly as heavy as I expected. Also, the enclosures don't seem as solid as other speakers I've tested based on a knuckle-rap test.
I am disappointed that the GLE 470 doesn't offer bi-wire or bi-amp capability, a feature that should be available in speakers in this class. This approach can produce a noticeable improvement in sound quality when properly implemented.