Canton CD 300 Speaker System and Lexicon RV-8 A/V Receiver
Good sound made easy by Lexicon and Canton.
In case you didn't believe we were serious about dedicating more of our pages to the overriding reality of home theater—the necessity of individual components coming together to form a cohesive system—we offer exhibit B, our new Spotlight System review. Exhibit A, for those keeping score, is our Hook Me Up column: Sometimes it includes reviews, and sometimes it doesn't, but it always keeps an eye on system issues, especially connections. This new column contains all of the elements of a standard gear review, with the notable exception of being focused on a system, rather than individual components.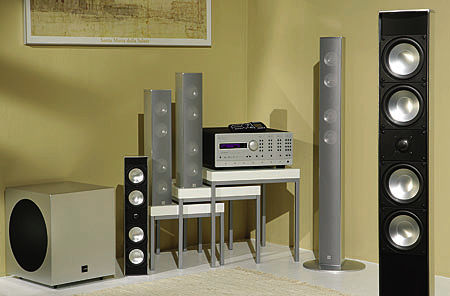 Our kickoff system is a slick combination of Canton speakers and Lexicon's new A/V receiver; this system would look fine in the company of a plasma or any of the plasma-inspired designs that dominate video aesthetics these days. Far more important is how it sounds, though. While this combination isn't exactly inexpensive, it won't set you back nearly as much as it could at this performance level. The system's logistical advantages—including the inherent time, space, and interconnect savings of a receiver, plus low-profile speakers that offer a variety of mounting options—can almost be considered a bonus here.
Lexicon in a Box
Not exactly, but the RV-8 A/V receiver is probably as consolidated a component as Lexicon will ever offer, and receiver fans should take note. The RV-8 combines the preamplification/processing talents that made Lexicon's name in high-end circles with the company's more recently unveiled talents with amplifiers, in a single chassis that is less expensive than most current Lexicon separates.
Features and connections are expectedly abundant. As you'll find in the RV-8's other departments, Lexicon has borrowed a lot from their highly regarded separates. This includes a bevy of processing options (and control over them like you rarely get from a pre/pro, let alone a receiver): the outstanding Logic7 mode; top-shelf internals, including two floating-point Hammerhead DSP engines for the main processing load and a separate DSP engine for compressed audio; 24-bit/96-kilohertz analog-to-digital converters; 24-bit/192-kHz digital-to-analog converters on all channels; and considerable connection flexibility, like the option of configuring the analog audio inputs as two 5.1-channel ins or one plus multiple stereo ins. You can set up the 5.1-channel and stereo analog inputs individually to bypass A/D conversion and internal processing, and digital audio input signals are processed through a two-stage phase lock loop for low intrinsic jitter and high jitter rejection. THX Ultra2 certification and processing are in the mix, and power is ample, with a rated 140 watts across seven channels. There's also two extra zones with independent audio and video signals and an AM/FM tuner with ample presets.
On the video side, the wide-bandwidth component video switcher accepts analog component or RGB video signals, and a composite and S-video switcher accepts high-quality NTSC, PAL, or SECAM video signals. The RV-8 can convert composite and S-video sources to component video.
Futureproofing is addressed with two rear-panel RS-232 connectors. One handles configuration downloads and flash-memory software upgrades, and the other is ready for future needs. The RV-8 can also accommodate future connections by the real estate left on the back panel for them, currently hidden by a removable plate.
Silver Streaks
The time when the phrase "plasma-friendly speakers" would almost certainly be uttered with a derogatory tone is starting to pass, as the initial rounds of bandwagon systems filter through and manufacturers start taking the time to make these speakers sound as good as they look. Canton's new CD Series speakers are a good example. The CD 300 is a legitimate tower speaker in any context, despite its svelte width (4.8 inches) and depth (6.3 inches), and the CD 360 F L/C/R model is equally impressive and even more compact. The CD 300 dedicates two 4-inch aluminum drivers to bass alone, with claimed response down to 30 hertz. There are also two 4-inch aluminum midrange units and a 1-inch aluminum dome tweeter in a 2.5-way bass-reflex design, with crossovers at 400 Hz and 3.3 kHz. The CD 360 F uses the same driver array and crossover points, but in a closed 2.5-way system. The brushed-aluminum cabinets feature a single pair of gold-plated, five-way binding posts in back and come in a black or silver finish. The CD 300 is anchored by a base plate, and the CD 360 F has keyhole mounts for wall-mounting. A tabletop stand is available for the CD 360 F, and both are magnetically shielded.
As the CD Series lacks a dedicated subwoofer, I went with a proven performer from the Karat Series, the AS 300 SC. This is an active, bass-reflex design with a rated 350 watts on board and a 12-inch cellulose/graphite driver. It offers adjustable crossover (20 to 120 Hz), phase, and gain controls, but no crossover bypass. The AS 300 SC's silver lacquer finish (one of four available finishes) made it as good an aesthetic fit as it was a sonic fit.
The Proving Grounds
The first thing I noticed with music demos was the system's remarkable accuracy, which was about as apparent with CD material as it was with high-resolution material. I have come to expect no less than pinpoint accuracy from Lexicon, and the RV-8 clearly keeps this heritage alive. Canton speakers have also consistently impressed me on this front, and these CD Series models are no exception. The resulting sound of the collaboration was sharp and crisp, relatively free from coloration, and laced with an airy, open feel that treated vocals and instruments with equal delicacy. The accuracy was there, but so was the warmth—an impressive feat for this design. I was initially concerned that aluminum drivers operating in aluminum cabinets might ring like a bell, but this never materialized. There were occasions when the tweeter bit harder than a mellow, soft dome unit in a more-forgiving cabinet would have; in other instances, the Cantons leaned to the aggressive side, but nothing at all like I expected. It's clearly fair to say that these Cantons are warm overall and only occasionally tip you off to their construction.
Another erroneous assumption I made about the CD 300s was their capacity for bass. My natural reaction to any small, skinny, or plasma-inspired front speaker is to run it in small mode and let the sub handle the low-frequency load. But having noted the aforementioned 30-Hz bottom-end spec, I switched them over to full-range to see how legitimate this rating was. The answer with two-channel music was surprising enough to make me get up and check the sub to make sure I had cut it off. Not only was the bass full and carefully developed, but it was deep, with authority that you usually don't get outside of big towers with big woofers. The Lexicon played no small role in this, and it was immediately clear to me that its 140-watts-per-channel rating was sounding legitimate. Not only does it sonically deliver on its promised power, but it does so from the top of the frequency range to the bottom, driving low frequencies through with raw muscle but also the agility and accuracy that keeps them from degenerating into monotone boom. The characteristic bass line from Sara K.'s rendition of "Brick House" (Super Audio Collection Volume 2, Chesky) retained all of its natural boldness and body, but it finished as cleanly as it started with each pluck of the strings.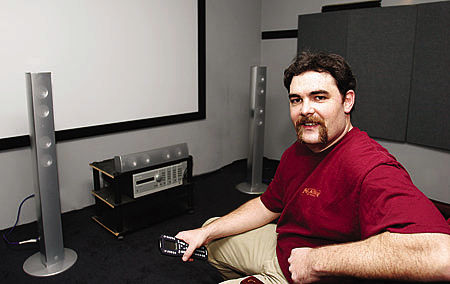 The legitimacy of the Lexicon's power was on display with multichannel material; it not only delivers from top to bottom, but it does so with all channels driven. Take the interesting in-the-orchestra mixes found on some of AIX's classical recordings, which put added demand on the center and surround channels. The Lexicon and Cantons answered with authority, but also a clear sense of calm and resistance to fatigue, even as woodwinds, brass, and percussion all started firing at once. The same could be said of their handling of the highly active surround channels from Gods and Generals, particularly the cannon duel from chapter 21. Front-to-back and side-to-side pans abound here, and the soundstage remained tight and consistent throughout, with little in the way of gaps or even too much localization, despite relying on direct-radiating surrounds. There is clear presence to these CD 360 Fs as surrounds, despite their relatively small size and limited cabinet dimensions. Most plasma-friendly surrounds would balk at this action and likely sacrifice the subtle detail that rounds out a legitimate surround field, but the CD 360 F did not. It offered impressive dynamic impact with any form of material I asked it to reproduce.
The CD 360 F was also impressive as a center channel. Naturally, a center presentation benefits considerably from the accuracy and detail I've already noted. That carried over nicely to movies, where dialogue exhibited the same natural ease that lyrics had. The CD 360 F delivered effects with the same authority and delineation that characterized musical instruments. The CD 360 F's limited size only caught up to it on those occasions where producers simply stuffed too much into the pipe at once, which causes problems for most center channels, especially those of the compact variety. Recovery time from these periods of crowding was quick, though, and the Canton/Lexicon combination never let a few brief bumps steer it off course from what was a dynamic, highly accurate, and impressive presentation overall.
The Last Word
Home theater system building is part science, part instinct, and sometimes part voodoo. It's also never easy; so, when a system comes together as sonically and logistically successful as this one did, you take notice. Sure, a lot of speakers would sound good when run through the RV-8—which is quite simply the best sounding receiver I've ever heard—and the Cantons will sound good when mated with a variety of quality electronics. But if you're in the market for a system around this price range that sounds excellent, offers an abundance of features, is about as easy to set up as some of the more-elaborate home-theater-in-a-box systems, and looks damn good in the process, a proven combination like this might be a good place to start your search.
Highlights: Lexicon
• Lexicon processing and amplifier talents in one chassis
• Loaded with power, features, and connections
• Sweet, smooth Lexicon sound
Highlights: Canton
• They look like plasma-friendly speakers but don't sound like them
• They have a small footprint, wallprint, or tableprint