Can You Recommend an Affordable Streaming Amplifier?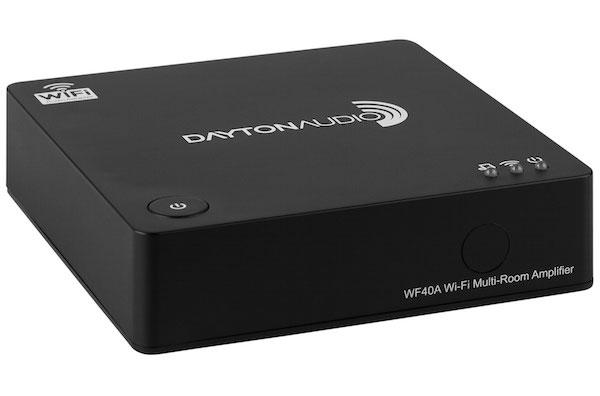 Got a tech question for Sound & Vision? Email us at AskSandV@gmail.com
Q I don't even know what to call it, but I'm looking for a reasonably priced device ($150 or less) with enough watts to drive a small pair of two-way speakers that's also internet-enabled and capable of playing back Pandora, Spotify, and iTunes (not Apple Music) tracks from my iPhone. Can you make a recommendation? —Scott Oakley, Pine, AZ
A There isn't an all-encompassing name for the category of device you're looking for. Streaming amplifier? Network music receiver? Still, plenty of products exist that will do exactly what you want, though virtually all are priced well above your $150 limit.
One option that does fit both your needs and budget is the Dayton Audio WF40A Wi-Fi multi-room audio amplifier , which sells for $88. The WF40A connects to your home network and can stream music from services including Spotify and Tidal. It also has AirPlay support so you can stream music directly from your iPhone, iPad, or Mac. Setup and control is carried out using the Dayton Audio Hi-Fly app, and you can wirelessly link multiple units for multiroom audio streaming. The WF40A's built-in stereo amp only puts out 20 watts per channel, but that should be enough to drive small two-way speakers at a moderate volume level.
Stepping up your price limit a bit will give you additional options. The $299 Polk Audio Omni A1 is another streaming amplifier that connects via Wi-Fi, but in this case uses the DTS Play-Fi app for setup and control. Supported services include Spotify, Pandora, Tidal, Amazon Music, Deezer, SiriusXM, and more. Power is specified as 75 watts per channel into 4 ohms, which will enable louder playback than what you'll get with the Dayton audio amp. You can also use it to stream music stored locally on your iPhone or from a media server running on your PC or Mac.
The Sonos Connect:Amp ($499) does everything the two streamer/amps described above can do, but you get the added benefit of the company's excellent control app. Supported streaming services include Spotify, Pandora, Tidal, and more, and you can also stream music stored on your iPhone. And if you ever do get the urge to subscribe to Apple Music, the Connect:Amp is one of the few media streamers that provides native support for that service. Amp power is specified as 2 x 55 watts into 8 ohms, which is plenty of juice to drive small 2-way speakers to loud levels.