Can I Connect My AV Receiver to a Soundbar?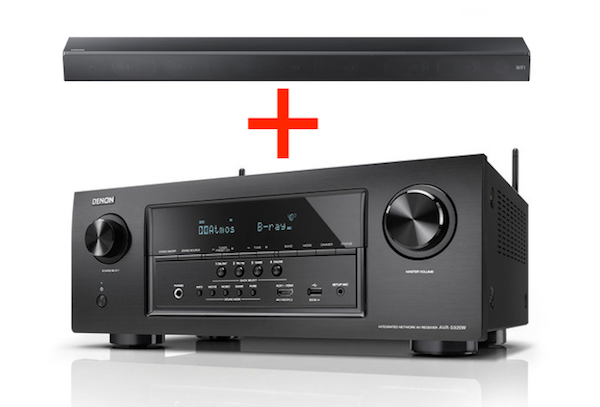 Q
I own a Denon AVR-S920W AV receiver and am wondering if it's possible to hook it up to my Samsung HW-MS650 soundbar to use in place of regular speakers. The sources I plan to connect to the receiver include a CD player, Blu-ray player, TV (via HDMI ARC) and the analog output of turntable with a built-in phono preamp. Is there a way to do this, or do I need to use separate speakers with the receiver?
—Deborah Marlowe
A Given the wide range of analog and digital sources you plan to use in your system, I'd definitely recommend buying a separate multichannel speaker system or a passive soundbar with surround speakers and powered subwoofer to connect to the Denon receiver.
Powered soundbars like your Samsung model are designed as an all-in-one solution for getting good TV sound — you connect your TV to it via HDMI ARC (Audio Return Channel, a special HDMI port that allows for bi-directional passage of audio signals) or an optical digital audio connection, either of which will enable routing of audio signals from the TV to the soundbar. While some higher-end soundbars provide multiple HDMI inputs, or even a minijack analog input, to plug in other sources, most have limited connectivity options.
If you're not sold on the idea of buying separate speakers, you could actually hook up all the components on your list to the Samsung soundbar. Just connect your TV to its HDMI Out (TV-ARC) port, the Blu-ray player to the HDMI input, the CD player to the optical digital input, and the turntable to the minijack analog input (you'll need to buy a 3.5mm-to-RCA adapter cable to make that happen). Having said all that, I'll now repeat my original suggestion about buying a speaker system or passive soundbar with subwoofer and surrounds, which will let you take advantage of cool features in your receiver like Dolby Atmos/DTS:X processing and Audyssey room correction and Dynamic Volume.