Building a Serious Home Theater for $3k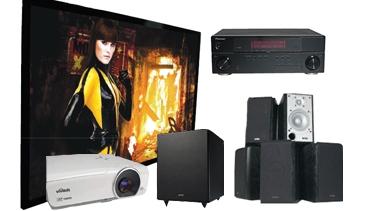 Key Features
ALL THIS FOR $3K
• Elite Screen 84-inch (diagonal) 16:9 EzFrame fixed-frame screen with 1.0-gain CineGrey material ($584) • Pioneer VSX-1019AH-K A/V receiver with direct iPod connection/menu browsing ($499) • Hsu Research STF-2 subwoofer ($349) • Infinity Primus P152 minispeakers ($109 each) • Vivitek's H1080 DLP front projector ($999), the first under-$1K 1080p model to hit the market
The home-theater industry has run off its rails. It used to be about delivering a kick-ass experience that washed away the cares of the day and totally absorbed you in some stupid action movie. But these days, home theater is all about looks: making this year's flat-panel TVs thinner than last year's, slimming speakers to match, and doing just about anything to hide those hideous black boxes.
It's time for those of us who truly love home theater to get back to our roots, to create a space where audio and video come first and nothing else matters. To do that, we have to start with a real theatrical video experience, which in my book means a front-projection system with a screen measuring at least 7 feet diagonally. Then we need real speakers, not cute boxes designed to look pretty next to a flat-panel TV. Of course, we need a real subwoofer, not one that's been cruelly compacted to hide under an end table. Finally, we need a real receiver, not some feeble electronics squeezed into a plastic chassis that looks like a spaceship.
For this theater, we also need a space where a home-theater fanatic can really be a home-theater fanatic. It could be a spare bedroom, part of a basement, or that home office you use only on April 14. The key thing is, it has to be your space, where you make the decisions. Depending on who shares your domicile, that might take some selling. So, to make the pitch easier, we're going to limit your expenditure to $3,000. That's right, $3,000. For everything.
Budget System Building
Key to this $3K system is the $999 Vivitek H1080, the first ever under-$1,000 projector with 1080p resolution - something I'd been waiting for. You can often improve the performance of an inexpensive projector through calibration and proper screen pairing, but 1080p is 1080p, and there's no way you can get that from a 720p projector.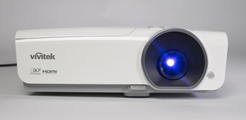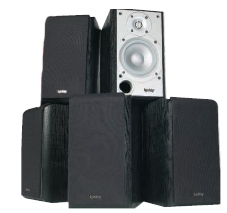 Now I needed speakers. I wanted five identical satellite models, because budget- priced horizontal center speakers seldom match the tonality of the main speakers they're intended to accompany. The least-expensive satellite I could find that fit this criterion (and seemed to employ competent acoustical engineering) was Infinity's Primus P152 minispeaker, at $109 each. The P152 has a 51?4-inch woofer in a ported cabinet and a 3?4-inch tweeter - a simple yet potentially potent design.
The obvious source for a subwoofer was Hsu Research, a company that made its name selling overperforming budgetpriced subs. Hsu provided its $349 STF-2, which combines a 10-inch woofer and a 200-watt amp in a reassuringly sizable enclosure. Bass extension for the STF-2 is spec'd at 25 Hz ±2 dB.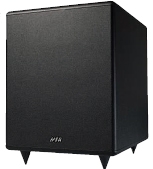 For the receiver, I wanted something with DTS-HD Master Audio and Dolby TrueHD processing so I could get the best sound from Blu-ray Discs. And I wanted at least 100 watts per channel. Luckily, Pioneer's $499 VSX-1019AH-K gave me all that and more. Its hybrid amps are rated at 120 watts per channel (although it's measured at 1 kilohertz, so the rating's a little generous), and it has an interface cable that connects to an iPod or iPhone and lets you browse your music collection through your video display.
We still need a projection screen here, because there's no way you'll get a cinematic experience by pointing that Vivitek at a white wall. The least expensive projection screen I could find that looked decent is the Elite Screens EzFrame. I tested a different Elite model for a recent screen roundup (search soundandvisionmag.com for my "Private Screening") and found it a great value. A 16:9 black-felted 84-inch (diagonal) frame with Elite's 1.0 CineGrey material lists for $584.