Broadcast Minds Roundtable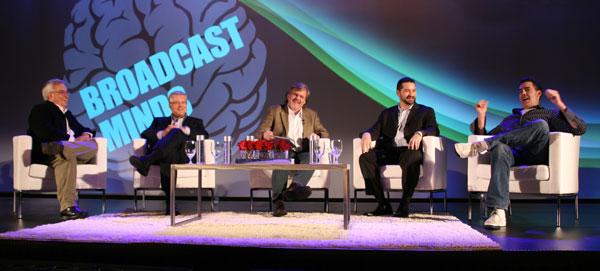 Sponsored by NewTek, maker of the TriCaster portable streaming-video production system, the second annual Broadcast Minds roundtable at NAB offered a lively panel discussion about video production in the online era. Joining the panel was (left to right above) Leo Laporte, whose TWiT network is the official webcaster of the NAB show; Steve Hellmuth, executive vice president of operations and technology for NBA Entertainment; moderator Eric Schumacher-Rasmussen, editor of
Streaming Video
magazine; Mark Fratto, director of athletic communications at St. John's University in New York; and Adam Corolla, well-known comic who was introduced as having the most downloaded podcast in the world.
All the panelists started using the TriCaster because it is so much less expensive and easier to use than traditional video-production tools, and it puts them in the driver's seat. However, Corolla noted, that means you can drive yourself off the road if you're not careful! Still, such a system encourages creativity by avoiding "production by committee" as at many traditional networks.
Both Hellmuth and Fratto use streaming video to reach a new audience for their sports programming—Hellmuth for the NBA, WNBA, and D-League and Fratto for the various sports played at St. John's University. They also integrate various social-media channels to engage the audience as traditional broadcasting can't. Laporte takes a similar approach, looking for ways to connect with his audience, making them feel part of the discussion.
Of course, making money is especially challenging for webcasters. St. John's University provides its on-demand, pre-recorded content for free, but it charges a subscription fee for live events. Corolla argued that it's all about how many eyeballs and ears you can attract to your programming, which in turn attracts advertising dollars. However, Laporte disagreed to some extent, saying that his audience is smaller than it might be with traditional broadcasting, but it's more dedicated, more engaged, and less passive, making it more attractive to advertisers. Still, he admitted that most advertisers are relatively conservative and want high audience numbers.
When the panelists were asked what capabilities they want to see in the next three to five years, Hellmuth pointed to the growing trend toward multiscreen content—the main program on the large high-def screen with any ancillary material, such as stats, chat windows, etc., on a computer or tablet. Laporte thinks that technology will continue to get faster, smaller, cheaper, and better, and this will help it get out of the way so his audience can become a real part of the program. This attitude is one reason I enjoy working with him so much.