Bowers & Wilkins 603 Speaker System Review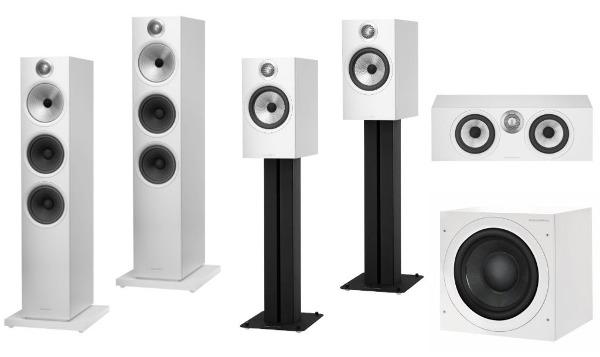 PRICE
$4,399 as reviewed
AT A GLANCE
Plus
Engaging, transparent sound
Powerful, tuneful bass
Clean, contemporary look
Minus
Treble can overwhelm with some music
Center speaker tonal match could be better
THE VERDICT
The latest update to the Bowers & Wilkins 600 Series brings technological improvements trickled down from the company's 700 and 800 Series speakers. This system delivers engaging, upfront sound and good value.
Maybe it's because our country is still young, but Americans tend to think of the British as having lots of long-standing traditions. Is that impression still valid? These days, Jaguar Cars is owned by India's Tata Motors. Mini Cooper, Rolls Royce, and Bentley are owned by German companies. Even Marmite, that most British of toast toppings, is half-owned by the Dutch. Following that trend, it should come as no surprise to learn that a quintessentially British hi-fi company like Bowers & Wilkins is owned by a Silicon Valley, California-based startup called EVA Automation. Engineering and design still takes place at the company's headquarters in Worthing, England, even if most of the actual production now takes place in Asia.
Bowers & Wilkins' embrace of old-school tradition continues with the company's current approach to surround sound. In recent years, the market for home theater audio has split in two directions. Dedicated enthusiasts are embracing new expanded multi-speaker technologies like Dolby Atmos, while more casual users gravitate toward simpler one- and two-box solutions like soundbars. At one time, B&W offered a range of specialized surround speakers plus a soundbar called the Panorama, but its more recent surround solutions have been based on more traditional stereo speaker combinations. To expand your surround setup beyond a standard 5.1- or 7.1-channel rig (to create an Atmos setup, for instance), you need to delve into the company's custom installation lineup, which includes in-wall and in-ceiling speakers.
Further simplifying its offerings, Bowers & Wilkins' recent revamp of the entry-level 600 Series has pared the line down to the 603 tower ($1,800/pair), the HTM6 center channel ($599), and the 606 and 607 bookshelf speakers ($800 and $600/pair, respectively) along with three subwoofers that carry over from the previous 600 Series. This situation made picking a review system easy. Sticking with a 5.1 rig, I used a pair of 603 towers for the front left and right channels, an HTM6 in the center channel position, and a pair of 606 bookshelf speakers for surrounds. For subwoofing duty I used the line's top model: the ASW610XP ($1,200).
Visually, the most striking change from Bowers & Wilkins' earlier 600 Series speakers is the switch from the company's iconic yellow Kevlar midrange cones to the silvery Continuum composite material first seen in the flagship 800 Series. Bowers & Wilkins claims this material provides better control over the cone's breakup modes, resulting in a more transparent and accurate midrange performance. Cabinet finish options have also changed, with smooth matte finish vinyl available in both white and black. (The prior 600 Series came only in a black faux woodgrain vinyl in the U.S., while other finishes were available in some countries. The new options are designed to consolidate and simplify the 600 Series offerings worldwide. All of the speakers use bass reflex loading, and the ports have now been moved to the back panel just above the speaker binding posts. The grills now attach using hidden magnets, which eliminates the need for mounting plug holes on the front baffle. These visual changes endow the new 600 Series with cleaner, more contemporary visual appeal, although traditionalists may mourn the lack of a woodgrain option, whether real or not.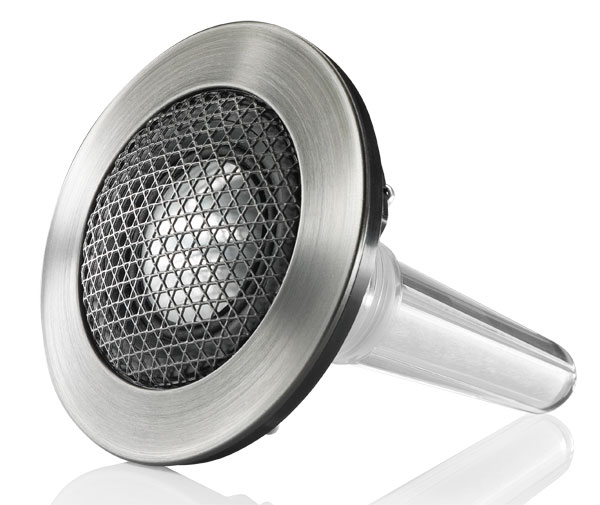 Each speaker came supplied with a foam plug to block the rear port, a useful accessory for controlling bass in small rooms or installations where the speakers are placed close to a wall. In my room, they worked best without plugs. All 600 Series speakers have dual pairs of five-way binding posts to allow for bi-wiring or bi-amping. I bi-wired the front three speakers, but single-wired the surrounds. A tall skinny tower with most of its weight concentrated at the top, the 603 comes with a plinth that can be attached to the base to widen its stance by a few inches and add stability. Carpet-piercing spikes or domed rubber feet can also be added. I opted for the most stable combination, using both the plinths and the spikes.