Boston Acoustics Avidea 770 Home Entertainment System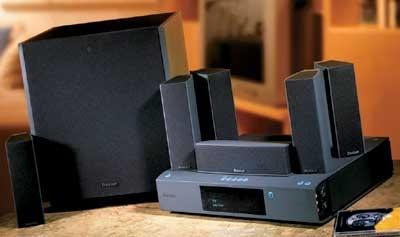 There is probably more diversity in the audio/video market than in the Amazon rainforest. Dealer's shelves (and Amazon.com's Web pages) are filled with a seemingly endless variety of DVD players, A/V receivers, speakers, and complete home theater systems. But there's usually a divide between separate components and all-in-one systems, with components tending toward the higher end and all-in-ones tending toward lower quality.
Boston Acoustics' Avidea 770 system is a bit of an odd duck, being a high-end, all-in-one compact system. It's also a departure for the famed speaker maker, and perhaps because the engineers weren't encumbered by old ideas, the Avidea embodies many new ones. For starters, it looks as stealthy as an F-117A Nighthawk fighter. The control center, which contains a DVD player and AM/FM tuner, has an extruded aluminum front panel, and its charcoal color blended right into my décor (the speakers are available either in charcoal or off-white). It's truly a minimalist design, and its coolness is enhanced by a loading slot instead of a flimsy plastic tray. The fluorescent readout is usually discreetly dim with small text, but when you hit a button on the front panel or the remote control, the display brightens and switches to large print. Nice touch.
Fast Facts
DRIVER COMPLEMENT satellite speaker, 3/4 -inch soft-dome tweeter, two 2-inch midrange cones; subwoofer, 10-inch cone ENCLOSURES ported INPUTS/OUTPUTS control center component-, 4 composite, and 4 S-video inputs; component-, 2 composite-, and 2 S-video outputs; 5 optical and 3 coaxial digital audio inputs, 2 optical outputs; 5 analog stereo inputs, 2 outputs; Zone 2 analog stereo output with 12-volt trigger for turning on external components; AM/FM antenna input speakers proprietary connectors DIMENSIONS (WxHxD) control center 15 1/2 x 3 5/8 x 14 1/2 inches L/R front and surround speakers 2 1/2 x 7 3/4 x 4 3/8 inches center speaker 9 x 2 1/2 x 4 5/8 inches subwoofer 13 1/2 x 16 x 15 1/4 inches WEIGHT control center, 19 pounds; L/R front and surround speakers, 2 1/2 pounds; center speaker, 3 pounds; subwoofer, 42 pounds FINISH charcoal; speakers also available in off-white PRICE $3,999 MANUFACTURER Boston Acoustics, www.bostonacoustics.com, 978-538-5000
Key Features
• Plays DVD-Video, DVD-Audio, CD, CD-R/RW, MP3, and DVD-R/RW • Decodes Dolby Digital, Dolby Digital EX, DTS, and DTS-ES; Dolby Pro Logic II and DTS Neo:6 processing for 5.1- or 6.1-channel playback of stereo and Dolby Surround sources • UniView video conversion/switching can upconvert composite/S-video inputs to component video • Listening Mode memory to save surround and bass settings for each source • AM/FM receiver with 27 presets • RF/IR touchscreen preprogrammed/learning remote control
The system can play both DVD-Video and DVD-Audio discs as well as DVD-R/RWs, CDs, and CD-R/RWs (including those with MP3 files), and it decodes Dolby Digital, Dolby Digital EX, DTS, and DTS-ES movie soundtracks. Dolby Pro Logic II and DTS Neo:6 processing are also onboard to play back stereo (and matrixed four-channel) sources in 5.1- or 6.1-channel sound. A convenient Listening Mode memory lets you save your preferred playback settings (like surround mode and bass level) for each individual source - great if you like to crank up the bass for movies but not music, for example.
The remote is several cuts above the usual slab 'o buttons. A learning handset that's also preprogrammed with a large code library, it features an LCD touchscreen as well as soft and hard buttons - all backlit. In a thoughtful touch, the remote automatically turns on when you pick it up (there's a tilt switch inside) and automatically turns off after a user-settable delay. And it can use either infrared (IR) or radio-frequency (RF) signals to control the system. RF is particularly useful when the control center is in another room (maximum range is 66 feet). The control center's output for a supplied dual IR emitter even lets you control other equipment in your rack with RF commands from the remote. Of course, you can also create macros, which allow you to issue a string of commands with one button touch. Finally, the remote has a serial port so you can connect it to your PC and customize the touchscreen's layout and the remote's operation using the supplied Freedom Edit Windows software.
LATEST VIDEO