Bluesound Node Streaming DAC Review Page 2
Sound & Vision
readers should be well familiar with the BluOS Controller app, which is one we've used in many other product tests, most recently the $5,000
NAD Masters M33 streaming integrated amplifier
. A common finding through all those tests has been that BluOS Controller is one of the simpler multiroom streaming apps to set up and use. After selecting the WiFi option in the Player submenu of the app's Settings menu, you select your home network and enter the pass- word. You then get the option to rename the Node (Living Room, Office, etc.) and can also custom-name sources for each input. An Audio submenu provides treble and bass tone control sliders, and you can set the output level as either fixed or variable, as well as configure a volume limit range. There are further options to choose mono/stereo output, set Smart gain to ensure even playback loudness between sources, and set the crossover point of the subwoofer output from 40Hz to 200Hz in 10Hz steps.
Once all the hardware options are configured, you next add streaming services by selecting them in the app and entering your login info. Tidal, Qobuz, Amazon Music, Spotify Connect, Deezer, Neil Young Archives, nugs.net, TuneIn Radio, and SiriusXM radio are just some of the many options available via BluOs. The Node is Roon Ready (for use with Roon music management and library software) and can also stream over a local network using SMB file sharing. Its DAC supports up to 24-bit/192kHz FLAC, WAV, AIFF, and ALAC files. Lastly, MQA decoding is onboard for Tidal HiFi and nugs.net subscribers.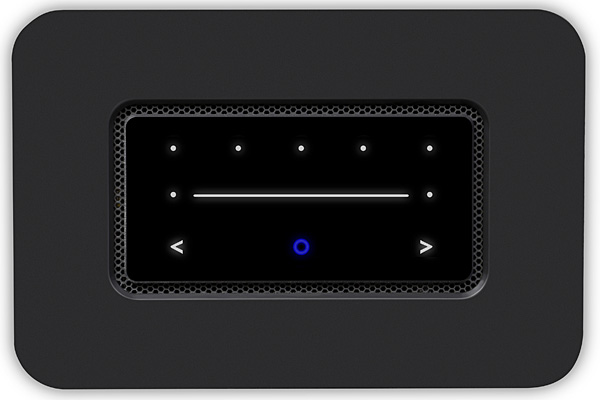 Performance
I started out my listening session with the Node by streaming "Lambent Rag" (24-bit/44.1kHz FLAC, Tidal) by electronic musician/producer Clark. The piano here had a full quality, while the song's percussive elements (presumably the close-miked string hammers in the instrument's interior) had a dynamic, driving sound. At the track's climax, the whole thing starts to sound like a Philip Glass composition tossed into a blender, and its presentation with the Node handling decoding duties was impressively wide and enveloping.
Having recently compared the Atmos mix of Steven Wilson's track "King Ghost" from his album The Future Bites (24/96 FLAC, Qobuz) with the plain-vanilla stereo version, I was impressed by how spacious the stereo track sounded in my home theater. Listened to now on my music-only system with the Node plugged in, I heard clear delineation between the various vocal strains, including Wilson's near-spoken-word delivery, a soaring falsetto during the chorus, and sampled dialogue. Synthesizers also had a rich, pulsing quality, and the dense, tall, IMAX-like sonic presentation I heard in my theater was retained.
Switching to jazz, I next streamed "Boo's Blues" by guitarist Julian Lage (24/96 FLAC, Tidal). The Node faithfully conveyed this track's slightly echo-y "nightclub" ambience. Drums sounded crisp and dynamic, and Lage's electric guitar came across clean but also with a fair amount of texture during the more aggressive sections of his solos.
While many listeners will opt to use the Node's digital connections, its built-in DAC means owners of older gear—a group referenced in this review's intro—can take advantage of the analog outputs to integrate it with their system. When I compared the Node's DAC with the one in the Hegel integrated amp, I found that the Hegel revealed a bit more dynamic drum-kit snap on the track "Woodstock" by jazz supergroup Hudson, though the shimmering overtones of cymbals were cleanly rendered by both. And on tracks with female vocals like Mazzy Star's "Flowers in December," Hope Sandoval's singing was more smoothly integrated via the Hegel, while the Node tended to push it further out in the mix. When I spun vinyl from my collection using the Node's analog input, I found the sound quality was transparent enough to illuminate clear differences between the original LP of George Harrison's All Things Must Pass and the new 50th Anniversary Remix version of the same.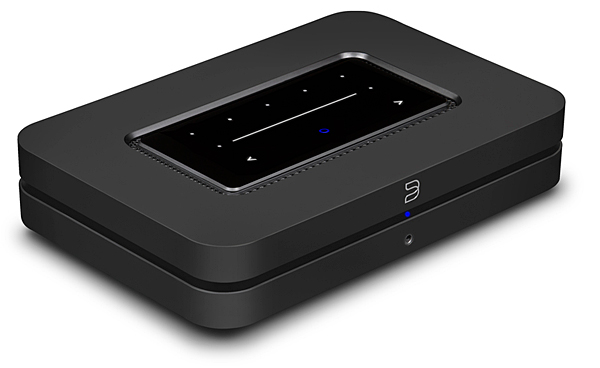 In the end, I preferred the sound with the $4,000 Norwegian integrated amp handling digital-to-analog decoding, but the Node's performance was nonetheless impressive given its $599 price.
Conclusion
Bluesound's new Node is a highly affordable streaming DAC with plentiful connection options, including HDMI eARC for a TV and a configurable subwoofer output. Its compact design and excellent control app make it easy to integrate with an existing system for adding top-tier streaming features, including multiroom high-res music distribution. The sound quality is very good for a $599 streaming DAC,while features like AirPlay 2 and two-way Bluetooth aptX HD streaming plus Amazon Alexa and Google Voice control support make it easy to get music playback up and running instantly. But the best part about the Node is that it links your audio system with the BluOS universe, which turns out to be an expansive one indeed.