The Bigger Picture
Tips for selecting and installing a front-projection screen.
What's keeping you from taking the front-projection plunge? Is it a belief that projection systems are still only for the rich and famous, consisting of $15,000 projectors, movie-theater-sized screens, and elaborate masking systems, controlled by advanced touchpanels? The entry-level projector roundup on page 38 of this issue is proof that there's a 1080p projector to suit almost any budget, and the same is true for theater screens.
With so many options out there, you don't even know how to begin to select the right projection screen. That's where we come in, to provide you with a basic understanding of the screen types, materials, and control options you might encounter in your quest to build the perfect big-screen theater for your budget, room environment, and installation prowess.
Step One: Screen Type
The type of screen you select will play a major role in determining overall cost. One of the least expensive options is also the easiest to set up: A portable screen is a great choice for the person who lacks a dedicated theater space but still wants to enjoy the occasional big-screen movie event. You can set up and stow away Da-Lite's Theater-Lite pull-up screen in minutes, and an 80-inch 16:9 model costs less than $400. For the adventurous do-it-yourselfer who wants a more permanent budget solution, DIY Home Theatre and Goo Systems offer the paints and borders you'll need to transform an open wall into a theater screen.
If you've ever hung a large piece of artwork, you can handle installing a fixed-frame screen, such as Da-Lite's Cinema Contour, Screen Research's ClearPix2, or Stewart's Luxus Screenwall. The final choice is a retractable screen, discreetly housed in a chassis that mounts on the wall or ceiling. A manual pull-down model is a wonderfully economical choice; Draper's 92-inch-diagonal Luma2 pull-down screen costs less than $300. If you go with a motorized model, it adds some cost to the bottom line. For instance, the 75-inch-diagonal Elite Screens Home2 model begins at $789.
Most home theater projectors cast an HDTV-friendly 1.78:1 (16:9) image, so you'll want a screen to match. If you simply cannot abide the sight of black bars with 1.85:1 or 2.35:1 film content, you may want to invest more money in an automatic masking system that uses panels to perfectly frame the screen for the exact aspect ratio you're watching with any given source. Of course, the black bars are still there; you just can't see them. To remove horizontal bars entirely and use the projector's full vertical resolution with every source, you'll need a projector with an anamorphic lens attachment and a wider 2.35:1-shaped screen like Stewart's CineCurve or dnp's Supernova Epic. These models include side masking panels that reframe the screen for 1.33:1, 1.78:1, and 1.85:1 content.
Step Two: Screen Material
After you select a screen type, the next step is to decide what type of material to put in that frame, a decision that your projector and viewing environment will primarily dictate.
Every projection screen has a specified gain, or a measurement of reflectivity between the screen and projector. A 1.0-gain screen reflects the same amount of light as a white, magnesium oxide board. A 1.5-gain screen reflects 50 percent more light, and a 0.5-gain screen reflects 50 percent less. A spec of 1.0 or 1.1 is the most common gain for a home theater screen. A negative-gain screen like Stewart's GrayHawk (0.92 gain) reflects less light from the projector, which can improve black level.
High-gain screens (from 2.0 up) reflect more of the projector's light to help improve the image's brightness, which can be helpful if you wish to use your projection system in a family or living room that lacks complete light control. A potential drawback is that high-gain screens can distribute light unevenly, looking very bright in the center but dull near the outer edges. Another way to improve image visibility in a brighter room is to use gray screen material like dnp's Supernova Core instead of the more common matte white. White material reflects light, while gray material absorbs light, making it harder for ambient room light to wash out the picture.
Step Three: Installing the Screen
The installation process can vary significantly depending on the screen type and manufacturer. Generally speaking, a recessed-screen installation, while providing a clean look, is usually the most invasive and labor-intensive.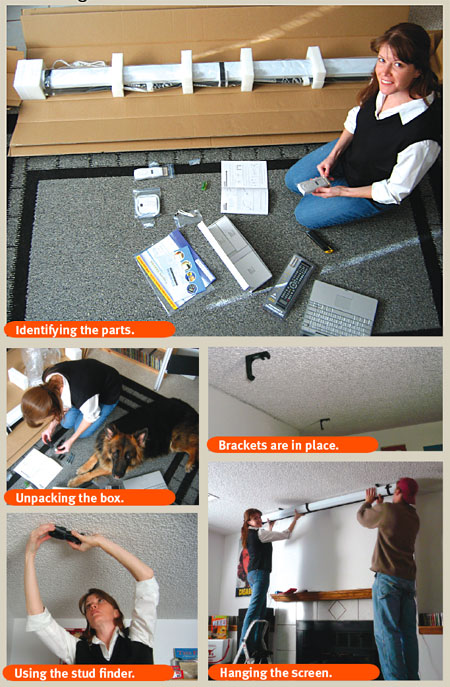 An on-wall or on-ceiling option can still offer a clean, sophisticated look with minimal structural impact on the room. Because I rent my home, I can't cut into the walls to recess a screen or run cables, so the Elite Screens Home2 model proved to be a good choice, as it uses a minimally invasive setup procedure requiring the installation of just two small brackets. With no previous screen-installation experience, I ceiling-mounted the screen in just a few hours (see the photo sidebar above).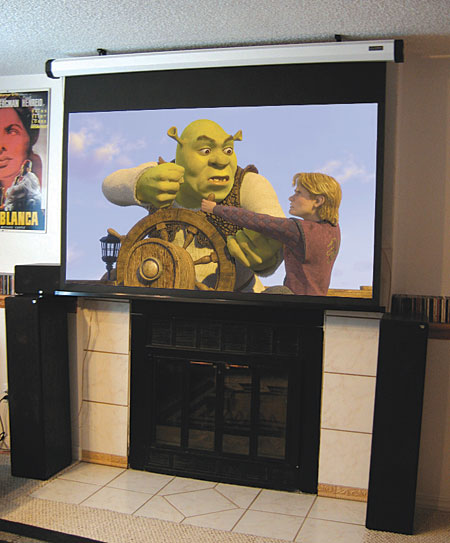 One question that every DIY or professional installer must ask is how securely to mount the brackets to your wall. Companies often provide basic brackets and screws or drywall anchors, but you may wish to go with more secure stud-mounting for heavier items. My advice is to err on the side of caution; it's better to have too much bracing than not enough. I stud-mounted the Home2 ceiling chassis, and finding the studs was the slowest part of the install process; still, the extra work was worth the peace of mind.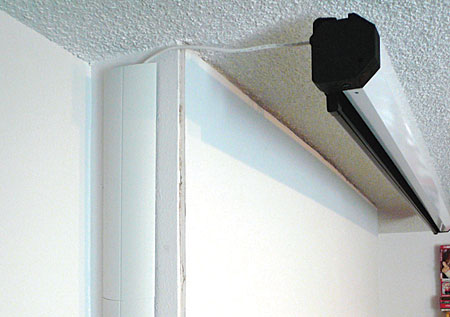 Last but not least is that pesky power cord that will accompany a motorized model. There's nothing more unsightly than a big power cable running across or down your wall. Again, because I didn't want to run wires through my walls, I went with a quick, easy, and economical solution. Omnimount's CMK wall cable management system ($29.95) lets you feed cable through stick-on wall brackets and then hide them behind paintable, white shells.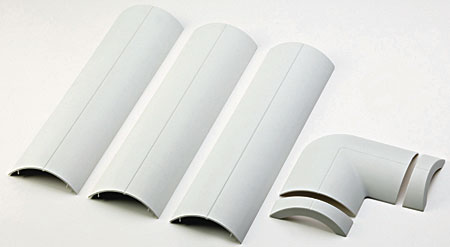 Step Four: System Integration
If you use a motorized screen or masking system, the final piece of the puzzle is to incorporate the automated function into your control system. Most screen manufacturers incorporate several control options, either included with the screen or as add-on accessories. Make sure that your desired screen uses a control method that suits your system and technical abilities.
Look for the inclusion of a low-voltage controller, usually a small keypad that you can mount on the wall near the screen. A simple control cable runs from the keypad to a control port on the screen chassis, so cable management again comes into play. Another common option is to use a 12-volt trigger. If your projector has a 12-volt trigger output, you can run a cable to the screen's 12-volt trigger port. When you power on the projector, it sends a command to automatically lower the screen; power off the projector, and the screen retracts.
Why run cables at all in this day and age of wireless remotes? Just look for a motorized model that includes an IR or RF remote control, whose codes you can add to your universal controller. The Home2 model comes with both IR and RF remotes, so I was able to add control to my Monster AVL300 remote with just a few minutes of programming effort.
Clearly, selecting and installing a theater screen doesn't have to be an overly daunting process. Assembling a two-piece projection system may require a bit more work up front, but it reaps huge reward for the movie lover who wants a truly immersive big-screen experience. Now are you ready to take the plunge?