Big-Button Remotes Aren't Just Gag Gifts Anymore
Remote controls suck. Even the best remote controls,
such as the Harmony Ultimate Home
, suffer from issues that are inextricable parts of what make a remote control a remote control. For instance, there are buttons to press. They'll either be too small for some people, or the layout won't be ideal for others. Then there's the fact that it's easy to misplace a remote control. Some wind up in between the cushions on the couch. Others—and this happens more often than you would think—have been known to mysteriously make their way inside the kitchen refrigerator. Those are just two of the many problems associated with remote controls for the average person. Now think about that remote control from the standpoint of someone who is up in years and is perhaps suffering from arthritis and/or poor eyesight. For the elderly, remote controls don't just suck, they're often impossible to use.
A few years ago, my dad moved into an assisted living facility. When I was a kid, we used to call these places "old folks' homes". Over the years, the labels have changed in order to make the thought of living in an extended-care facility for the rest of your life seems less like a dumping ground and more like a warm and welcoming place to be. My dad simply calls it "prison". Fortunately, they let him have a TV in his prison cell…er, room. For a man who requires assistance getting in and out of a bed or chair, a remote control isn't a convenience—it's a necessity. Too often, though, it's a necessity that becomes more trouble than it's worth.
From what I've been able to round up, there are over a half-dozen remote controls designed specifically for those with limited vision and/or restricted manual dexterity. Sometimes when companies see a captive, specialty market, the result is a small number of choices with high prices. In this case, though, these senior-friendly remote controls have MSRPs ranging from $18 to $40—with street prices in some cases as low as $8.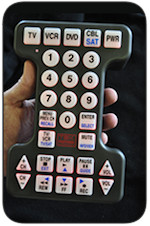 Bay Products' Tek Partner Remote is the remote control that first got me thinking about what kind of remote control would be best for physically challenged folks like my dad. The first time I saw an ad for it, however, I thought this ginormous (measuring 8.5 inches long and 5.5 inches wide) remote control was a joke. But actually holding one in my hand made me realize there's a lot to be said for a remote control with active backlighting, 0.75-inch button caps, and large, easy-to-read lettering. It's not going to get lost in the couch any time soon, that's for sure; and the fact that it replaces up to four other remote controls is great for anyone with more than just a TV and a cable box. On the other hand (no pun intended), the size might be difficult for some people to handle. It's also the most expensive of the lot—$40—but it's well worth the money considering who it's made for and what it does.
Bay Products offers two other big-button remote controls: the slimmer Big Button Universal Remote Control and the super-simple Tek Pal. The $25 Big Button remote basically takes all of the four-device functionality of the Tek Partner remote and squeezes the buttons (now a slightly smaller 0.625 inches) together in a more remote-control-like remote control that's only 2.5-inches wide.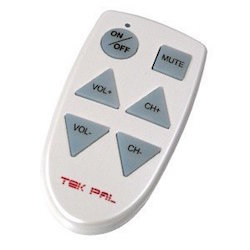 Simple is as simple does, as someone once said (or didn't), and that could be the motto of the $22 Tek Pal remote. It's not a multi-device controller. All the Tek Pal is meant to do is replace a TV remote control with something that provides basic functionality in a much simpler-to-operate configuration. The 5.5" x 2.75" x 1" Tek Pal weighs only 5 ounces (with batteries installed), and presents six large backlit buttons to the user. It could well be the least-intimidating remote control on the planet.
If the form-factor and minimalism of the Tek Pal appeal to you (or is appropriate for the intended user) but you think you might have the need for additional functionality every now and then, you should take a look at the Flipper Remote. The $30, two-device Flipper Remote has six visible buttons, including a single ON/OFF button at the top of the remote control that's used to turn on/off a TV as well as a connected cable/satellite box. The power-toggle button is joined by buttons for volume +/-, channel up/down, and a small mute button. The beauty of the Flipper Remote, though, is that a cover on the bottom half of the remote can be slid down to reveal a numeric keypad along with a few programming buttons. When the cover is in place, it's almost impossible to tell that a hidden section even exists.
The Gmatrix A-TV2 remote control is a TV-only replacement remote with very large channel change and volume adjust buttons, along with a numeric keypad with a smaller set of buttons. It's a bit more intimidating to look at since the keypad is exposed, but it might prove more workable for someone whose hand dexterity might prevent him or her from being able to slide open the cover on the more elegant Flipper Remote. At the list price of $15—actually, as I write this, it's available on Amazon for $8.49—it's a steal of a deal.
RCA and Sony both offer senior-friendly remote controls. Sony's two-device RM-EZ4 sells for anywhere between $10 and $35 online. It's roughly the same size as the Flipper Remote, except the keypad is exposed, and all the buttons are nearly the same size. Inexplicably, the volume-down and channel-down buttons are smaller than the up buttons. (I guess Sony figures that if you need a large-button remote, you're probably hard-of-hearing, too…) Unfortunately, in my opinion, the industrial designer heard "big buttons" and stopped listening after that. The layout and near uniformity in button size make it difficult for me to use this remote—and I don't need a big-button remote. Not yet, anyway.
RCA's RCRPS02GR two-device big-button remote is long and slender with clearly differentiated button shapes and colors. It's a nice-looking remote that might be too sophisticated in some cases, because it includes buttons for GUIDE, INPUT, and CHAN PRESET MODE. While the RCA remote is backlit, it's not automatic. You have to push a small LED BACKLIGHT button in order to get the remote to light up. Of course, if there's enough light in the room that you can see the backlight button you probably don't need to press the backlight button. The RCRPS02GR lists for $18.
Overall, I'd have to say that I like the Flipper Remote with its dual personality as the best remote for my dad. But remote controls are incredibly personal things, and there's no way to pick a best-of-the-bunch winner. As I mentioned earlier, at least these remotes are affordable. Even if you discover that you (or the person you bought the remote for) don't like the way it operates, you won't be out too much money.