BG Radia R-17i Speaker System
Hang a blue ribbon on the wall for these planar-driver speakers.
To stand out from the crowd, a speaker (or any product) needs to have a gimmick. "Gimmick" is too harsh of a word, really. "Unique element of differentiation" is too clinical but more on the mark. Maybe I should say, "thingamajig." On-wall speakers used to stand out from the crowd by their ability not to stand out. They were slim, contemporary in style, and loosely matched the flatness of plasma TVs, plus, until recently, only a handful were on the market. In some cases, these speakers were even voiced to sound their best when mounted on a wall. (Imagine that.) But on-wall speakers are no longer unusual. They're everywhere, including in some HTIB systems. Differentiation is definitely different now—it's a heck of a lot harder to do.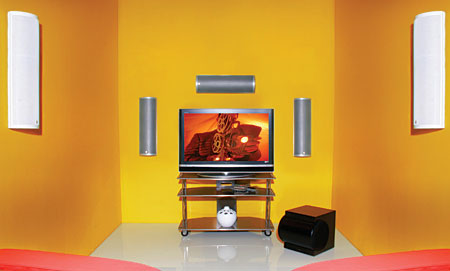 BG sets their speakers apart in a couple of ways. One way is due to the company's VP of engineering, Igor Levitsky. He's an extremely likeable, highly focused guy. I can easily envision myself sitting down and slamming vodka shots with him while discussing the merits of planar-ribbon-driver technology. Although this imaginary vodka-infused conversation might get a little fuzzy and slurred, nothing but clarity comes from BG's planar-ribbon drivers—and much of that is due to Levitsky's refinements and innovations. But, other than a select few, no one knows about this engineering émigré working assiduously behind the scenes.
You Won't Find These Ribbons in Bows
The use of planar-ribbon drivers for mid- and high-frequency reproduction is the BG speakers' primary not-like-the-others feature. You'll find a version of this driver in both the R-17i (LCR) and the R-18i (surround) on-wall speakers that BG sent my way, along with a BG 210i subwoofer, for this review.
BG developed the initial design for their planar magnetic-ribbon drivers in the early 1990s. Planar-ribbon drivers reproduce high and some midrange frequencies by rapidly moving a thin, very light ribbon of material with attached conductors using small but very powerful magnets. Whereas previous planar drivers were typically limited in output volume and frequency range, BG's designs compete very well with traditional high-frequency transducers.
The best planar speakers produce sound that is light, airy, and all the other adjectives you use when you want to say a speaker's sound detail and imaging are kick-butt. The drivers' flat shape causes sound to radiate forward into the listening area and less up or down. Imagine a sound in which there are minimal reflections off the ceiling and floor—the kind that can confuse your brain's sonic "meatware" processor and destroy the illusion of depth and placement.
Although both the R-17i and R-18i on-walls use BG planar-ribbon drivers, the R-18i's is especially unconventional. (I'll have more about that in a bit.) The R-17i starts with a 2.5-by-3.5-inch Neo3PDR planar-ribbon tweeter and flanks it with a pair of 4-inch woofers and a pair of 4-inch passive radiators. The speaker's a little over 2 feet tall, 8.4 inches wide, and 4.6 inches deep. At that size, it's not the most diminutive on-wall speaker you can find today, but the size works well aesthetically with all but the smallest flat-panel displays.
The R-18i speaker shares the same dimensions, but the driver complement is different. The two-way design includes a single 4-inch woofer accompanied by one 4-inch passive radiator. Unlike the Neo3PDR tweeter in the R-17i, the R-18i's Neo8PDR wide-band planar-ribbon driver is mounted so that it can pivot on its vertical axis using the Directivity Pattern Control (DPC) knob on the top of the speaker. It's quite an unusual arrangement, especially with a planar driver. (It's so unusual, in fact, that BG has a patent on it.) I think the benefit is tremendous.
Follow the Directions
Let's say you're the type of person who enjoys arguing the merits and demerits of bipolar versus direct-radiating surround-channel speakers. (Just such an argument was what got Archduke Ferdinand killed, thus precipitating World War I.) In your THX-approved moments, your right brain tells you to use dipolar speakers for the surrounds to get that warm-and-fuzzy diffuse soundfield. Then you spy a Dolby Digital logo, and your left brain tells you there's nothing better for pinpoint accuracy than a direct radiator. You become totally dispirited when you realize your room isn't ideally suited for either setup.
That's the all-too-common situation the R-18i's pivoting planar-ribbon driver addresses. With the driver firing forward, the R-18i functions as a standard (and great-sounding) direct-radiating speaker. Crank the DPC knob 90 degrees, and the R-18i becomes a full-fledged (and great-sounding) bipolar speaker. But it's not an either/or choice with the configuration of the tweeter. You can vary the angle anywhere between 0 and 90 degrees, so you or your installer can make the right adjustment to get the best performance from your room's layout and acoustics.
In my room, for example, the main listening-assistance device (a.k.a. the couch) is against the back wall. In this arrangement, direct-radiating surrounds tend to sound a little too direct. There's too much reflection off the back wall with dipolar or bipolar speakers. The R-18i on-walls were some of the best-sounding speakers I've used in this domestically appropriate but acoustically inconvenient real-world configuration. With the tweeter angled about 45 degrees, I heard the best of both worlds—a direct sound that still maintained a sense of envelopment.
Planar-ly Exciting
A BG 210i subwoofer tagged along with the R-17i and R-18i on-walls to complete the system. Although finished in black, the 210i isn't your standard black-box subwoofer. Two 10-inch Kevlar woofers—one each behind grilles on the left and right sides of the cabinet—are positioned in a force-cancelling configuration designed to minimize distortion using physics rather than electronics. Instead of being flat, the front of the cabinet is rounded as if it had been cut from a small cylinder. It's a beautiful piece of work, and it has a darn good chance of looking great with most room décors. Inside the sealed enclosure is a 500-watt BASH amplifier.
While they'll play loud, the BG on-walls certainly won't cause your next-door neighbors to put up a "For Sale" sign. (Well, the 210i subwoofer might.) If you're looking for an on-wall speaker, though, sheer volume capability is probably not what you're looking for in a system, anyway. What should be foremost—the overall sound quality—is definitely what you get with the R-17i system. Unlike other planar drivers I've heard in the past, the BG planar-ribbon tweeters in both of the on-wall models reproduce sound that is amazingly detailed and lively, without causing any fatigue during extended listening periods. The front and surround speakers work so well together, regardless of the angle of the R-18i's planar-ribbon driver, it's scary. "Ordinary Fool," for example, from Mel Torme's The London Sessions SACD, starts with a rock-solid image of the jazz crooner's voice, and then the soundstage expands three-dimensionally as the orchestra comes in behind him. It's goose bumps kind of stuff. The effortless presentation of detail is easy to hear from the tapping of a wood block in the Patricia Barber song "You & the Night & the Music" (Modern Cool). The seamless blending of the fronts and surrounds comes through nicely with the surround mix of "Girl" on the bonus DVD from Beck's Guero.
Movies are equally as thrilling. During the early part of Ice Age, when the ice cracks and the glacier shards fall, all the elements of the system—fronts, surrounds, and subwoofer—viscerally put you in the center of the destruction. Here again, the planar ribbon drivers are entirely natural without any ear-piercing sharpness. Batman Begins not only shows off the 210i's power, it also highlights how natural the R-17i is when you use it as a center-channel speaker.
This BG system is stealthy in two ways. First, of course, is the fact that the R-17i and R-18i speakers are meant to be mounted on the wall, so they'll disappear as much as possible in the room. That's a good thing. But the second stealthy characteristic is in the sound quality. Although on-wall speakers are becoming ever more prevalent, not everyone expects them to sound great. After all, they're mainly a fashion statement, right? Not so with the BGs. For the money, these are some of the finest on-walls you can hang around your home theater.
Highlights
• Surround uses unique pivoting planar-ribbon tweeter
• Lifetime warranty
• Planar-ribbon drivers are smooth and natural sounding