Belkin's TuneStudio Rocks the iPod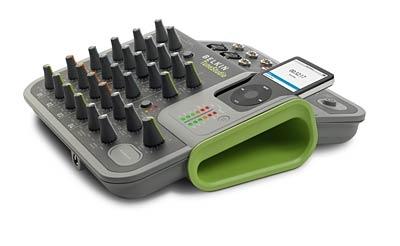 With both iPod accessories and home project studio gear now more common than three-chord bar bands, it's seems like it's getting tougher to come up with a really new concept. That's why Belkin's inexpensive, colorful TuneStudio recording deck, which bridges those two worlds, really grabbed our attention.
The book-size TuneStudio is billed as the first 4-channel audio mixer capable of making high-quality digital recordings you can store on an iPod. Another plus: It can also serve as a USB hub for making computer-based studio recordings (more on that later). Though TuneStudio has a list price of $400, you should be able to get one for about $200 with a bit of Internet sleuthing. The unit works with several iterations of iPods, including iPod Classic, second- and third-generation iPod Nanos, and third- and fifth-generation (Video) iPods.
While the sloped face of the console is a serious-looking charcoal gray, the TuneStudio abounds with kid-friendly color accents, including a Day-Glo-ish green-colored cutout on the unit's right side that makes it easy to grab with just one hand. That, combined with the plastic chassis and its surprisingly light weight, may cause some to dismiss the TuneStudio as little more than an expensive toy. But despite some minor shortcomings, we found TuneStudio to be the real deal, with surprisingly rugged construction, an intuitive layout, and little extraneous noise from any of its components. And audio tracks are saved as high-quality .wav files, rather than the lower-quality mp3 or AAC files you might expect.
A Familiar Design
The TuneStudio borrows a tried-and-true layout that should be familiar to anyone who's ever tinkered with a Tascam PortaStudio or even a podcasting mixer. The main inputs are housed along the top of the unit, with controls for each of the four channels arrayed in vertical banks (see photo). Channels 1 and 2 contain both balanced XLR inputs, which are generally used for connecting microphones, as well as 1/4-inch mono TRS instrument jacks, which accept standard guitar or bass cords. Channel 3 has stereo TRS jacks, while channel 4 has stereo RCA inputs, which can connect a CD player or another iPod. To the right of the RCA inputs are a pair of monitor outputs (for connecting powered studio monitors), along with a USB Audio jack that lets you connect TuneStudio to a PC or Mac. The power button is on the far right of its face, just above the iPod docking slot.
Below each track's inputs is a row of rotary controls; every channel has a 3-band equalizer (you can boost or cut the high, mids and low frequencies by up to 12dB), plus pan (balance) and level controls. Channels 1 and 2 are additionally equipped with phantom power, activated by a push-in button, which is required by some condenser microphones. With phantom power activated, you can boost mic gain up to 60 dB. Arranged in a row below the monitor outputs are a series of knobs, including a level control for the iPod's playback volume, a USB level input, and a knob labeled Audio In Mix Ratio, which is used to mix the input from the four mixer channels with the USB input. To prevent the iPod from clipping, the unit has a built-in single-button compressor that helps keep audio levels within recording limits. There's also a ¼-inch headphone volume control, located just above the forward-facing headphone input.
An iPod dock largely occupies the right side of the unit's face, sitting above two rows (left/right) of LED-based recording-level meters. In addition, each channel has its own peak indicator, which lights up if the signal is too high and starts distorting. Located below the LED banks are a master level control, used to set the overall recording level, and a recording menu button that activates the recording menu if you're using an iPod Video (it's not functional if you're using an iPod Classic or Nano). The TuneStudio comes with everything you'll need (except cables), including an 1/8-inch to 1/4-inch headphone adapter, several iPod adapter inserts, and a CD with Cakewalk Music Creator LE software (for those using TuneStudio as a USB mixer).