Battle of the Sub-$300 Blu-ray Players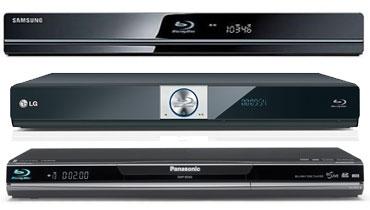 When the Blu-ray Disc format was first announced, a feature that industry execs liked to pimp in their PowerPoint presentations was BD-Live. With your player plugged into a home network, we were told, a BD-Live-enabled disc could access all manner of wonders by way of the Internet -things like games and extra scenes and commentaries not included on the original disc. (Think Kal Penn talking up the Harold & Kumar series from his seat in the Obama White House.) But now that the feature has become common on new releases, the reality turned out more like this: You press the BD-Live icon on the disc's menu and then stare at your TV screen for 5 minutes as the player logs into some remote server. Afterward, you get the option to join a "Blu-ray Movie Bonus Points Club" or download a preview trailer for Paul Blart: Mall Cop. Or - my favorite - an invitation to participate in a survey telling the studio what you want from BD-Live.
Good stuff, studios!
Okay, BD-Live turned out to be a wash, but something interesting happened as we waited for the feature to fully materialize: Blu-ray players transformed into media-streaming dynamos. The addition of Netflix Instant Viewing, CinemaNow, YouTube, Pandora Radio, and other Internet-enabled media has changed what was an ordinary disc-playback device into an entertainment hub. And it's not just the expensive players that offer such goodies; they can be found on models selling for less than $300 - the LG BD370, Panasonic DMP-BD60, and Samsung BD-P1600 under the microscope here, for instance.
Along with their multimedia/streaming abilities, these players are also equipped with the latest must-have A/V features, including an HDMI 1.3 output, built-in Dolby TrueHD and DTS-HD Master Audio decoding, a 1080p/24 video-output option, and the ability to play AVCHD video shot with high-def camcorders. But because they're all "budget" players, a few features that come standard on more pricey models have been left out of the mix. For owners of older A/V receivers, the key one will be an analog multichannel output. This basically means that a new, HDMI-equipped A/V receiver is required to experience the new Blu-ray Disc audio soundtrack formats at full resolution. But each player also comes with an optical digital-audio output to convey standard compressed Dolby Digital/DTS soundtracks to older equipment. And on the video side, a component-video output capable of passing up to 1080i-format high-def signals completes the backward-compatibility loop for each player.
Oh, one thing I forgot to mention: Each of these models is a Profile 2.0 out of the box (no firmware update required), so you'll be good to go for both BD-Live and Bonus View features like picture-in-picture video commentaries. None of the players provides onboard storage for BD-Live downloads, so you'll need to add your own USB flash drive or, in the case of the Panasonic, an SD card. But enough with the overview; let's move on to the individual players.