Bang & Olufsen BeoSound Shape Wireless Speaker System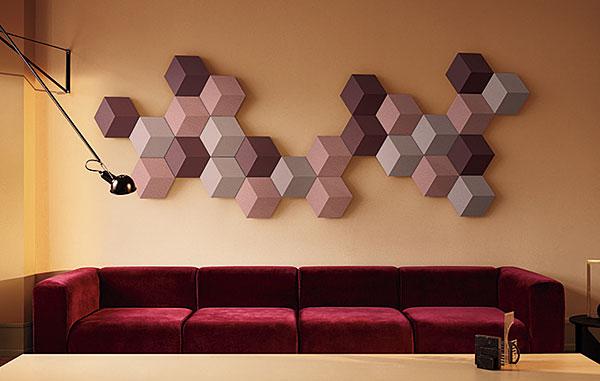 You've gotta hand it to the design team at Denmark's Bang & Olufsen. Always super creative and always thinking outside the box—the speaker box, in this case. What could easily be mistaken for wall art or a serious acoustic diffuser is a unique modular speaker system. Indeed, the BeoSound Shape is the only wireless speaker system we know of that is modular and customizable in terms of performance and aesthetics. In other words, it's ridiculously flexible.
Let's break it down. The system comprises four hexagonal building blocks, or "tiles" as B&O calls them: A two-way speaker module with a 5.25-inch woofer and 0.75-inch tweeter, an acoustic damper for improving acoustics—especially in reverberant rooms—an 8 x 80-watt amplifier designed to drive up to four speakers, and the Core connectivity hub that facilitates wireless streaming from phones and tablets that support AirPlay, Bluetooth, or the (awkwardly named) Chromecast built-in.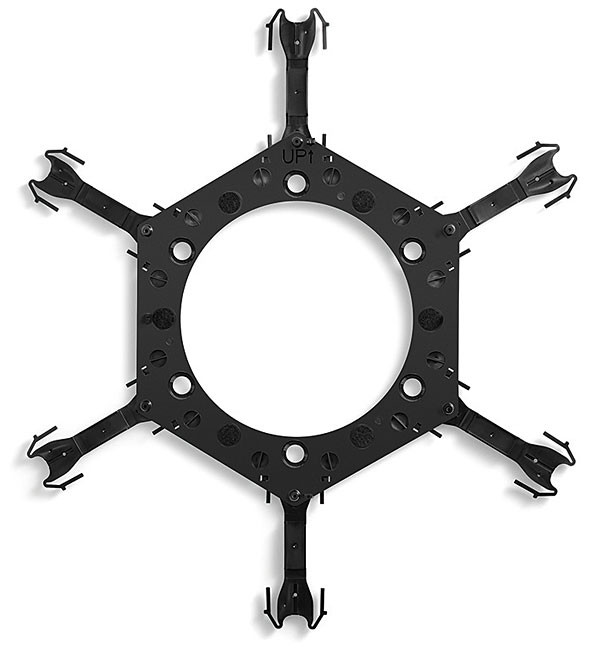 The hub supports hi-res audio up to 192 kilohertz/24 bits and seven audio formats—including FLAC and WAV but not WMA Lossless—and the amp is equipped with USB and optical digital inputs, four speaker outputs, and connectors for daisy-chaining multiple amplifiers. To create a "concert-like perception of singer and instruments," B&O employs a proprietary algorithm it calls "band on the wall" that spreads sound across the tiles to ensure vocals are centered and instruments emanate from the sides.
In its most basic form, Shape is a six-tile system consisting of four speakers, an amplifier, and a hub that can be scaled to epic proportions using up to 11 amplifier tiles and 44 speakers with any number of acoustic dampers. We're imagining a cavernous room with cathedral ceilings and a wall consumed by a sprawling work of audio art.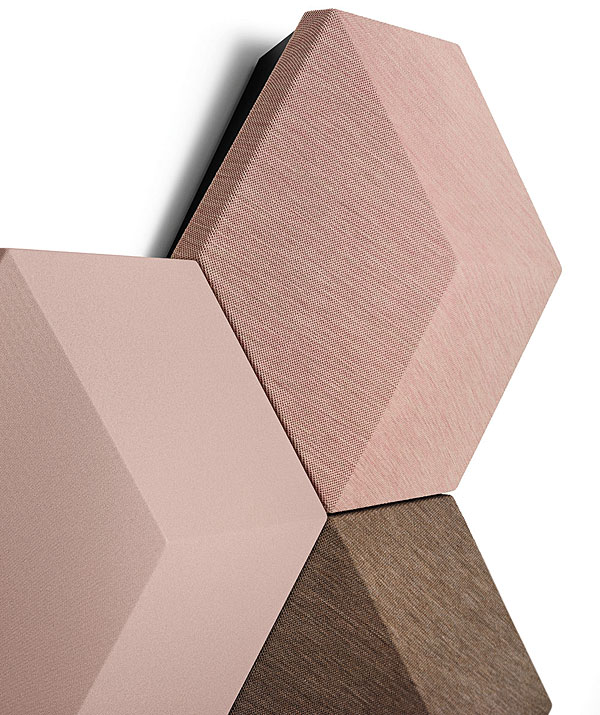 Once you decide on the size and shape of your sonic puzzle, it's time to assemble it on the wall. But how? B&O devised an ingenious skeletal structure made of hexagonal frames it calls the "star rail system." The sequence goes something like this: Snap the hexagons together in the desired pattern, affix the structure to the wall, and push the tiles into place. Of course, you'll also have to connect speaker and power cables to the amplifier(s). If you need a place to put wires, you can remove the damping material from one or more acoustic tiles and use the space to conceal them.
When everything is wired up and secured to the wall, it's time to finish your masterpiece by clicking fabric covers in place. B&O offers a mix-and-match set of covers in 10 designer colors— Parisian Night Blue, Brazilian Clay, Purple Heart, Wild Dove Grey, Black, Infantry Green, Dark Blue, Moss Green, Pink, and Brown (the last four are made of wool). An online design tool helps you select colors and fabrics, decide on a layout, and choose a location that will deliver the best sound.
You control the system using the Bang & Olufsen App or the supplied remote control (up to five can be connected to one system). Extending music throughout the house is a simple matter of connecting the system to any of B&O's wireless multiroom speakers. Prices start at $4,000 for a basic setup.