AVR Shopping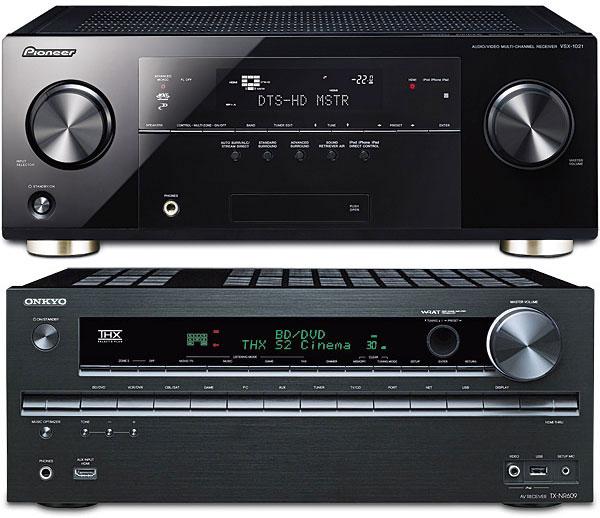 I am in the market for an A/V receiver in the $500 price range. With such a variety of brands, it is hard to pinpoint one. I have a medium-size room, and I am planning to use two Definitive Technology BP-8020ST floorstanding speakers. I don't want to clutter my room with speakers in every corner. I will use my receiver to watch TV and my DVD player and VCR, no iPod or iPad. I have looked at user reviews on Amazon, and every receiver has some 1-star ratings, which tells me the technology is not that advanced yet since they break so often. Could you recommend any reliable receiver or amplifier for my setup?
Alex Frisch
With a nominal impedance of 8Ω and the ability to handle power from 20 to 250 watts, the BP-8020ST can be easily driven by any modern A/V receiver. In the $500 range, HT's current Top Picks are the Pioneer VSX-1021 ($550, reviewed here) and Onkyo TX-NR609 ($599, reviewed here), both shown above.
If you're going to use only two speakers, be sure to go into the AVR's speaker menu and set the front left and right speakers to "large" and disable all the other speakers (center, surrounds, subwoofer). However, you will be missing out on a greatly enhanced sonic experience with surround soundtracks on DVDs and many TV channels. I highly recommend that you reconsider adding a center speaker, surround speakers, and a subwoofer from DefTech to match the BP-8020STs—for example, the CS-8040HD center, SR-8040BP surrounds, and SuperCube 2000 sub. If you can't afford these right now, I'd save up for them. Trust me, the surround experience is well worth some speaker clutter in the room.
As far as user reviews are concerned, there will always be isolated cases of failure with any product, which tend to get reported more readily than when everything works. I wouldn't worry about a few negative user reviews; if you have problems with the particular receiver you buy, contact the manufacturer and get it resolved.
If you have an A/V question, please send it to askhometheater@gmail.com.