Avantgarde Acoustic Zero 1 XD Speaker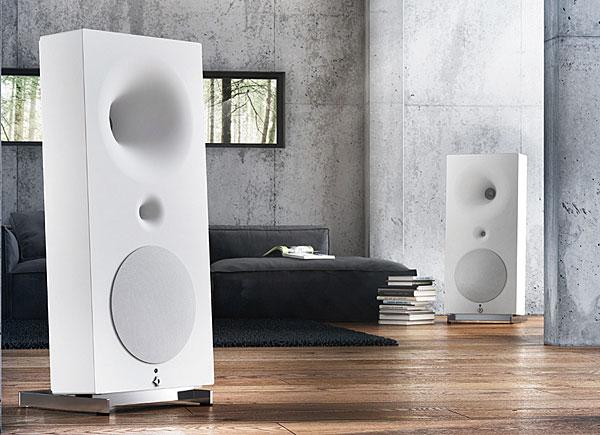 I'm going to date myself here, but the first thing I thought of when I laid eyes on the Zero 1 XD was the stark white interior of the spacecraft in 2001: A Space Odyssey. Am I crazy, or would it fit right in? In sharp contrast to a traditional horn-based speaker (think JBL or Klipsch)—and even the spectacular floating horn designs for which Germany's Avantgarde Acoustic is known—the speaker's ultramodern appearance is unique with its molded baffle and slim rectangular enclosure.
The Zero 1 XD was born out of the desire to create a smaller, more affordable "plug and play" horn speaker that would be easier to produce, package, and ship than the company's other models, according to Armin Krauss. A methodical process of elimination ultimately led to a reduced "design language" that essentially dictated the use of a simple rectangular enclosure, vented and slightly bowed in the back to provide ample air volume for the woofer.
At 3.5 feet tall, 19 inches wide, and 12.5 inches deep, the Zero 1 XD is surprisingly compact, occupying less than 3 square feet of floor space when you factor in its brushed metal stand. Behind the distinctive façade is a 1-inch tweeter and 5-inch midrange, each loaded into a "spherical wave horn," and a 12-inch woofer rated down to 30 hertz. The system is fully powered: a 2 x 50-watt amp drives the horns (which boast a sensitivity rating of 104 decibels), while 400 watts are dedicated to the woofers.
A proprietary 66-bit user-programmable FPGA processor digitally divides the incoming signal into bass, midrange, and treble "streams" (one per speaker) and feeds them to three 24-bit Burr-Brown DACs, which convert the signals to analog just before they hit the amplifiers. "Each stream is treated individually to ensure smooth frequency response, perfect phase coherence (with deviations of less than 5 degrees across the audio band), and precise time alignment," Krauss explained.
"This is also the stage where band-less EQ is implemented, adding user-adjustable room acoustic adaptation curves if required," he continued. "There are actually two more channels that contain volume information, which is routed separately and applied just before the signal becomes analog. This way, all six music streams are processed with full resolution, dynamic range, and bandwidth while in the digital domain."
To keep hookup as simple as possible, the system follows a master/slave configuration. Run a cable from your source unit to an input on the master speaker (USB, optical, coaxial, or AES/EBU), and it feeds the signal wirelessly to the slave speaker with a "bit perfect" data transfer rate of 44.1 kilohertz at 16 bits. An analog input is available as an option.
If white is a bit too modern for your tastes, no worries: You can go the Darth Vader route and order a pair of Zero 1 XDs in black. Either way, be prepared to shell out $22,000.
Avantgarde Acoustic (distributed by American Sound) • (905) 773-7810 • avantgarde-acoustic.de