A/V Networking Goes Mainstream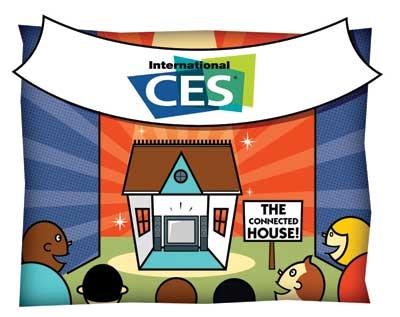 Within a day of returning from the consumer electronics show, I was asked the same question by at least 10 people: "What was the most exciting product you saw in Las Vegas?" Unfortunately, my answer didn't excite anyone because, aside from a few clever little gadgets, I didn't see anything thrilling. A TV that lowers its volume and shuts off if you don't shake your booty on the treadmill is pretty cool - but seriously, folks, how many of us would actually go out and buy one?
What was making waves at this year's CES was the subject of this column: the connected house. For the first time, mainstream consumer-electronics companies were showing not just HDTVs with bigger screens, but ones with bigger ambitions: to become the centerpiece of your home entertainment system.
But don't rush out to Crazy Melvin's yet to buy these things. The products shown at CES generally don't hit the shelves for at least six months after the show (and often longer). It was clear, though, that the idea of networking home entertainment has moved from the dreams of a few small computer-peripheral companies into the consciousness of the big consumer-electronics manufacturers.
Sharp is all over this idea. At CES, it showed the Network Aquos - a prototype 65-inch LCD HDTV with a built-in high-speed modem. The company believes it's just a matter of time before we're all streaming programs from the Internet, so why not download them directly into the TV? The screen can be divided to display both TV shows and Web sites at the same time. And you can move the programs from one networked Aquos to another using your existing electrical wiring to carry the signals from room to room. Sharp officials say they expect to have the first models available sometime next year.
Then there's your remote control. If you're like me, no matter how many low-cost universal remotes you try, you always go back to the remotes that came with the gear. That's because every piece of equipment has a unique onscreen menu system that works best with the remote designed to control it.
But what if every piece of gear had the same onscreen menus? Comcast and Panasonic have teamed up to make a cable box/DVR that will give viewers the same screen controls as long as every connected device is from Panasonic. And it will include technology to let you stream Internet files into the TV and send them throughout the house using your electrical lines instead of radio waves.
Meanwhile, remember RCA - the all-American, middle-rung TV company that was actually owned by the French for years? Last summer, the brand was sold to TCL, a Chinese company that has started working with Intel to create TVs with Intel's new Viiv multimedia platform already built in. The idea is to make your TV the command station from which you can stream, watch, and listen to all your music, video, and photo files, wherever they're located in the house.
You know the idea of the connected house is becoming a reality when even big-volume mass-market companies are touting it.
LATEST VIDEO