A/V Maria! 12 Top Wedding Gift-zmos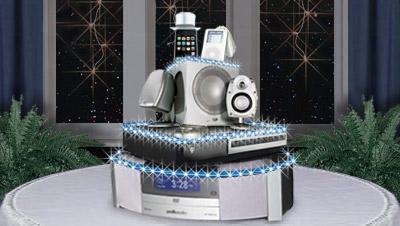 Something old, something new, something borrowed, and something . . . Blu? On second thought, forget all that old and borrowed stuff - a new Blu-ray disc player would do just fine as a cool wedding gift (and this being wedding season, you're probably looking for one).
In fact, for the hitching couple who appreciates fine home theater, lots of A/V devices are worthy of temporary housing in a big silver box with that big silver bow. And many are actually affordable!
Sadly, though, the easy route - bridal registries for consumer electronics - hasn't quite caught on . . . yet. At least not with the big-box stores. Amazon.com, on the other hand, does include A/V gear in its online bridal registry. In fact, according to an Amazon spokesperson, 10% of their top 100 registered items are electronic.
Until the electronics bridal registry catches on, though (geez - do we have to think of everything?), we've assembled a dozen spanking gift ideas culled from the archives of Sound & Vision. Kiss the bride for us!
Video
| | | |
| --- | --- | --- |
| PlayStation 3 Of course, this PlayStation plays videogames. And, true, that can create some domestic disturbances if hubby is a game-aholic (pardon the sex role stereotype). But this is also the best Blu-ray player out there right now: With its crisp 1080p Blu-ray Disc playback, flexible, wide-ranging audio options, and mounds of other network and gaming features, the Sony PlayStation 3 is nothing short of awesome. ($399.99 for 40GB model; $499 for 80GB model) Read our review | | |
| | | |
| TiVo HD If every couple had a nice DVR like this TiVo HD, the divorce rate would drop: Any unit that can record two channels of pristine high-def at once while still letting you watch a previous recording has to encourage domestic peace. ($299) Read our review | | |
| | | |
| Panasonic TH-50PZ700U 50-inch 1080p Plasma HDTV If you can afford to give big, consider this: Panasonic's 50-inch, 1080p plasma delivers great performance at a good price ($2,450 at amazon.com). The 42-inch model is even more within reach, price-wise ($1,599, also at amazon), and you still get the 1080p. Read our review | | |
| | | |
| Sony XEL-1 OLED TV If you should happen to be pals with, say, Paris Hilton, and she suddenly settles down, and you happen to have the cash reserves of a Hilton, here's the perfect wedding gift for her! True, at 11 inches diagonal, this TV is just slightly larger than her Chihuahua. But it boasts strong contrast, shadow detail, and color rendition. And Sony's new XEL-1 is the first OLED TV to market. $2,500 Read our review | | |
Audio
| | | |
| --- | --- | --- |
| Yamaha YSP-4000 Soundbar For the couple who need a starter surround system (or just want to simulate one), this is it: an impressive soundbar that (no pun intended) raises the bar for any competitor. The YSP-4000 handles every detail of audio playback and performs near-miracles in its ability to project a soundfield that reaches far beyond its physical cabinet. ($1,800) Read our review | | |
| | | |
| Acoustic Research AWD510 wireless 5.1-channel Headphones It's as if this product was created for the marrieds: While one spouse gets to enjoy peace and quiet (or some other audio distraction), the wearers of these AWD510's can indulge in crystal-clear sound without wires while other room noise gets drowned out. ($350) Read our review | | |
| | | |
| Polk Audio I-Sonic ES Tabletop Audio System This beauty will not only pump some nice sound, but it will help the happy couple decorate. (It just lights up a room, no?) The ultimate tabletop radio, this Polk has more sources and more speakers than its competitors. It features great sound, rich bass, is XM Satellite- and HD Radio-ready, and plays DVDs and CDs. ($599) Read our review | | |
| | | |
| Klipsch iFi iPod speakers For the couple with small sound-system needs (or the couple who needs some kind of sound system in every room), there's this Klipsch iFi package. The sound is great for iPods and the finish matches high-end Macs. ($249) Read our review | | |
Etc.
| | | |
| --- | --- | --- |
| Logitech Harmony One Remote If the husband-and-wife-to-be tend to fight for the remote, then this might be the worst gift you can give them. This new Harmony universal clicker is an ergonomically crafted marvel that's simple to use and program. They'll both want to drive it at all times. ($249) Read our review | | |
| | | |
| The iPhone If you have the coin, ideally, you'd want to give two: a his and a hers. But a truly loving couple will happily know how to make do with just one. Why? Because the iPhone breaks new ground not as a cellphone but as the best iPod to date and as the prototype for the iPod Touch. ($399 for 8GB model; $499 for 16GB model) Read our review | | |
| | | |
| Lutron Wireless Lighting Control System Today's groom and bride want automation, automation, automation. (At least, that's what our gut tells us.) Lutron AuroRa's wireless, install-it-yourself system gives you lighting control at a price that won't shock you. ($600) Read our review | | |
| | | |
| Subscription to Sound & Vision magazine Maybe you're a little low on cash. Or, hey, maybe you just barely know the wedders. Whatever. A subscription to Sound & Vision magazine is a high value gift that keeps on giving - well, at least for a year ($12) or for as many as two ($18). And don't forget: Subscription renewals make for great anniversary gifts! Subscribe now. | | |

SPONSORED VIDEO